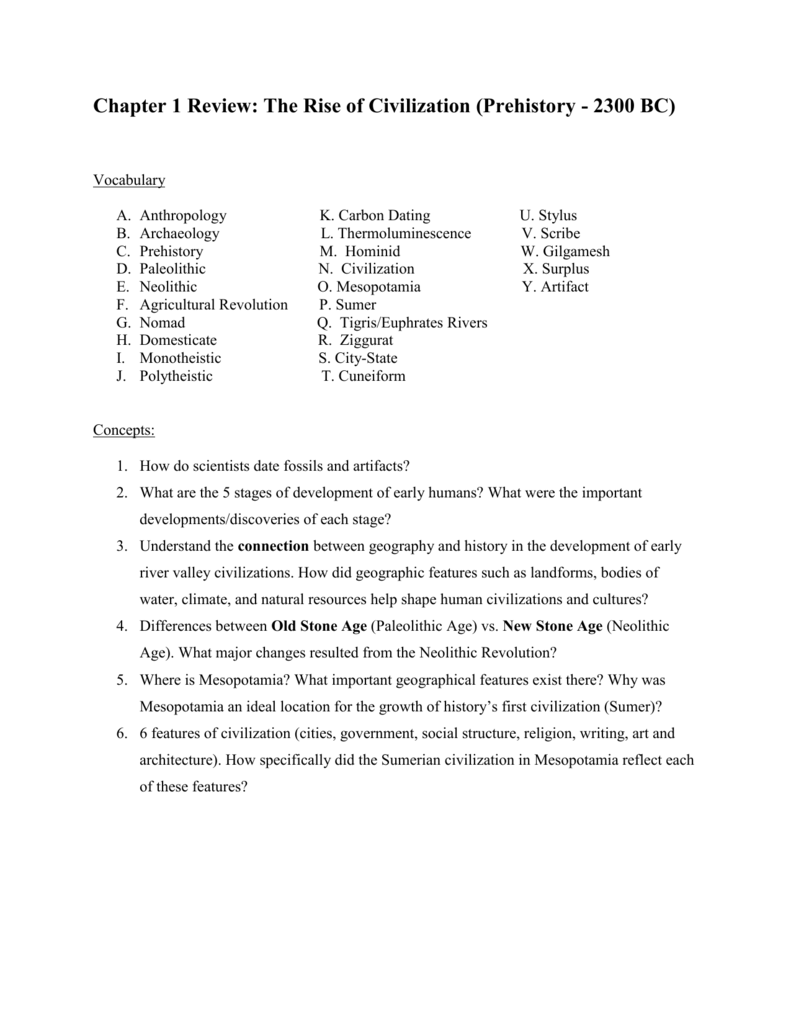 Chapter 1 Review: The Rise of Civilization (Prehistory - 2300 BC)
Vocabulary
A.
B.
C.
D.
E.
F.
G.
H.
I.
J.
Anthropology
Archaeology
Prehistory
Paleolithic
Neolithic
Agricultural Revolution
Nomad
Domesticate
Monotheistic
Polytheistic
K. Carbon Dating
L. Thermoluminescence
M. Hominid
N. Civilization
O. Mesopotamia
P. Sumer
Q. Tigris/Euphrates Rivers
R. Ziggurat
S. City-State
T. Cuneiform
U. Stylus
V. Scribe
W. Gilgamesh
X. Surplus
Y. Artifact
Concepts:
1. How do scientists date fossils and artifacts?
2. What are the 5 stages of development of early humans? What were the important
developments/discoveries of each stage?
3. Understand the connection between geography and history in the development of early
river valley civilizations. How did geographic features such as landforms, bodies of
water, climate, and natural resources help shape human civilizations and cultures?
4. Differences between Old Stone Age (Paleolithic Age) vs. New Stone Age (Neolithic
Age). What major changes resulted from the Neolithic Revolution?
5. Where is Mesopotamia? What important geographical features exist there? Why was
Mesopotamia an ideal location for the growth of history's first civilization (Sumer)?
6. 6 features of civilization (cities, government, social structure, religion, writing, art and
architecture). How specifically did the Sumerian civilization in Mesopotamia reflect each
of these features?
Chapter 2 Review – The Spread of Civilization Sections 1+2 only (pgs 22-31 in textbook)
Instructions: Answer questions on a separate sheet of lined paper, staple and submit before
your test on Thursday morning.
Vocabulary
A.
B.
C.
D.
E.
F.
G.
H.
I.
J.
K.
L.
M.
Nile Delta
King Menes
Sir Arthur Evans
Hieroglyphics
Hieratic Script
Pharaoh
Osiris Myth
Bureaucracy
Dynasty
Pyramids at Giza
Great Pyramid of Khufu
Crete
Myth of Theseus and the Minotaur
N.
O.
P.
Q.
R.
S.
T.
U.
V.
W.
X.
Y.
Z.
Palace at Knossos
Minoans
Linear B (Minoan writing)
Mummification
Papyrus
Reincarnation
Phoenicians/Phoenicia
Phoenician City States (Byblos, Tyre)
Colonies/Colonization
The Torah
Monotheism
Hebrew
The Ten Commandments
Concepts:
1. What was the significance of geography to Egypt's development? (pg 22)
2. What were some of the accomplishments of Egypt's Old Kingdom? (pg 23)
3. How was Egyptian society organized? (pg 25)
4. What were some of the cultural contributions of the ancient Egyptians? (pg 26)
5. What were the cultural and economic accomplishments of the Phoenicians? (pg 28)
6. What was the lasting influence of the Israelites? (pg 29)
7. Why do historians believe that the Minoan civilization was advanced? (pg 32)
Chapter 3 Review – Early Empires of the Near East
Vocab
A.
B.
C.
D.
E.
F.
G.
H.
I.
Akkad
Sargon
Empire
Babylon
Hammurabi's Code
Codify
Stele
Patriarchal
Hyksos Invasion
J. Chariots
K. Amenhotep III
L. Amenhotep IV
(Akhenaten)
M. Aten
N. Amarna Period
O. Hatshepsut
P. Expeditions
Sea Peoples
Q.
R.
S.
T.
U.
V.
W.
X.
Assyrians
Chaldeans
Persians
Cyrus the Great
Darius
Satrapies/Satraps
Monarchy
Zoroastrianism
Concepts
1. What were the contributions of Sargon of Akkad?
2. What was the significance of Hammurabi's codification of laws
3. What influence did the Hyksos have on Egypt's Middle/New Kingdoms?
4. What were the accomplishments/changes imposed by the Pharaohs of Egypt's New Kingdom?
5. What caused the downfall of Egypt's New Kingdom?
6. What characterized the empire of the Assyrians?
7. What factors contributed to the success of the Persian Empire? How did their methods of ruling
differ from those of the Assyrians?
8. What were the major characteristics of Persia's religion, Zoroastrianism?