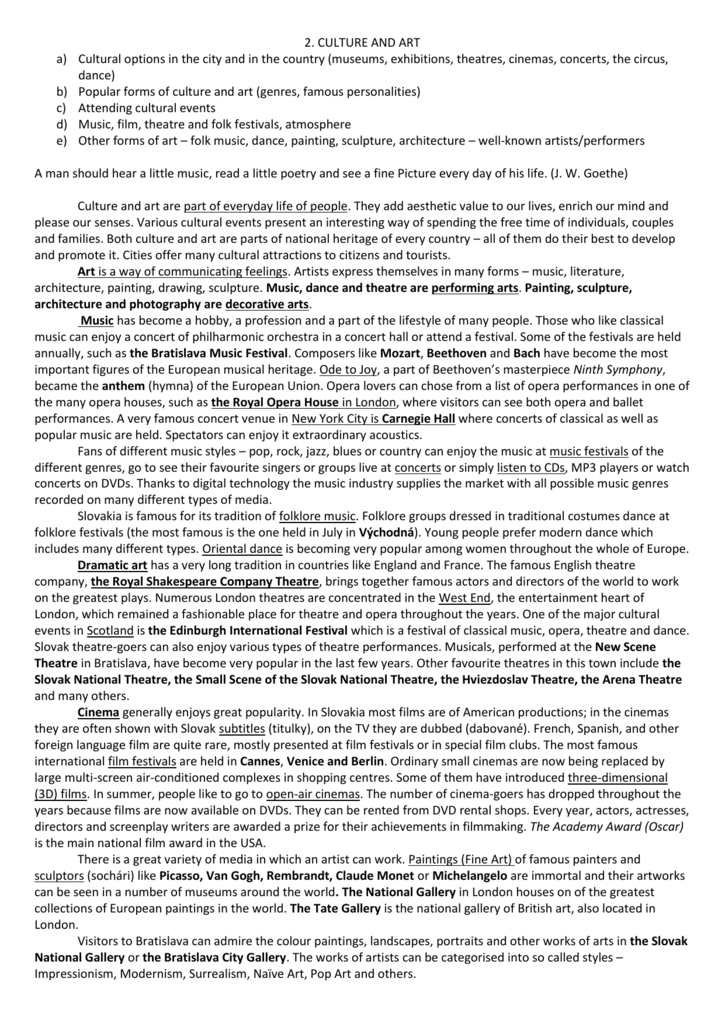 a)
b)
c)
d)
e)
2. CULTURE AND ART
Cultural options in the city and in the country (museums, exhibitions, theatres, cinemas, concerts, the circus,
dance)
Popular forms of culture and art (genres, famous personalities)
Attending cultural events
Music, film, theatre and folk festivals, atmosphere
Other forms of art – folk music, dance, painting, sculpture, architecture – well-known artists/performers
A man should hear a little music, read a little poetry and see a fine Picture every day of his life. (J. W. Goethe)
Culture and art are part of everyday life of people. They add aesthetic value to our lives, enrich our mind and
please our senses. Various cultural events present an interesting way of spending the free time of individuals, couples
and families. Both culture and art are parts of national heritage of every country – all of them do their best to develop
and promote it. Cities offer many cultural attractions to citizens and tourists.
Art is a way of communicating feelings. Artists express themselves in many forms – music, literature,
architecture, painting, drawing, sculpture. Music, dance and theatre are performing arts. Painting, sculpture,
architecture and photography are decorative arts.
Music has become a hobby, a profession and a part of the lifestyle of many people. Those who like classical
music can enjoy a concert of philharmonic orchestra in a concert hall or attend a festival. Some of the festivals are held
annually, such as the Bratislava Music Festival. Composers like Mozart, Beethoven and Bach have become the most
important figures of the European musical heritage. Ode to Joy, a part of Beethoven's masterpiece Ninth Symphony,
became the anthem (hymna) of the European Union. Opera lovers can chose from a list of opera performances in one of
the many opera houses, such as the Royal Opera House in London, where visitors can see both opera and ballet
performances. A very famous concert venue in New York City is Carnegie Hall where concerts of classical as well as
popular music are held. Spectators can enjoy it extraordinary acoustics.
Fans of different music styles – pop, rock, jazz, blues or country can enjoy the music at music festivals of the
different genres, go to see their favourite singers or groups live at concerts or simply listen to CDs, MP3 players or watch
concerts on DVDs. Thanks to digital technology the music industry supplies the market with all possible music genres
recorded on many different types of media.
Slovakia is famous for its tradition of folklore music. Folklore groups dressed in traditional costumes dance at
folklore festivals (the most famous is the one held in July in Východná). Young people prefer modern dance which
includes many different types. Oriental dance is becoming very popular among women throughout the whole of Europe.
Dramatic art has a very long tradition in countries like England and France. The famous English theatre
company, the Royal Shakespeare Company Theatre, brings together famous actors and directors of the world to work
on the greatest plays. Numerous London theatres are concentrated in the West End, the entertainment heart of
London, which remained a fashionable place for theatre and opera throughout the years. One of the major cultural
events in Scotland is the Edinburgh International Festival which is a festival of classical music, opera, theatre and dance.
Slovak theatre-goers can also enjoy various types of theatre performances. Musicals, performed at the New Scene
Theatre in Bratislava, have become very popular in the last few years. Other favourite theatres in this town include the
Slovak National Theatre, the Small Scene of the Slovak National Theatre, the Hviezdoslav Theatre, the Arena Theatre
and many others.
Cinema generally enjoys great popularity. In Slovakia most films are of American productions; in the cinemas
they are often shown with Slovak subtitles (titulky), on the TV they are dubbed (dabované). French, Spanish, and other
foreign language film are quite rare, mostly presented at film festivals or in special film clubs. The most famous
international film festivals are held in Cannes, Venice and Berlin. Ordinary small cinemas are now being replaced by
large multi-screen air-conditioned complexes in shopping centres. Some of them have introduced three-dimensional
(3D) films. In summer, people like to go to open-air cinemas. The number of cinema-goers has dropped throughout the
years because films are now available on DVDs. They can be rented from DVD rental shops. Every year, actors, actresses,
directors and screenplay writers are awarded a prize for their achievements in filmmaking. The Academy Award (Oscar)
is the main national film award in the USA.
There is a great variety of media in which an artist can work. Paintings (Fine Art) of famous painters and
sculptors (sochári) like Picasso, Van Gogh, Rembrandt, Claude Monet or Michelangelo are immortal and their artworks
can be seen in a number of museums around the world. The National Gallery in London houses on of the greatest
collections of European paintings in the world. The Tate Gallery is the national gallery of British art, also located in
London.
Visitors to Bratislava can admire the colour paintings, landscapes, portraits and other works of arts in the Slovak
National Gallery or the Bratislava City Gallery. The works of artists can be categorised into so called styles –
Impressionism, Modernism, Surrealism, Naïve Art, Pop Art and others.
Architecture is the art and science of designing buildings. It includes town planning, urban design, landscape
architecture (development of gardens, parks) and interior design (furniture). Many architectural works may also be seen
as cultural and political symbols and they are often works of art. They can have both a functional and aesthetic
character. Some new architectonic structures were made possible only thanks to new materials and the development of
technology. Famous architects of the Renaissance period were Michelangelo and Leonardo da Vinci, who were also
artists and scientists. At that time there was no clear dividing line between an artist and an architect one of the most
famous architects of the 20th century was the controversial Austrian architect Friedensreich Hundertwasser, known for
his revolutionary architectural designs.
Cultural events in the countryside are not that frequent. People who live in villages all their lives prefer
gardening, visiting friends or watching TV. Many inhabitants of Bratislava have recently moved to villages, trying to get
away from the busy city life as they do not live too far from the city, they can still enjoy the cultural life the city offers.
Leonardo da Vinci was a painter, sculptor, engineer, scientist and architect. He lived from 1452-1519 and is a
great figure of the Italian Renaissance. His painting of an Italian nobleman's wife called Zanoki del Giocondo, has
become the most famous painting in the world, either under the title La Giaconda or the Mona Lisa.
Picasso was born in 1881 in Spain although he did most of his painting in France. He is generally
recognised as one of the most inventive painters of the 20th century. He was already an accomplished (vynikajúci, skvelý,
majstrovský) artist at the age of 10, had his first exhibition aged 16 and continued painting well into his 80s. He is
probably best known for his surrealist paintings.
The Impressionist movement was named after Monet's painting Impression, Sunrise. The movement
(smer, hnutie) is particularly concerned with light effects and Monet often painted his subjects at different times of day
to explore these effects. Born in Paris, I 1840, he began his Impressionist paintings in the 1860s. The First Impressionist
exhibition was held in 1874. Monet produced many paintings which are still popular today, including Haystacks and
Rouen Cathedral.
Van Gogh is famous not only for his post-impressionist paintings but also for the wild temperament
which led him to cutting off part of one ear and later committing suicide in 1890. The Dutch painter was born in 1853
and first worked as a schoolmaster in England before becoming a painter. Like Picasso, he did most of his work in
France, including his most famous paintings, The Sunflowers and The Chair.
As well as being an artist, Andy Warhol, was also an accomplished filmmaker. He was born in Pittsburgh
in 1928, a son of Slovak immigrants. After studying at an art college, he became one of the leading commercial artists of
the 1950s, with his Pop Art style – including pictures of soup cans and drinks bottles. He was shot by a radical feminist in
1968 but survived. He carried on painting until his death in 1987.
Modern art is not about any one thing in particular. It reflects many concerns of modern life. For instance, with
its strange jumble (zmes, miešanica) of colours, lines and shapes, it may not appear to be anything recognisable. It may
depict real objects but in an unusual or distorted (prekrútený, skreslený, skomolený) way. Modern art does not usually
tell a story. Instead, it may evoke feelings, ideas, and impressions which are hard to put into words. At the beginning of
the last century, many artists turned away from the traditional depiction of nature. Photography, which was developed
in the 1830s, had freed artists from the need to copy what they saw. They instead began to explore ideas about art itself
or tapping their own feelings. They were also trying to express their feelings about changes that they experienced in the
world around them.