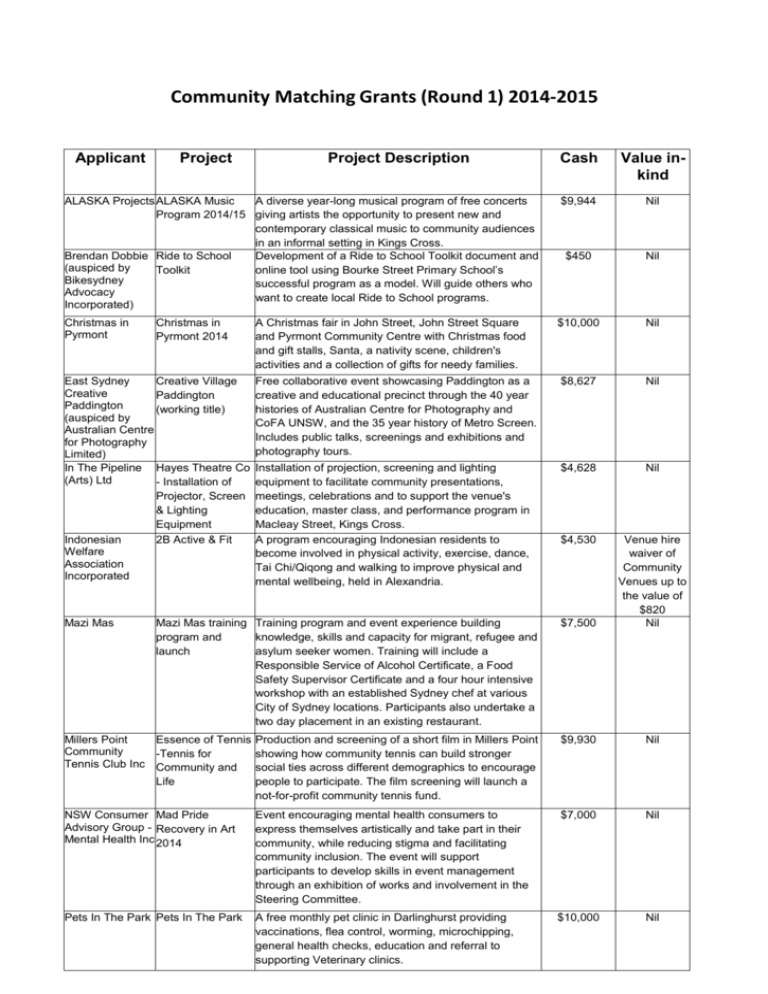 Community Matching Grants (Round 1) 2014‐2015
Applicant
Project
Cash
Value inkind
ALASKA Projects ALASKA Music
A diverse year-long musical program of free concerts
Program 2014/15 giving artists the opportunity to present new and
contemporary classical music to community audiences
in an informal setting in Kings Cross.
Brendan Dobbie Ride to School
Development of a Ride to School Toolkit document and
(auspiced by
Toolkit
online tool using Bourke Street Primary School's
Bikesydney
successful program as a model. Will guide others who
Advocacy
want to create local Ride to School programs.
Incorporated)
$9,944
Nil
$450
Nil
Christmas in
Pyrmont
A Christmas fair in John Street, John Street Square
and Pyrmont Community Centre with Christmas food
and gift stalls, Santa, a nativity scene, children's
activities and a collection of gifts for needy families.
$10,000
Nil
Free collaborative event showcasing Paddington as a
creative and educational precinct through the 40 year
histories of Australian Centre for Photography and
CoFA UNSW, and the 35 year history of Metro Screen.
Includes public talks, screenings and exhibitions and
photography tours.
$8,627
Nil
Installation of projection, screening and lighting
equipment to facilitate community presentations,
meetings, celebrations and to support the venue's
education, master class, and performance program in
Macleay Street, Kings Cross.
A program encouraging Indonesian residents to
become involved in physical activity, exercise, dance,
Tai Chi/Qiqong and walking to improve physical and
mental wellbeing, held in Alexandria.
$4,628
Nil
$4,530
$7,500
Venue hire
waiver of
Community
Venues up to
the value of
$820
Nil
Christmas in
Pyrmont 2014
East Sydney
Creative Village
Creative
Paddington
Paddington
(working title)
(auspiced by
Australian Centre
for Photography
Limited)
In The Pipeline Hayes Theatre Co
(Arts) Ltd
- Installation of
Projector, Screen
& Lighting
Equipment
Indonesian
2B Active & Fit
Welfare
Association
Incorporated
Mazi Mas
Project Description
Mazi Mas training Training program and event experience building
program and
knowledge, skills and capacity for migrant, refugee and
launch
asylum seeker women. Training will include a
Responsible Service of Alcohol Certificate, a Food
Safety Supervisor Certificate and a four hour intensive
workshop with an established Sydney chef at various
City of Sydney locations. Participants also undertake a
two day placement in an existing restaurant.
Millers Point
Essence of Tennis
Community
-Tennis for
Tennis Club Inc Community and
Life
Production and screening of a short film in Millers Point
showing how community tennis can build stronger
social ties across different demographics to encourage
people to participate. The film screening will launch a
not-for-profit community tennis fund.
$9,930
Nil
NSW Consumer Mad Pride
Advisory Group - Recovery in Art
Mental Health Inc 2014
Event encouraging mental health consumers to
express themselves artistically and take part in their
community, while reducing stigma and facilitating
community inclusion. The event will support
participants to develop skills in event management
through an exhibition of works and involvement in the
Steering Committee.
$7,000
Nil
Pets In The Park Pets In The Park
A free monthly pet clinic in Darlinghurst providing
vaccinations, flea control, worming, microchipping,
general health checks, education and referral to
supporting Veterinary clinics.
$10,000
Nil
Positive Life
NSW
Incorporated
The Quarterly
$7,600
Nil
Royal Australian Exploring City of Making the RAHS Osborne Collection of images of the
Historical Society Sydney Life
1920s - 1930s available to the community through
Between the Wars: Trove and other social media channels. Includes
the RAHS
lectures and workshops targeted at intergenerational
Osborne
audiences introducing and exploring the historical
Photograph
photographs.
Collection (c.1920
- c.1939)
$10,000
Nil
St Johns Green St Johns Green
(auspiced by
Street Growth
Incorporated)
$5,856
Nil
TAFE NSW
Jones Street Mall Establishment of a community garden in the shared
Sydney Institute Community
space of Jones Street providing opportunities for
Garden
education, environmental management, Aboriginal
cultural studies and sustainability outcomes for the
college and local communities.
$8,000
Nil
The Alexandria Sydney As It Was Writing, publishing and launching of an anthology of
Seniors' Writing
personal stories that highlight healthy, active lifestyles
Group
of local senior members including promotion of
community activities and celebration of local links with
Sydney's iconic buildings and institutions.
$6,000
Nil
The Factory
Community
Centre Inc
Cultural inclusion project in Redfern for families, many
from disadvantaged backgrounds, to build community
capacity and resilience and make connections across
cultural and social diversity.
$6,400
Nil
$5,710
Nil
The Performance Soapbox
Space Ltd
An annual village fete in Surry Hills that helps raise
funds for The Girls & Boys Brigade's children and youth
programs.
A performance piece bringing together four young
writers to engage with the oratory traditions of
speakers' corner. The project will explore the power of
language, the manufacture of meaning and the poetic
potential of public address on the streets of Surry Hills.
$5,040
Nil
The Surry Hills The Surry Hills
Creative Precinct Creative Precinct
(auspiced by
Research and
Australian Design
Launch Event
Centre)
A survey and business networking event to better
understand the needs and aspirations of local
businesses, and explore how creative industries can
build community and create value for the local area.
$10,000
Nil
Cultural inclusion
for families and
children in early
childhood
The Girls & Boys Wonder 103
Brigade
Inclusive social events in Surry Hills, Redfern and
Newtown for local people living with HIV to help them
build friendship networks and develop skills to take
control of their physical and mental health.
An open membership community garden in Glebe
supported by a range of community partners, and
providing a space for locals to meet, while educating
and empowering garden members and the broader
community.