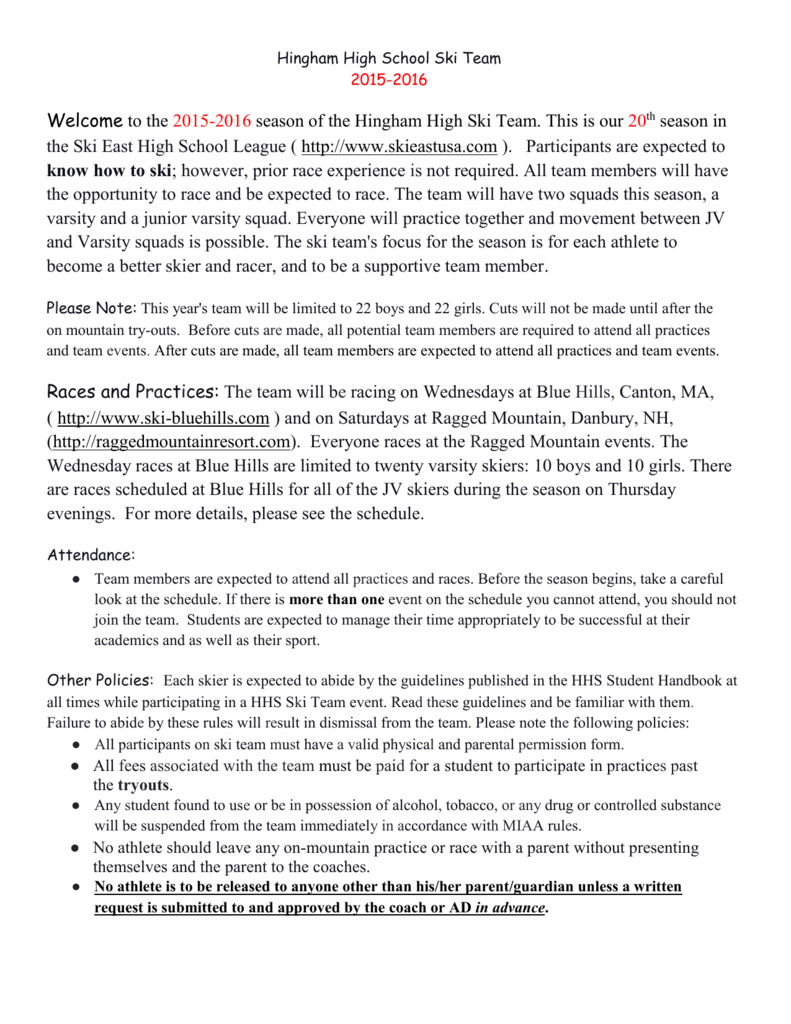 Hingham High School Ski Team
2015-2016
Welcome to the 2015-2016 season of the Hingham High Ski Team. This is our 20th season in
the Ski East High School League ( http://www.skieastusa.com ). Participants are expected to
know how to ski; however, prior race experience is not required. All team members will have
the opportunity to race and be expected to race. The team will have two squads this season, a
varsity and a junior varsity squad. Everyone will practice together and movement between JV
and Varsity squads is possible. The ski team's focus for the season is for each athlete to
become a better skier and racer, and to be a supportive team member.
Please Note: This year's team will be limited to 22 boys and 22 girls. Cuts will not be made until after the
on mountain try-outs. Before cuts are made, all potential team members are required to attend all practices
and team events. After cuts are made, all team members are expected to attend all practices and team events.
Races and Practices: The team will be racing on Wednesdays at Blue Hills, Canton, MA,
( http://www.ski-bluehills.com ) and on Saturdays at Ragged Mountain, Danbury, NH,
(http://raggedmountainresort.com). Everyone races at the Ragged Mountain events. The
Wednesday races at Blue Hills are limited to twenty varsity skiers: 10 boys and 10 girls. There
are races scheduled at Blue Hills for all of the JV skiers during the season on Thursday
evenings. For more details, please see the schedule.
Attendance:
● Team members are expected to attend all practices and races. Before the season begins, take a careful
look at the schedule. If there is more than one event on the schedule you cannot attend, you should not
join the team. Students are expected to manage their time appropriately to be successful at their
academics and as well as their sport.
Other Policies: Each skier is expected to abide by the guidelines published in the HHS Student Handbook at
all times while participating in a HHS Ski Team event. Read these guidelines and be familiar with them.
Failure to abide by these rules will result in dismissal from the team. Please note the following policies:
● All participants on ski team must have a valid physical and parental permission form.
● All fees associated with the team must be paid for a student to participate in practices past
the tryouts.
● Any student found to use or be in possession of alcohol, tobacco, or any drug or controlled substance
will be suspended from the team immediately in accordance with MIAA rules.
● No athlete should leave any on-mountain practice or race with a parent without presenting
themselves and the parent to the coaches.
● No athlete is to be released to anyone other than his/her parent/guardian unless a written
request is submitted to and approved by the coach or AD in advance.
Schedule and Buses - Everyone will ride the buses together to and from all races and
practices. The buses will leave from the High School main entrance. For Tuesday practices,
buses will leave the parking lot at 4:00 PM. We will return to HHS around 7:00 PM.
Wednesday races at Blue Hills are expected to start at 6:00 PM with course inspection and be
over by 8:00 PM. Buses will leave at 4:00 PM SHARP and return after the races. For
Saturday events at Ragged, buses leave the HHS lot no later than 6:00 AM.
Please be prepared to collect your child upon their return to HHS.
Cost- Like any other sport, all team members are required to pay a $325 athletic fee to the
athletic director. This fee covers the whole year for the athlete, so if a student paid for a fall
sport, payment is not needed for a winter or spring sport. Likewise, if an athlete pays for a
winter sport, he/she does not need to pay for a spring sport. All students will need to buy a
race pass to Blue Hills, which is good for everyday of the season. All ski team members are
expected to purchase this pass. We will have a team trip to Blue Hill to buy these passes.
Ragged Mountain passes are per event. The buses for Ragged Mountain are half subsidized
by the athletic department. The remaining cost is paid by the skiers.
The total costs for the ski team, beyond the HS Athletic Fee of $325, are itemized below.
$179 BH Season Pass – We will take a Team trip to BH to buy these passes on December 15th. Make check payable to Blue Hills. We are
hoping for a link for Blue Hill racer forms for you to complete or download and complete before December 14 th.
$132 Ragged Lift Tix $33 x 4 - $33.00 must be paid prior to boarding the bus each trip, by check payable to Ragged Mountain Resort.
This fee is per race. Please do not write a check to the Boosters for this amount.
Cash is not accepted.
$105 Booster Fee - Must be paid before December 18th. A link for online payment will be provided via email after sign ups. Or a check payable to
Hingham Ski Team can be sent to Tara and Phil Redman at 237 Rockland Street, Hingham, MA 02043
$416 for the season (not including the Athletic Fee)
Equipment - Skis, boots, goggles, poles, and clothing are the responsibility of the skier. It is the skier's
responsibility to make sure that skis are tuned, waxed, and in racing shape. Students will not be allowed on
the bus without a helmet, which must have HARD EAR COVERINGS. Since we will be skiing at night,
clear or lightly tinted goggles are recommended. All Varsity racers will be issued Hingham Ski Team GS suits and
are required to wear these GS suits for each race. Skiers should bring enough clothing to be warm while
practicing, racing, running coats, and being outside supporting teammates.
Communication: We will use email. Please sign up for email by sending an email with either "parent" or
"racer" in the subject to [email protected] Head Coach Bob Glennon's address is
[email protected] and Assistant Coach Audrie Knight's address is [email protected] If you
cannot attend a practice or event, you should email both coaches. Emails will be sent prior to all skiing
events from the [email protected] . We will test the email list prior to the start of the season.
Captains will communicate with the team through the Facebook Page.