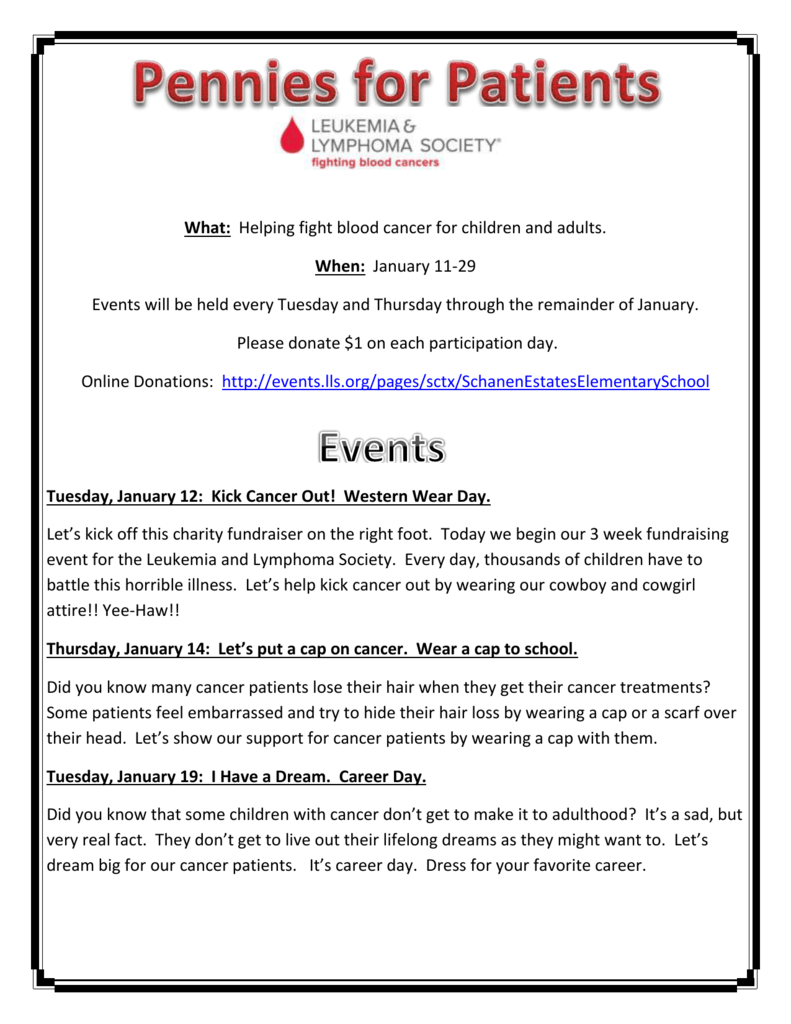 What: Helping fight blood cancer for children and adults.
When: January 11-29
Events will be held every Tuesday and Thursday through the remainder of January.
Please donate $1 on each participation day.
Online Donations: http://events.lls.org/pages/sctx/SchanenEstatesElementarySchool
Tuesday, January 12: Kick Cancer Out! Western Wear Day.
Let's kick off this charity fundraiser on the right foot. Today we begin our 3 week fundraising
event for the Leukemia and Lymphoma Society. Every day, thousands of children have to
battle this horrible illness. Let's help kick cancer out by wearing our cowboy and cowgirl
attire!! Yee-Haw!!
Thursday, January 14: Let's put a cap on cancer. Wear a cap to school.
Did you know many cancer patients lose their hair when they get their cancer treatments?
Some patients feel embarrassed and try to hide their hair loss by wearing a cap or a scarf over
their head. Let's show our support for cancer patients by wearing a cap with them.
Tuesday, January 19: I Have a Dream. Career Day.
Did you know that some children with cancer don't get to make it to adulthood? It's a sad, but
very real fact. They don't get to live out their lifelong dreams as they might want to. Let's
dream big for our cancer patients. It's career day. Dress for your favorite career.
Thursday, January 21: Team up against cancer. Wear your favorite sports team
jersey/shirt.
Did you know that all of your money goes directly to the Leukemia and Lymphoma Society to
help support cancer patients and their families? Some of the money also goes to research to
help find a cure for this. Cancer patients also have great support from their medical team and
family. Let's join together and team up against cancer!!
Tuesday, January 26: Sock it to Cancer. Wear crazy socks today.
Did you know that doctors and specialists have been working for years to sock it to leukemia
and lymphoma? Every day they continue to research, they come closer to finding a cure. Your
money helps them research for a cure. Let's join them in socking it to cancer by wearing crazy
socks!!
Thursday, January 28: Orange out: Wear Orange for Leukemia and Lymphoma.
Did you know that various colors of ribbons are used to create awareness for different types of
cancers or disabilities? Orange is the official color of Leukemia and Lymphoma. Let's wear
orange for Leukemia and Lymphoma awareness!!