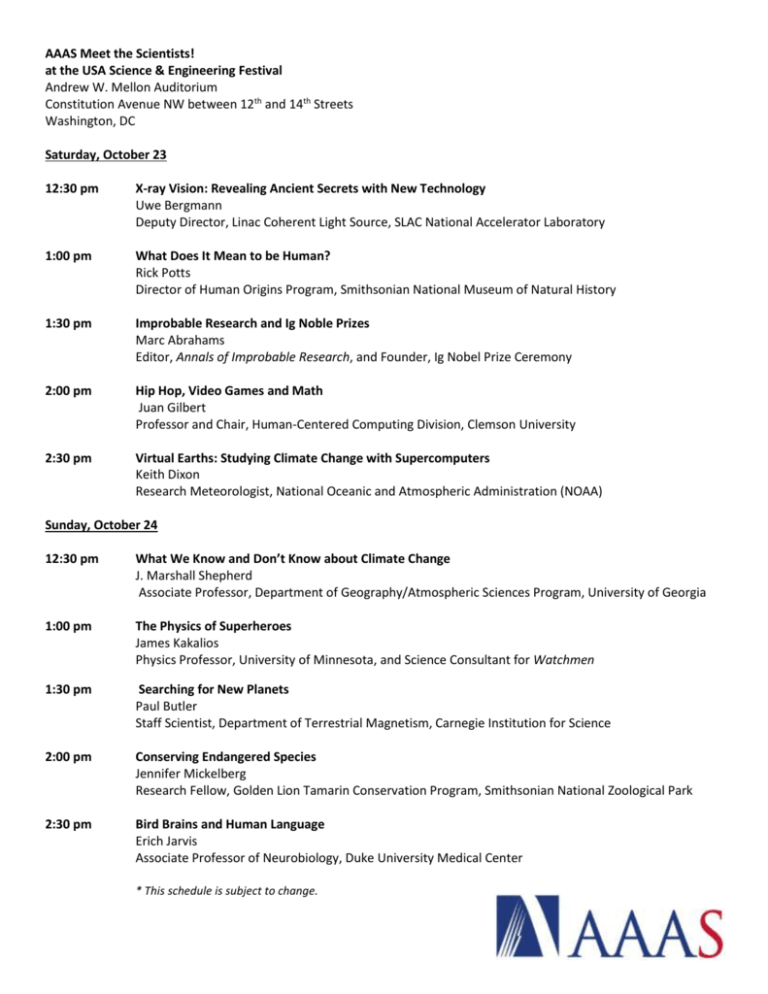 AAAS Meet the Scientists!
at the USA Science & Engineering Festival
Andrew W. Mellon Auditorium
Constitution Avenue NW between 12th and 14th Streets
Washington, DC
Saturday, October 23
12:30 pm
X-ray Vision: Revealing Ancient Secrets with New Technology
Uwe Bergmann
Deputy Director, Linac Coherent Light Source, SLAC National Accelerator Laboratory
1:00 pm
What Does It Mean to be Human?
Rick Potts
Director of Human Origins Program, Smithsonian National Museum of Natural History
1:30 pm
Improbable Research and Ig Noble Prizes
Marc Abrahams
Editor, Annals of Improbable Research, and Founder, Ig Nobel Prize Ceremony
2:00 pm
Hip Hop, Video Games and Math
Juan Gilbert
Professor and Chair, Human-Centered Computing Division, Clemson University
2:30 pm
Virtual Earths: Studying Climate Change with Supercomputers
Keith Dixon
Research Meteorologist, National Oceanic and Atmospheric Administration (NOAA)
Sunday, October 24
12:30 pm
What We Know and Don't Know about Climate Change
J. Marshall Shepherd
Associate Professor, Department of Geography/Atmospheric Sciences Program, University of Georgia
1:00 pm
The Physics of Superheroes
James Kakalios
Physics Professor, University of Minnesota, and Science Consultant for Watchmen
1:30 pm
Searching for New Planets
Paul Butler
Staff Scientist, Department of Terrestrial Magnetism, Carnegie Institution for Science
2:00 pm
Conserving Endangered Species
Jennifer Mickelberg
Research Fellow, Golden Lion Tamarin Conservation Program, Smithsonian National Zoological Park
2:30 pm
Bird Brains and Human Language
Erich Jarvis
Associate Professor of Neurobiology, Duke University Medical Center
* This schedule is subject to change.