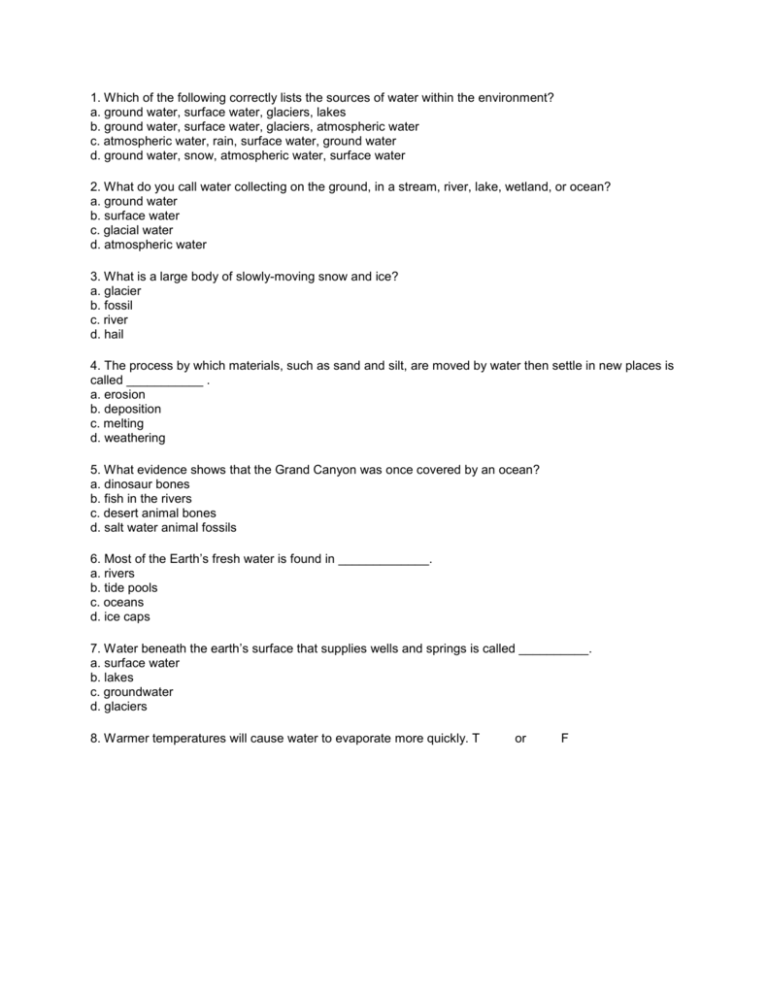 1. Which of the following correctly lists the sources of water within the environment?
a. ground water, surface water, glaciers, lakes
b. ground water, surface water, glaciers, atmospheric water
c. atmospheric water, rain, surface water, ground water
d. ground water, snow, atmospheric water, surface water
2. What do you call water collecting on the ground, in a stream, river, lake, wetland, or ocean?
a. ground water
b. surface water
c. glacial water
d. atmospheric water
3. What is a large body of slowly-moving snow and ice?
a. glacier
b. fossil
c. river
d. hail
4. The process by which materials, such as sand and silt, are moved by water then settle in new places is
called ___________ .
a. erosion
b. deposition
c. melting
d. weathering
5. What evidence shows that the Grand Canyon was once covered by an ocean?
a. dinosaur bones
b. fish in the rivers
c. desert animal bones
d. salt water animal fossils
6. Most of the Earth's fresh water is found in _____________.
a. rivers
b. tide pools
c. oceans
d. ice caps
7. Water beneath the earth's surface that supplies wells and springs is called __________.
a. surface water
b. lakes
c. groundwater
d. glaciers
8. Warmer temperatures will cause water to evaporate more quickly. T
or
F
9. Illustrate and label the water cycle.
10. Illustrate and label the three forms of water on Earth.