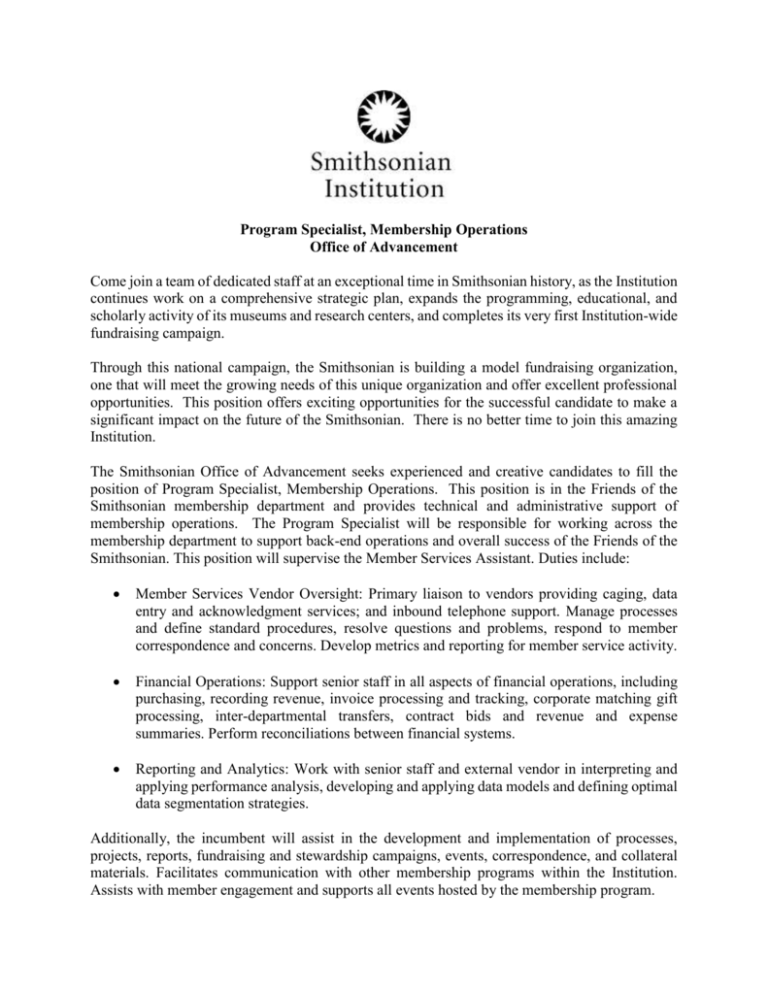 Program Specialist, Membership Operations
Office of Advancement
Come join a team of dedicated staff at an exceptional time in Smithsonian history, as the Institution
continues work on a comprehensive strategic plan, expands the programming, educational, and
scholarly activity of its museums and research centers, and completes its very first Institution-wide
fundraising campaign.
Through this national campaign, the Smithsonian is building a model fundraising organization,
one that will meet the growing needs of this unique organization and offer excellent professional
opportunities. This position offers exciting opportunities for the successful candidate to make a
significant impact on the future of the Smithsonian. There is no better time to join this amazing
Institution.
The Smithsonian Office of Advancement seeks experienced and creative candidates to fill the
position of Program Specialist, Membership Operations. This position is in the Friends of the
Smithsonian membership department and provides technical and administrative support of
membership operations. The Program Specialist will be responsible for working across the
membership department to support back-end operations and overall success of the Friends of the
Smithsonian. This position will supervise the Member Services Assistant. Duties include:

Member Services Vendor Oversight: Primary liaison to vendors providing caging, data
entry and acknowledgment services; and inbound telephone support. Manage processes
and define standard procedures, resolve questions and problems, respond to member
correspondence and concerns. Develop metrics and reporting for member service activity.

Financial Operations: Support senior staff in all aspects of financial operations, including
purchasing, recording revenue, invoice processing and tracking, corporate matching gift
processing, inter-departmental transfers, contract bids and revenue and expense
summaries. Perform reconciliations between financial systems.

Reporting and Analytics: Work with senior staff and external vendor in interpreting and
applying performance analysis, developing and applying data models and defining optimal
data segmentation strategies.
Additionally, the incumbent will assist in the development and implementation of processes,
projects, reports, fundraising and stewardship campaigns, events, correspondence, and collateral
materials. Facilitates communication with other membership programs within the Institution.
Assists with member engagement and supports all events hosted by the membership program.
Candidates must have a minimum of three years relevant experience, including member services
vendor and staff management, financial operations and/or direct response analytics. Other
required skills: the ability to successfully manage multiple deadlines, to work both independently
and as part of a team, and exceptional attention to detail.
The Office of Advancement oversees and guides the fundraising efforts of the entire Smithsonian
and is home to the central development organization for the Institution. In addition to raising
significant support for a variety of Smithsonian initiatives, the Office of Advancement provides
support services to development offices across the Institution. The office engages with staff
throughout the Smithsonian in accomplishing their goals.
The Smithsonian Institution is a unique complex of 19 museums and galleries, the National
Zoological Park, and nine research centers. The Smithsonian is a national and world treasure and
is dedicated to its founding mission, "the increase and diffusion of knowledge." Its exhibitions,
programs, collections, and outreach touch the lives of millions of Americans every year, as well
as many who visit us from abroad.
The Smithsonian Institution offers a competitive salary and a comprehensive package of benefits.
This is not a Federal Position, but has similar requirements and benefits. To learn more about the
Smithsonian, please visit www.si.edu. Interested candidates should submit their resumes and a
cover letter to oastaffing@si.edu by December 1, 2015.
The Smithsonian Institution is an equal opportunity, affirmative action employer. Candidates of
all backgrounds are encouraged to apply.