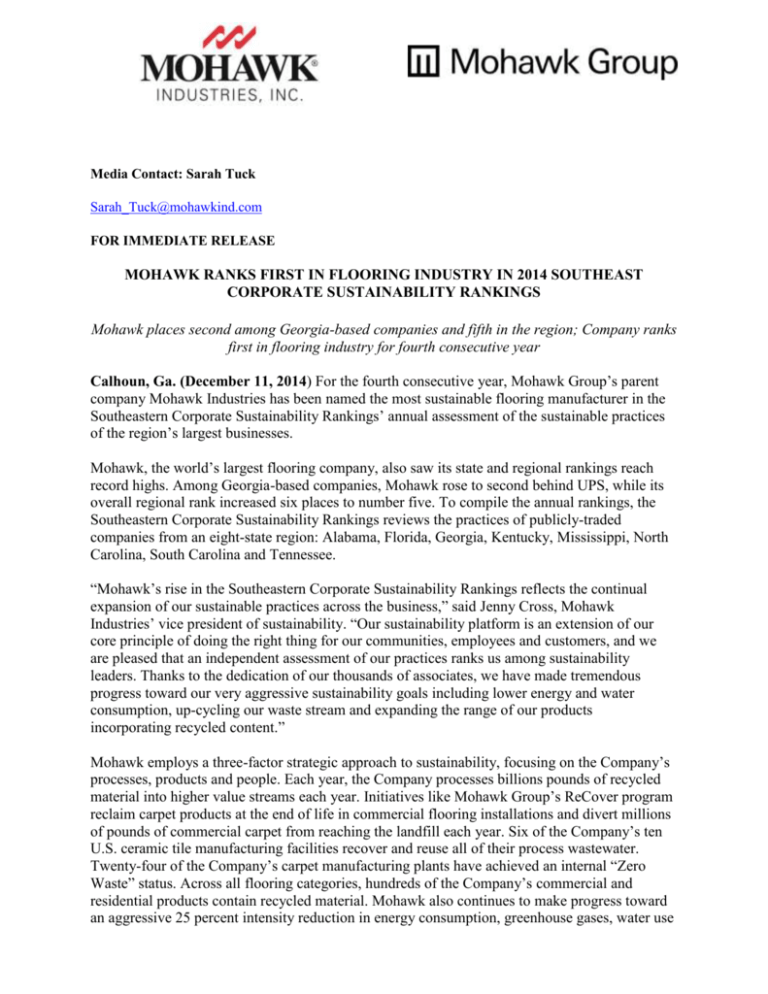 Media Contact: Sarah Tuck
Sarah_Tuck@mohawkind.com
FOR IMMEDIATE RELEASE
MOHAWK RANKS FIRST IN FLOORING INDUSTRY IN 2014 SOUTHEAST
CORPORATE SUSTAINABILITY RANKINGS
Mohawk places second among Georgia-based companies and fifth in the region; Company ranks
first in flooring industry for fourth consecutive year
Calhoun, Ga. (December 11, 2014) For the fourth consecutive year, Mohawk Group's parent
company Mohawk Industries has been named the most sustainable flooring manufacturer in the
Southeastern Corporate Sustainability Rankings' annual assessment of the sustainable practices
of the region's largest businesses.
Mohawk, the world's largest flooring company, also saw its state and regional rankings reach
record highs. Among Georgia-based companies, Mohawk rose to second behind UPS, while its
overall regional rank increased six places to number five. To compile the annual rankings, the
Southeastern Corporate Sustainability Rankings reviews the practices of publicly-traded
companies from an eight-state region: Alabama, Florida, Georgia, Kentucky, Mississippi, North
Carolina, South Carolina and Tennessee.
"Mohawk's rise in the Southeastern Corporate Sustainability Rankings reflects the continual
expansion of our sustainable practices across the business," said Jenny Cross, Mohawk
Industries' vice president of sustainability. "Our sustainability platform is an extension of our
core principle of doing the right thing for our communities, employees and customers, and we
are pleased that an independent assessment of our practices ranks us among sustainability
leaders. Thanks to the dedication of our thousands of associates, we have made tremendous
progress toward our very aggressive sustainability goals including lower energy and water
consumption, up-cycling our waste stream and expanding the range of our products
incorporating recycled content."
Mohawk employs a three-factor strategic approach to sustainability, focusing on the Company's
processes, products and people. Each year, the Company processes billions pounds of recycled
material into higher value streams each year. Initiatives like Mohawk Group's ReCover program
reclaim carpet products at the end of life in commercial flooring installations and divert millions
of pounds of commercial carpet from reaching the landfill each year. Six of the Company's ten
U.S. ceramic tile manufacturing facilities recover and reuse all of their process wastewater.
Twenty-four of the Company's carpet manufacturing plants have achieved an internal "Zero
Waste" status. Across all flooring categories, hundreds of the Company's commercial and
residential products contain recycled material. Mohawk also continues to make progress toward
an aggressive 25 percent intensity reduction in energy consumption, greenhouse gases, water use
and landfill waste by the year 2020.
"Mohawk Group has created an entirely new conversation in sustainability related to product
transparency and healthy interiors, and we have an extensive list of products that will help our
customers create the healthiest indoor spaces," said Rochelle Routman, Mohawk Group's
director of sustainability. "We are educating others about the importance of transparency, and we
are leading the entire flooring industry with the largest and most varied selection of products that
have associated Environmental Product Declarations (EPDs), Health Product Declarations
(HPDs) and Declare labels. We will continue to work with our customers and other leaders in the
building industry to strive for greater transparency and healthier choices."
In addition to Mohawk, other companies recognized for exceptional sustainable practices include
such well-known organizations as Delta, Denny's, Hanes, Lexmark, Office Depot, Sanderson
Farms, Sonoco, Vulcan Materials and Yum! Brands.
The Southeastern Corporate Sustainability Rankings evaluate companies on a variety of
environmental, social and governance (ESG) factors that align with Global Reporting Initiatives
(GRI) G4 Guidelines. The assessment is the only ranking of companies headquartered in the
Southeast based on these factors. Founded in 2010 by GreenBusiness Works and Mark Callaway
Investments, the annual rankings are designed to help Southeastern companies maintain and
improve their sustainability practices, while establishing a legacy of corporate and social
responsibility in the region.
To learn more about Mohawk's sustainability initiatives and to view the company's most recent
corporate sustainability report, visit MohawkSustainability.com.
###
ABOUT MOHAWK INDUSTRIES
Mohawk Industries is a leading global flooring manufacturer that creates products to enhance residential and commercial
spaces around the world. Mohawk's vertically integrated manufacturing and distribution processes provide competitive
advantages in the production of carpet, rugs, ceramic tile, laminate, wood, stone and vinyl flooring. Our industry-leading
innovation has yielded products and technologies that differentiate our brands in the marketplace and satisfy all remodeling and
new construction requirements. Our brands are among the most recognized in the industry and include American Olean,
Bigelow, Daltile, Durkan, Karastan, Lees, Marazzi, Mohawk, Pergo, Unilin and Quick-Step. During the past decade, Mohawk
has transformed its business from an American carpet manufacturer into the world's largest flooring company with operations in
Australia, Brazil, Canada, China, Europe, India, Malaysia, Mexico, Russia and the United States.