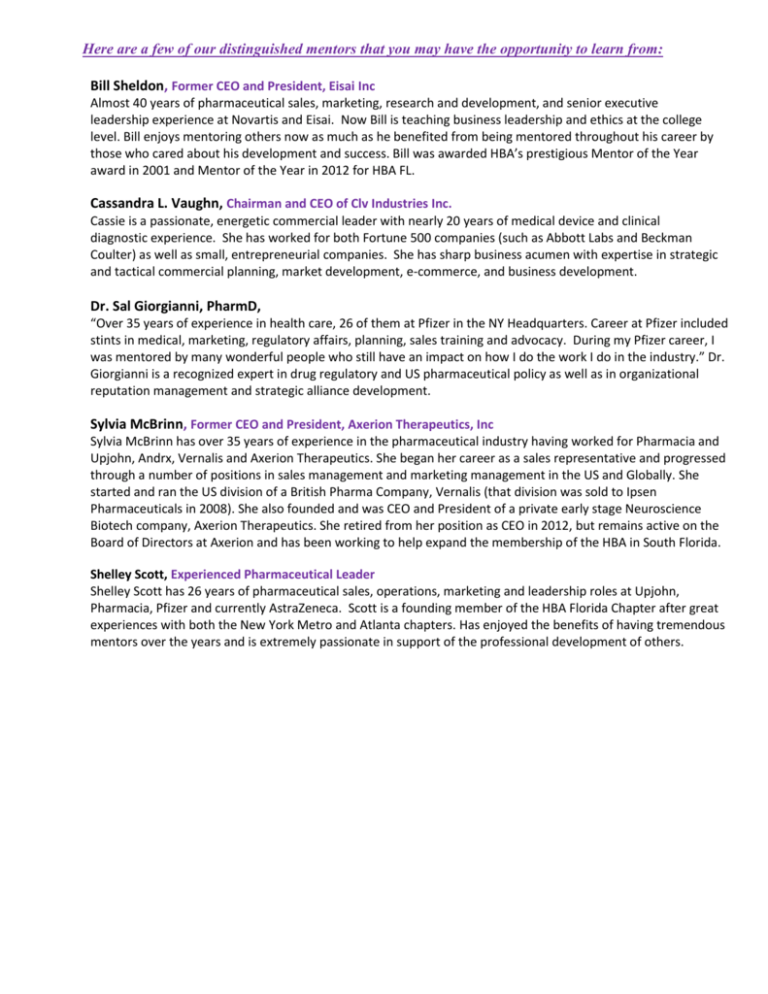 Here are a few of our distinguished mentors that you may have the opportunity to learn from:
Bill Sheldon, Former CEO and President, Eisai Inc
Almost 40 years of pharmaceutical sales, marketing, research and development, and senior executive
leadership experience at Novartis and Eisai. Now Bill is teaching business leadership and ethics at the college
level. Bill enjoys mentoring others now as much as he benefited from being mentored throughout his career by
those who cared about his development and success. Bill was awarded HBA's prestigious Mentor of the Year
award in 2001 and Mentor of the Year in 2012 for HBA FL.
Cassandra L. Vaughn, Chairman and CEO of Clv Industries Inc.
Cassie is a passionate, energetic commercial leader with nearly 20 years of medical device and clinical
diagnostic experience. She has worked for both Fortune 500 companies (such as Abbott Labs and Beckman
Coulter) as well as small, entrepreneurial companies. She has sharp business acumen with expertise in strategic
and tactical commercial planning, market development, e-commerce, and business development.
Dr. Sal Giorgianni, PharmD,
"Over 35 years of experience in health care, 26 of them at Pfizer in the NY Headquarters. Career at Pfizer included
stints in medical, marketing, regulatory affairs, planning, sales training and advocacy. During my Pfizer career, I
was mentored by many wonderful people who still have an impact on how I do the work I do in the industry." Dr.
Giorgianni is a recognized expert in drug regulatory and US pharmaceutical policy as well as in organizational
reputation management and strategic alliance development.
Sylvia McBrinn, Former CEO and President, Axerion Therapeutics, Inc
Sylvia McBrinn has over 35 years of experience in the pharmaceutical industry having worked for Pharmacia and
Upjohn, Andrx, Vernalis and Axerion Therapeutics. She began her career as a sales representative and progressed
through a number of positions in sales management and marketing management in the US and Globally. She
started and ran the US division of a British Pharma Company, Vernalis (that division was sold to Ipsen
Pharmaceuticals in 2008). She also founded and was CEO and President of a private early stage Neuroscience
Biotech company, Axerion Therapeutics. She retired from her position as CEO in 2012, but remains active on the
Board of Directors at Axerion and has been working to help expand the membership of the HBA in South Florida.
Shelley Scott, Experienced Pharmaceutical Leader
Shelley Scott has 26 years of pharmaceutical sales, operations, marketing and leadership roles at Upjohn,
Pharmacia, Pfizer and currently AstraZeneca. Scott is a founding member of the HBA Florida Chapter after great
experiences with both the New York Metro and Atlanta chapters. Has enjoyed the benefits of having tremendous
mentors over the years and is extremely passionate in support of the professional development of others.