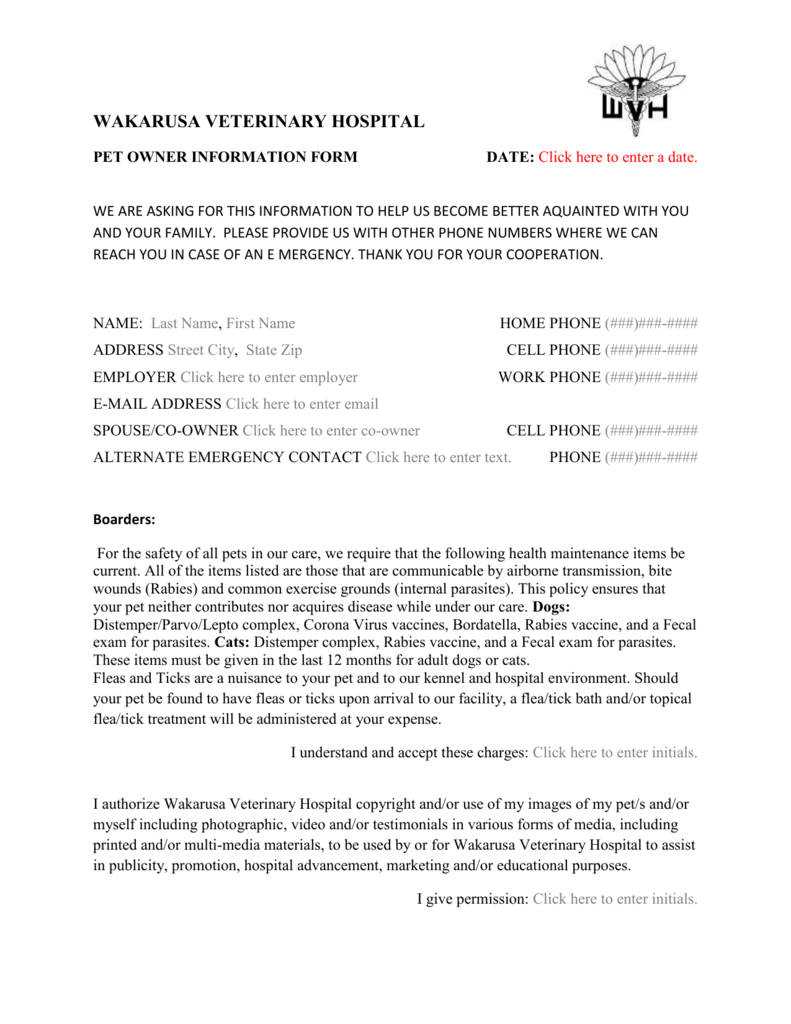 WAKARUSA VETERINARY HOSPITAL
PET OWNER INFORMATION FORM
DATE: Click here to enter a date.
WE ARE ASKING FOR THIS INFORMATION TO HELP US BECOME BETTER AQUAINTED WITH YOU
AND YOUR FAMILY. PLEASE PROVIDE US WITH OTHER PHONE NUMBERS WHERE WE CAN
REACH YOU IN CASE OF AN E MERGENCY. THANK YOU FOR YOUR COOPERATION.
NAME: Last Name, First Name
HOME PHONE (###)###-####
ADDRESS Street City, State Zip
CELL PHONE (###)###-####
EMPLOYER Click here to enter employer
WORK PHONE (###)###-####
E-MAIL ADDRESS Click here to enter email
SPOUSE/CO-OWNER Click here to enter co-owner
CELL PHONE (###)###-####
ALTERNATE EMERGENCY CONTACT Click here to enter text.
PHONE (###)###-####
Boarders:
For the safety of all pets in our care, we require that the following health maintenance items be
current. All of the items listed are those that are communicable by airborne transmission, bite
wounds (Rabies) and common exercise grounds (internal parasites). This policy ensures that
your pet neither contributes nor acquires disease while under our care. Dogs:
Distemper/Parvo/Lepto complex, Corona Virus vaccines, Bordatella, Rabies vaccine, and a Fecal
exam for parasites. Cats: Distemper complex, Rabies vaccine, and a Fecal exam for parasites.
These items must be given in the last 12 months for adult dogs or cats.
Fleas and Ticks are a nuisance to your pet and to our kennel and hospital environment. Should
your pet be found to have fleas or ticks upon arrival to our facility, a flea/tick bath and/or topical
flea/tick treatment will be administered at your expense.
I understand and accept these charges: Click here to enter initials.
I authorize Wakarusa Veterinary Hospital copyright and/or use of my images of my pet/s and/or
myself including photographic, video and/or testimonials in various forms of media, including
printed and/or multi-media materials, to be used by or for Wakarusa Veterinary Hospital to assist
in publicity, promotion, hospital advancement, marketing and/or educational purposes.
I give permission: Click here to enter initials.