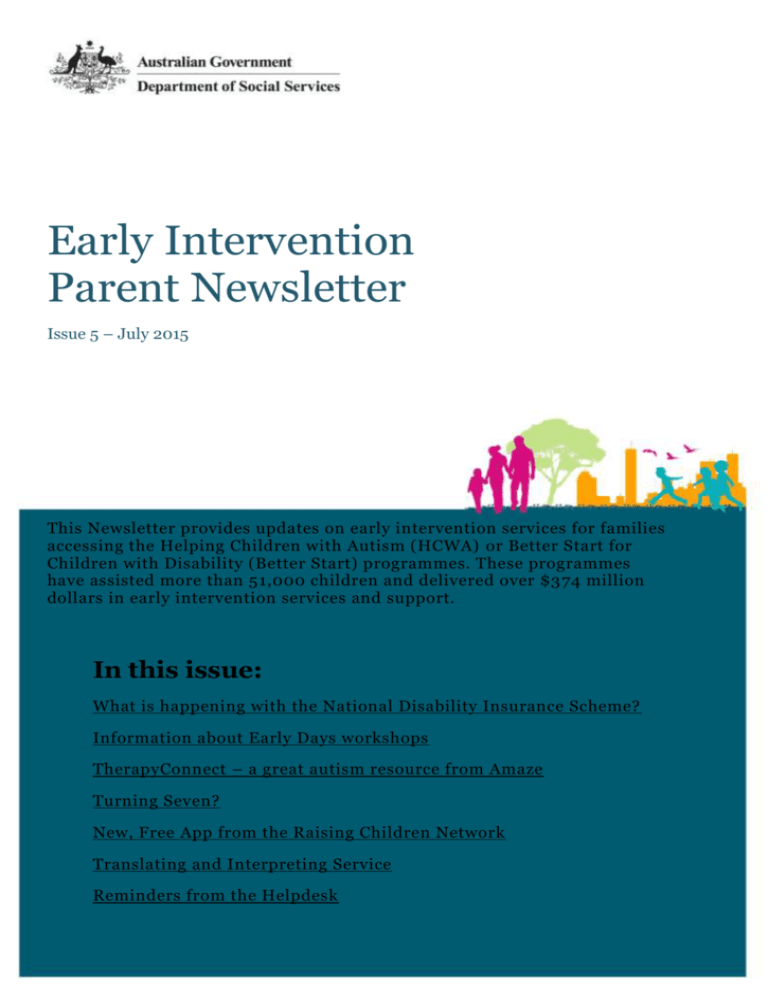 Early Intervention
Parent Newsletter
Issue 5 – July 2015
This Newsletter provides updates on early intervention services for families
accessing the Helping Children with Autism (HCWA) or Better Start for
Children with Disability (Better Start) programmes. These programmes
have assisted more than 51,000 children and delivered over $374 million
dollars in early intervention services and support.
In this issue:
What is happening with the National Disability Insurance Scheme?
Information about Early Days workshops
TherapyConnect – a great autism resource from Amaze
Turning Seven?
New, Free App from the Raising Children Network
Translating and Interpreting Service
Reminders from the Helpdesk
Early Intervention Parent Newsletter
What is happening with the National Disability Insurance
Scheme (NDIS) roll-out and transition?
The NDIS is currently rolled-out in the following areas:
• Australian Capital Territory
• Barkly region of the Northern Territory
• Perth Hills area of Western Australia (WA)
• Barwon area of Victoria
• Hunter area of New South Wales
• South Australia for children up to and including age 14
• Tasmania for 15-24 year olds.
The NDIS roll-out in the Nepean Blue Mountains trial commenced on 1 July 2015. This trial includes
the Local Government Areas of Blue Mountains, Hawkesbury, Lithgow and Penrith. From
September 2015, children aged 0-17 who meet NDIS eligibility criteria will gradually phase into the
Scheme.
In the meantime, the NDIS is opening a shop front in Penrith to help prepare children, young people
and their families in Western Sydney to transition to the NDIS.
Detailed information about the roll-out is available at www.ndis.gov.au/roll-out-national-disabilityinsurance-scheme.
What is happening in Western Australia?
The NDIS trial in WA is unique, as it includes two different models:
• The Commonwealth's NDIS model; and
• The WA State Government's WA NDIS My Way (My Way) model, funded by the Disability Services
Commission.
As mentioned above, the Commonwealth's NDIS model is currently available in the Perth Hills area.
The My Way trial is now available to people with permanent and significant disability in the following
trial sites:
• Lower South West from 1 July 2014, and
• Cockburn and Kwinana areas from 1 July 2015.
Further information on the My Way trial is available on the WA NDIS My Way website.
What happens to HCWA and Better Start clients as the NDIS rolls out?
The HCWA and Better Start programmes will gradually be transitioned to the NDIS.
When your child is due to transition to the NDIS, you will be contacted by the National Disability
Insurance Agency (NDIA) and you will be asked to complete an Access Request Form. It is important
you complete the form and return it to the NDIA to begin transition.
Within a few weeks of sending in your form, you will be contacted by the NDIA to organise a time for
you and your child to meet with a planner. Together you can discuss your child's needs and
appropriate supports.
Funding you receive through HCWA/Better Start will continue until the date your child's NDIS support
plan is approved.
What if my child is found to be ineligible for funding through the NDIS?
If your child cannot access the NDIS (or My Way in relevant areas of Western Australia), they will
remain on HCWA/Better Start under your current arrangements.
Early Intervention Parent Newsletter
How can I find out what is happening in my area?
You can find more information about the roll out of the NDIS and what is happening in each state at
the NDIS Our Sites web page. Families who are living in Western Australia may wish to visit the My
Way website at the WA NDIS My Way web page for more information about the roll out of My Way in
your area.
More information
The DSS Early Intervention Helpdesk can assist with more information on transitioning from the
HCWA and Better Start programmes to the NDIS and My Way. The Helpdesk can be contacted by
calling 1800 778 581 or by email at early.intervention@dss.gov.au.
You can also view common questions about the transition to the NDIS by visiting our website at
www.dss.gov.au/early-intervention-ndis.
If you live in an NDIS trial site and haven't received an information pack, please contact the NDIA on
1800 800 110. Families living in My Way trial sites in Western Australia can call 1800 996 214 for
more information.
We are encouraging service providers to register with the NDIA and My Way to ensure continuous
care for children transitioning to the NDIS.
Early Days workshops
Early Days Workshops provide flexible and tailored support for parents and carers of children with
disability including those from diverse cultural and Indigenous backgrounds, and those living in rural
and remote areas. The workshops help parents and carers to:
• Understand how the funding works
• Learn more about the services and supports available to you and your child
• Meet other parents who have similar experiences to you, and
• Build confidence and develop positive strategies.
For more information about HCWA Workshops, contact the Autism Association in your state or
territory.
For more information about Better Start Workshops, contact Carers Australia on 1800 242 636 or
Ability First Australia via the Better Start Early Days website.
TherapyConnect
The TherapyConnect website provides a tool to help families to navigate the therapy pathway for
their child with Autism Spectrum Disorder (ASD). It can be helpful for parents just beginning their
therapy journey, as well as for families who are a little further down the path.
Turning Seven?
If your child is about to turn seven, or you think you have accessed the full amount of early
intervention funding, contact your local Autism Association (for HCWA) or Registration and
Information Service (RIS) Office (for Better Start). They can offer advice on other funding services
and support within your area, such as Medicare options, State and Territory government services and
the NDIS.
Early Intervention Parent Newsletter
Free App from the Raising Children Network
The Raising Children Network (RCN) have recently released the Children with ASD & Disability app
for both iOS and Android devices. This free app provides reliable and easy-to-understand information
for families including:
• a pathfinder to navigate each stage of funding, services and support before and after diagnosis;
• a mapping tool for ASD or disability services in your area and key contacts directory;
• step-by-step expert guidance on navigating the Australian services system;
• parent videos to help you learn through other parents' experiences; and
• up-to-date, evidence-based articles and information about disability and ASD.
Image: RCN's new app makes it easier to find services and information
The app recently received Outstanding Achievement award in the Healthcare category of the
International Interactive Media Awards. Visit the RCN Children with ASD & Disability app web
page to find out more, or to download the app to your device.
The Raising Children Network website provides information to help parents with the day-to-day
decisions of raising children, as well as helping parents and carers look after their own needs. DSS
funds RCN to provide information to families about HCWA and Better Start, including the 'My
Neighbourhood' section which helps you to search for HCWA or Better Start service providers in your
area.
Translating and Interpreting Service (TIS)
Contact the TIS on 13 14 50 if you require a translating or interpreting service to communicate with
your Autism Advisor, Registration and Information Service (RIS) Officer and/or Early Intervention
Service Providers.
Reminders from the helpdesk
Updating your contact details
If you have recently moved house and/or changed the email address for your FAS, please remember
to update your details by contacting your local Autism Association (for HCWA) or Registration and
Information Service (RIS) Office (for Better Start).
Early Intervention Parent Newsletter
Monitoring your child's early intervention spending
Parents and/or carers are responsible for monitoring their child's HCWA or Better Start spending.
DSS generates a monthly Family Activity Statement (FAS) for each child who has had a claim
processed during the previous month. Details on the FAS include the balance of remaining funds.
Sometimes there may be a delay in the service provider lodging the claim, which means that the
balances shown on the FAS may not be accurate, so please ensure you keep your own expenditure
records.
Issues and complaints
Please talk with your service provider if you have any issues or complaints about your child's therapy.
However, if you are not able to resolve the issue to your satisfaction, please send an email outlining
your concerns to early.intervention@dss.gov.au. In your email, please advise whether you will
consent to us contacting your service provider and disclosing your child's details during our
investigation of the issue.
Feedback
We would love to hear about your child's success with early interventions. You can email your story
to the Early Intervention Helpdesk and let us know if you are happy for your story to be published.
Perhaps there is a topic you would like to see covered in future issues of this newsletter. We are
always happy to receive suggestions to ensure this newsletter provides the information you need.
Early Intervention helpdesk
The Early Intervention Helpdesk can be contacted on 1800 778 581 (toll free) or by emailing
early.intervention@dss.gov.au.
Staff are available Monday to Friday between 9:30am – 12:30pm and 1:30pm – 5:00pm AEST.