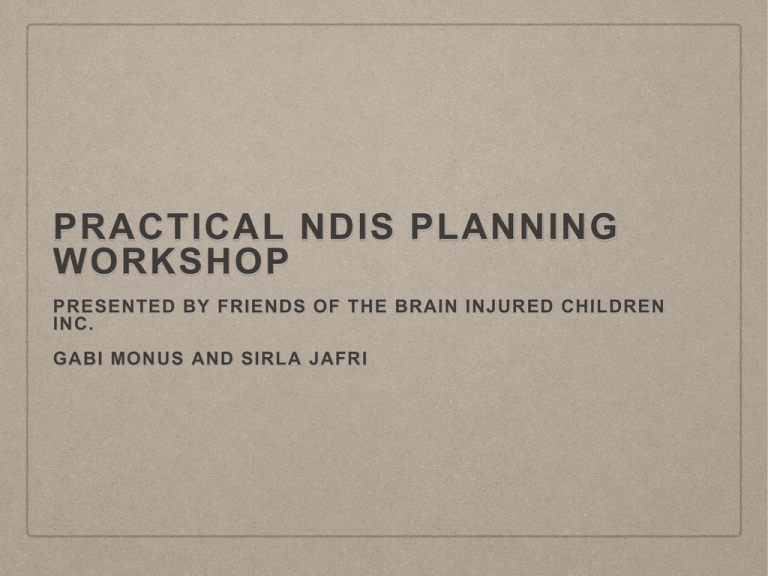 PRACTICAL NDIS PLANNING
WORKSHOP
PRESENTED BY FRIENDS OF THE BRAIN INJURED CHILDREN
INC.
GABI MONUS AND SIRLA JAFRI
NDIS PROCESS
•
The NDIS should have already contacted you. If they have not then you
need to call them on 1800 800 110. The access checker is a key tool the
NDIA use to determine your child's eligibility to the scheme. You must
complete the access checker for your child and save the code you are
given once you have completed this. The code is used by the NDIA in
confirming your child's eligibility to the scheme
•
Primary school aged children will transition to the NDIS in 2015
•
In the meantime there should be no change to current funded supports via
Therapy ACT. Note, equipment purchases/maintenance.
•
NDIA will contact you with an 'Access request form' which also includes
other documentation you are required to complete including an 'Evidence
of disability form'
•
Once you have completed and submitted this documentation, the NDIA
will organise a planning meeting and will ask you to complete the
Participant Statement for the planning meeting.
RELEVANT DOCUMENTATION
•
NDIS workbook
•
NDIS fact sheets
•
Evidence of disability and access request form
•
Participant statement
•
Price list for support items/service providers
•
ndis.gov.au
IMPORTANT THINGS TO NOTE
•
NDIS funding impacts on HAAC funding
•
Prepare a budget BEFORE you attend the planning meeting
•
There is specific early intervention support for early childhood,
i.e. high needs can be funded for early intervention from
$12000 up to $16000 where early intervention is seen as
reasonable and necessary and is expected to deliver
significant results within a six month period (31)
•
Up to 10 sessions per annum are funded to cover specialised
services such as physio, OT, speech and psychology (40
onwards)
PARTICIPANT STATEMENT AND
PREPARING GOALS
Goals include:
•
Education
•
Social participation
•
Independence
•
Living arrangements and
•
Health and well being
EXAMPLES OF GOALS
Education
•
To learn about my environment and community
•
To be exposed to new learning opportunities
•
To be stimulated through sight and sound
•
To attend community events to learn about my community
•
To engage in computer assisted activities to enhance my educational
capabilities
•
To receive input from an occupational therapist to ensure I am able to
access appropriate equipment to support my learning and educational
needs
EXAMPLES OF GOALS
Education
•
Increase my word knowledge, basic numeracy
and literacy skills via Ipad and other computer
assisted programs, word and picture cards
•
Story reading, assisted spelling activities,
television programs, games and other activities
EXAMPLES OF GOALS
Social participation
•
An opportunity to have appropriate community
and social access at least once or twice a week.
This may include accessing art/musical or other
activities, going shopping or seeing a movie
•
It may also include participating in assisted
social activities such as sport
•
Note that siblings could provide clues around
relevant social activities
EXAMPLES OF GOALS
Independence
•
To be given every opportunity to enhance abilities to be
independent in every way. This might include feeding and
toileting or communicating my needs and mobility
•
To let people know what I want
•
To be understood by unfamiliar people
•
To be able to make choices about my day to day life
•
To be supported to explore the best options to
communicate my needs and be understood by others
EXAMPLES OF GOALS
Independence goals continued
•
•
To be assisted by a speech therapist to explore :

options to assist me to communicate my needs and to
assist me to make some basic daily choices about my life

any technology/supports that will provide me with more
autonomy regarding my speech
To be supported to practice any strategies recommended by
the speech therapist both at home and the community
EXAMPLES OF GOALS
Living arrangement related goals
•
To live at home and have a fulfilling and
meaningful existence where every day is an
opportunity to learn, grow and extend myself.
•
Flexibility needs to be built into the living
arrangements so that on days when tired or
unwell can rest.
EXAMPLES OF GOALS
Health and well being
•
To maximise and maintain physical well being
i.e. optimal health with minimal physical ailments
•
Maintain intensive therapies
•
Note NDIS do not fund therapy directly but if you
self manage the funds they can be directed to
cover therapies indirectly via 'assistance to
access community, social and recreational
activities (23008) (34)
OTHER THINGS YOU CAN ASK
FOR
•
Assistance with transport including taxis, buses and
cars
•
Transport costs incurred to and from therapy
appointments (currently 78 cents per km)
•
Weekend care
•
Holiday care
•
Training/buddy up sessions for carers
•
Continence aids
OTHER THINGS YOU CAN ASK FOR
ASSISTANCE WITH FUNDING
•
House cleaning and other household activities
•
House and/or yard maintenance
•
Some funding to have someone coordinate
services for your child or manage your NDIS
paperwork or explore options for your child to
assist them meet their goals
SELF MANAGING AND
PREPARING A BUDGET
•
If you self manage your child's NDIS funds you
have more flexibility around how you acquit the
funds
•
Given what you can ask for you need to have
clearly articulated goals and worked out a budget
based on the NDIS prices listed for support
services BEFORE you attend the first planning
meeting.