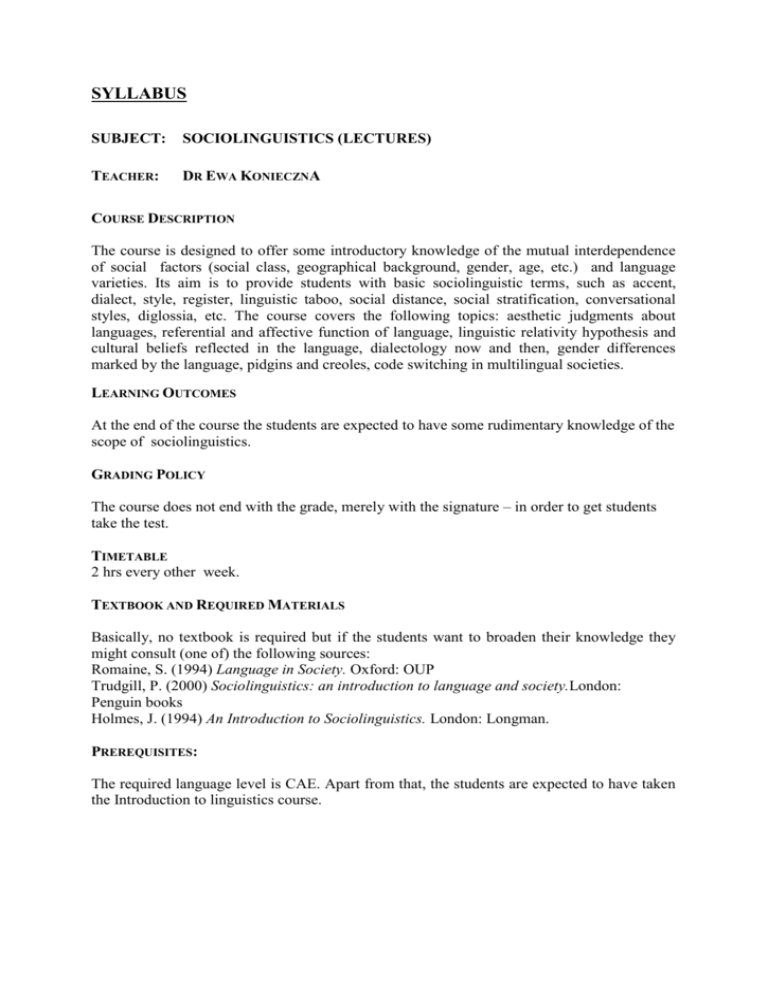 SYLLABUS
SUBJECT:
SOCIOLINGUISTICS (LECTURES)
TEACHER:
DR EWA KONIECZNA
COURSE DESCRIPTION
The course is designed to offer some introductory knowledge of the mutual interdependence
of social factors (social class, geographical background, gender, age, etc.) and language
varieties. Its aim is to provide students with basic sociolinguistic terms, such as accent,
dialect, style, register, linguistic taboo, social distance, social stratification, conversational
styles, diglossia, etc. The course covers the following topics: aesthetic judgments about
languages, referential and affective function of language, linguistic relativity hypothesis and
cultural beliefs reflected in the language, dialectology now and then, gender differences
marked by the language, pidgins and creoles, code switching in multilingual societies.
LEARNING OUTCOMES
At the end of the course the students are expected to have some rudimentary knowledge of the
scope of sociolinguistics.
GRADING POLICY
The course does not end with the grade, merely with the signature – in order to get students
take the test.
TIMETABLE
2 hrs every other week.
TEXTBOOK AND REQUIRED MATERIALS
Basically, no textbook is required but if the students want to broaden their knowledge they
might consult (one of) the following sources:
Romaine, S. (1994) Language in Society. Oxford: OUP
Trudgill, P. (2000) Sociolinguistics: an introduction to language and society.London:
Penguin books
Holmes, J. (1994) An Introduction to Sociolinguistics. London: Longman.
PREREQUISITES:
The required language level is CAE. Apart from that, the students are expected to have taken
the Introduction to linguistics course.