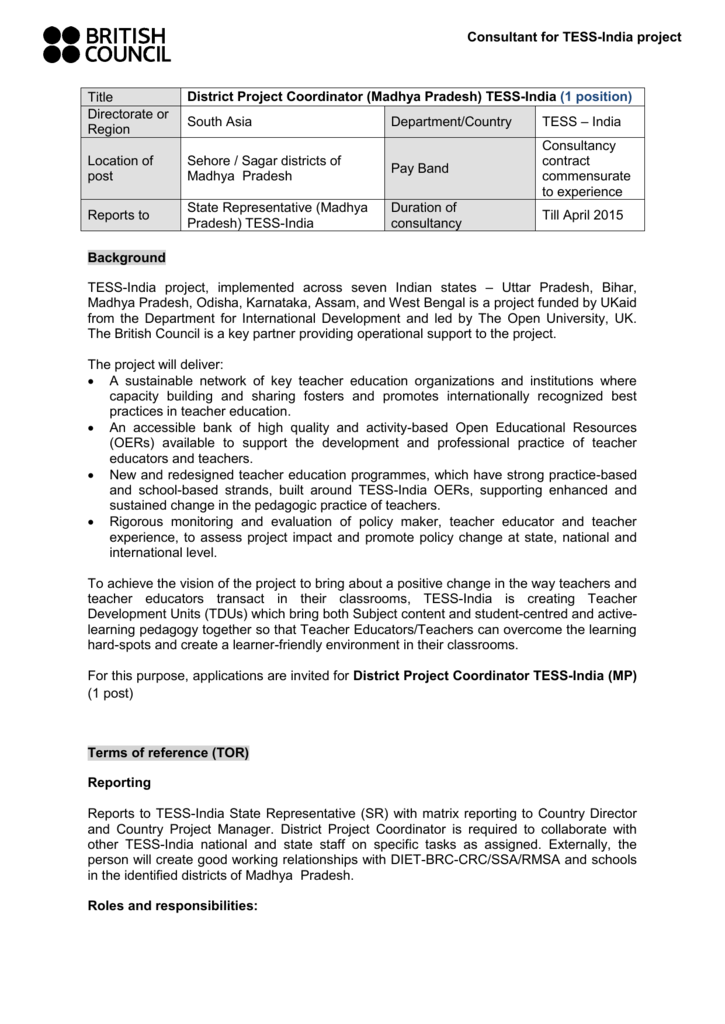 Consultant for TESS-India project
Title
Directorate or
Region
District Project Coordinator (Madhya Pradesh) TESS-India (1 position)
South Asia
Department/Country
TESS – India
Location of
post
Sehore / Sagar districts of
Madhya Pradesh
Pay Band
Consultancy
contract
commensurate
to experience
Reports to
State Representative (Madhya
Pradesh) TESS-India
Duration of
consultancy
Till April 2015
Background
TESS-India project, implemented across seven Indian states – Uttar Pradesh, Bihar,
Madhya Pradesh, Odisha, Karnataka, Assam, and West Bengal is a project funded by UKaid
from the Department for International Development and led by The Open University, UK.
The British Council is a key partner providing operational support to the project.
The project will deliver:
 A sustainable network of key teacher education organizations and institutions where
capacity building and sharing fosters and promotes internationally recognized best
practices in teacher education.
 An accessible bank of high quality and activity-based Open Educational Resources
(OERs) available to support the development and professional practice of teacher
educators and teachers.
 New and redesigned teacher education programmes, which have strong practice-based
and school-based strands, built around TESS-India OERs, supporting enhanced and
sustained change in the pedagogic practice of teachers.
 Rigorous monitoring and evaluation of policy maker, teacher educator and teacher
experience, to assess project impact and promote policy change at state, national and
international level.
To achieve the vision of the project to bring about a positive change in the way teachers and
teacher educators transact in their classrooms, TESS-India is creating Teacher
Development Units (TDUs) which bring both Subject content and student-centred and activelearning pedagogy together so that Teacher Educators/Teachers can overcome the learning
hard-spots and create a learner-friendly environment in their classrooms.
For this purpose, applications are invited for District Project Coordinator TESS-India (MP)
(1 post)
Terms of reference (TOR)
Reporting
Reports to TESS-India State Representative (SR) with matrix reporting to Country Director
and Country Project Manager. District Project Coordinator is required to collaborate with
other TESS-India national and state staff on specific tasks as assigned. Externally, the
person will create good working relationships with DIET-BRC-CRC/SSA/RMSA and schools
in the identified districts of Madhya Pradesh.
Roles and responsibilities:










Ability to work collaboratively with key state agencies and TESS-India teams and to
proactively seek ways to contribute to team success
Preparation of implementation plan at district level in consonance with State Plan
Leading district team in effective implementation of district implementation strategy
Periodic monitoring of project activities and deliverables against time line
Updating data and information through Performance Management Information System
(PMIS)
Providing high-level local academic support (capacity building, network, training, etc.,)
and administrative support at district level
Documenting and sharing project successes with stake holders
Organising stakeholder visits to project sites
Mobilising community and other stakeholders including NGOs
Performing any other duties assigned by the supervisor in line with TESS-India
objectives
Eligibility Criteria:









Bachelors' /Masters' degree in Social Science/Education/Statistics
5-7 years of experience in working at district level on various projects related to
education and delivering capacity building programmes for a variety of target audience,
ideally government teacher educators/teachers
Working with District Education Officials (DEO), Block Education Officials (BEO), CRC
and BRC Coordinators, DIET officials, State teacher education institutions such as IASE,
CTE etc.
Knowledge of Microsoft Office- MS Word, Excel, Power Point and Internet
Good communication and writing skills
Proficiency in regional language (reading, writing and speaking) is essential
Excellent facilitation skills for training programmes, workshop, seminars
Willingness to travel extensively in the state as well as to other TESS-India states
Residents of the intervention districts of the state will be preferred
Deliverables will be set and monitored through weekly meetings and monthly reporting
through time sheets, activity plans, PMIS and other reports to State Representative, Country
Project Manager and Country Project Director.
*Note:
OER – Open Educational Resources
SCERT – State Council for Educational Research and Training
DIET – District Institute of Education and Training
SSA – Sarva Siksha Abhiyan
RMSA – Rashtriya Madhyam Siksha Abhiyan
BRC – Block Resource Centre
CRC – Cluster Resource Centre
Submission guidelines:
The consultant is required to submit the application form by 27th May 2014.
Please email your application form (in word format and as a single attachment only) to
[email protected] indicating in the subject line: DPC-MP
Emails that do not follow the above naming convention in the subject line will not be
considered.