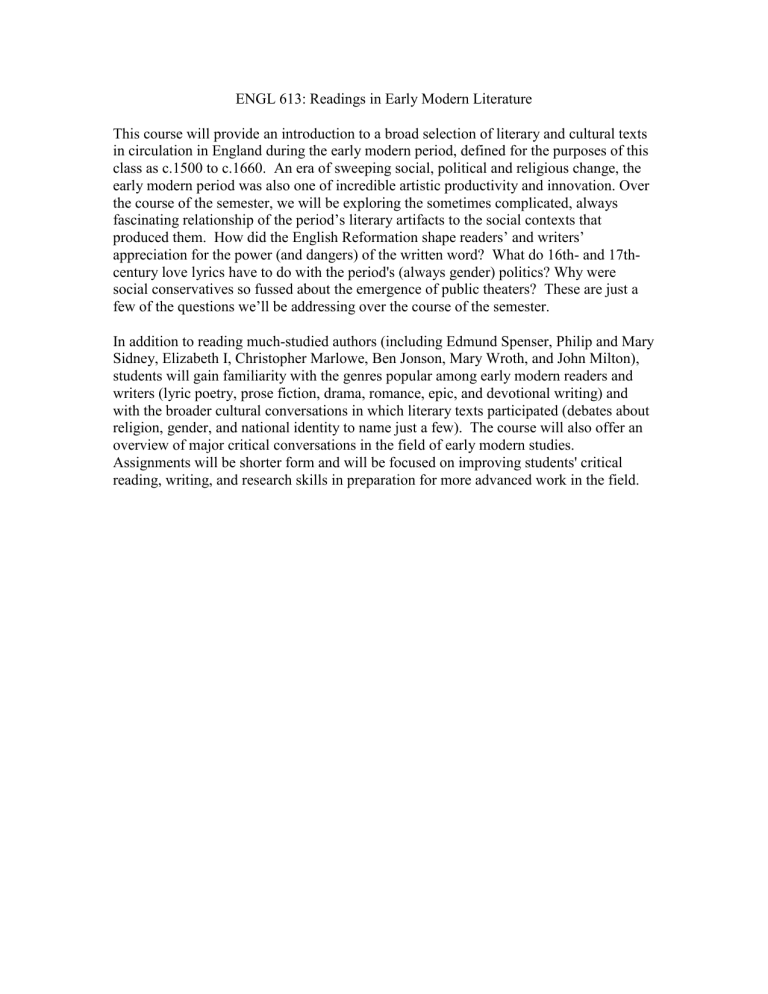 ENGL 613: Readings in Early Modern Literature
This course will provide an introduction to a broad selection of literary and cultural texts in circulation in England during the early modern period, defined for the purposes of this class as c.1500 to c.1660. An era of sweeping social, political and religious change, the early modern period was also one of incredible artistic productivity and innovation. Over the course of the semester, we will be exploring the sometimes complicated, always fascinating relationship of the period's literary artifacts to the social contexts that produced them. How did the English Reformation shape readers' and writers' appreciation for the power (and dangers) of the written word? What do 16th- and 17thcentury love lyrics have to do with the period's (always gender) politics? Why were social conservatives so fussed about the emergence of public theaters? These are just a few of the questions we'll be addressing over the course of the semester.
In addition to reading much-studied authors (including Edmund Spenser, Philip and Mary
Sidney, Elizabeth I, Christopher Marlowe, Ben Jonson, Mary Wroth, and John Milton), students will gain familiarity with the genres popular among early modern readers and writers (lyric poetry, prose fiction, drama, romance, epic, and devotional writing) and with the broader cultural conversations in which literary texts participated (debates about religion, gender, and national identity to name just a few). The course will also offer an overview of major critical conversations in the field of early modern studies.
Assignments will be shorter form and will be focused on improving students' critical reading, writing, and research skills in preparation for more advanced work in the field.