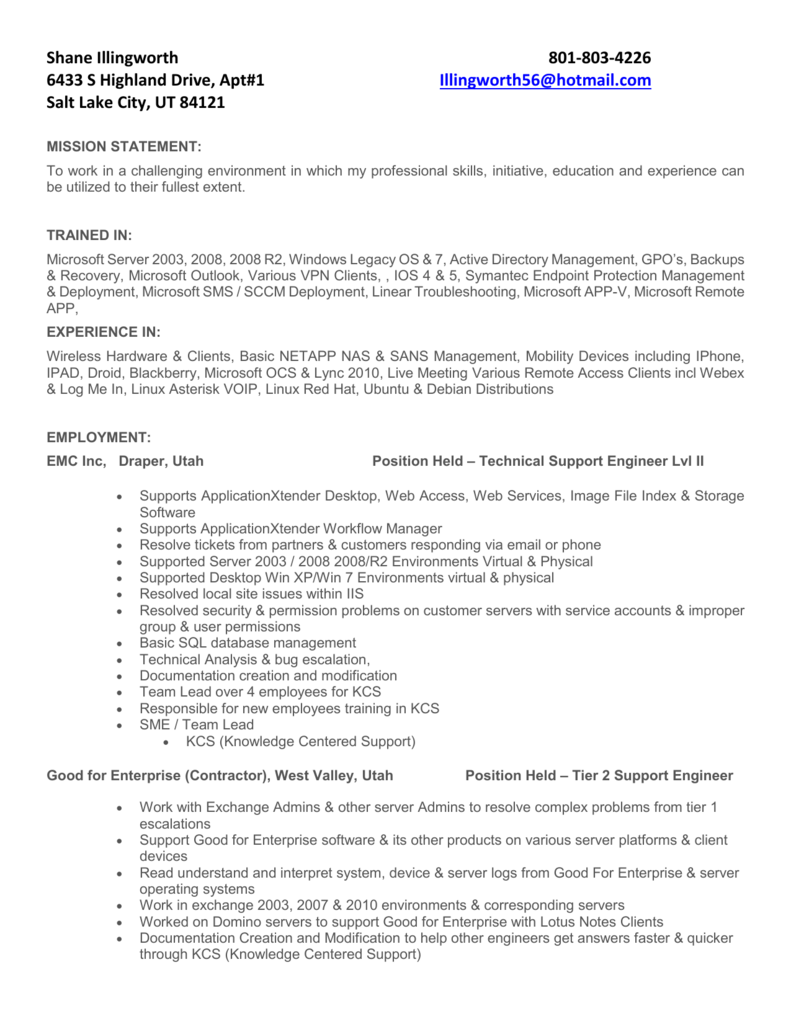 Shane Illingworth
6433 S Highland Drive, Apt#1
Salt Lake City, UT 84121
801-803-4226
[email protected]
MISSION STATEMENT:
To work in a challenging environment in which my professional skills, initiative, education and experience can
be utilized to their fullest extent.
TRAINED IN:
Microsoft Server 2003, 2008, 2008 R2, Windows Legacy OS & 7, Active Directory Management, GPO's, Backups
& Recovery, Microsoft Outlook, Various VPN Clients, , IOS 4 & 5, Symantec Endpoint Protection Management
& Deployment, Microsoft SMS / SCCM Deployment, Linear Troubleshooting, Microsoft APP-V, Microsoft Remote
APP,
EXPERIENCE IN:
Wireless Hardware & Clients, Basic NETAPP NAS & SANS Management, Mobility Devices including IPhone,
IPAD, Droid, Blackberry, Microsoft OCS & Lync 2010, Live Meeting Various Remote Access Clients incl Webex
& Log Me In, Linux Asterisk VOIP, Linux Red Hat, Ubuntu & Debian Distributions
EMPLOYMENT:
EMC Inc, Draper, Utah













Position Held – Technical Support Engineer Lvl II
Supports ApplicationXtender Desktop, Web Access, Web Services, Image File Index & Storage
Software
Supports ApplicationXtender Workflow Manager
Resolve tickets from partners & customers responding via email or phone
Supported Server 2003 / 2008 2008/R2 Environments Virtual & Physical
Supported Desktop Win XP/Win 7 Environments virtual & physical
Resolved local site issues within IIS
Resolved security & permission problems on customer servers with service accounts & improper
group & user permissions
Basic SQL database management
Technical Analysis & bug escalation,
Documentation creation and modification
Team Lead over 4 employees for KCS
Responsible for new employees training in KCS
SME / Team Lead
 KCS (Knowledge Centered Support)
Good for Enterprise (Contractor), West Valley, Utah






Position Held – Tier 2 Support Engineer
Work with Exchange Admins & other server Admins to resolve complex problems from tier 1
escalations
Support Good for Enterprise software & its other products on various server platforms & client
devices
Read understand and interpret system, device & server logs from Good For Enterprise & server
operating systems
Work in exchange 2003, 2007 & 2010 environments & corresponding servers
Worked on Domino servers to support Good for Enterprise with Lotus Notes Clients
Documentation Creation and Modification to help other engineers get answers faster & quicker
through KCS (Knowledge Centered Support)
Lifetime Products (Contractor), Clearfield, Utah









Use of Microsoft RemoteAPP package creation and deployment
Microsoft Application Virtualization package creation and deployment
Support Server 2003, 2008, 2008 R2 Server environments
Use, maintain and support Microsoft Hyper-V for virtualization
Use & maintain Active Directory groups & users
Tier 1 Microsoft Exchange Support
Terminal servers support & build outs for virtualization environments
Remote Desktop Services(virtual server desktops)
Documentation Creation and Modification to support my environments & clients
Silicon Valley Bank , West Valley, Utah










Position Held – Infrastructure Administrator
Position Held – End User Services
SME \ Team Lead
 Software Deployment & Licensing
 Service Now Maintenance & Support
 Use & Maintain Goverlan remote support
 Training new employees on software deployments and software itself
 Researching & purchasing new software depending on need
Use maintain & Support SCCM & Microsoft Application Virtualization
Laptop Deployments
Support Customers via the Phone, Email & Call backs
Report bugs and improve the knowledgebase & Documentation
Remote Desktop & Laptop Support
Use & Maintain Active Directory groups & users
Tier1 Microsoft Exchange support
Support Mobile Applications & Devices including Iphone, IPad, Blackberry with BES, Droid
Regional technician for the Seattle, Portland, Phoenix, Denver, Minnesota, Chicago and Salt Lake
City offices. Quarterly visits to each sales office for support of servers, networks, VOIP and end
users
EDUCATION:
ITT Technical Institute


Murray, Utah
Associates of Applied Science, Information Technology - Computer Networking Systems
Bachelor of Science, Information Technology - Information System Security
PERSONAL STATEMENT
I am a highly motivated, self-starter, with 7 years of training and education in the Information
Technology field. I am a confident, enthusiastic, business-like individual with a good sense of
humor, and an excellent ability to communicate at all levels. I have the ability to work effectively
as an individual or as a team member and offer a great deal of flexibility in regards to work
environment and schedule. I thrive in a challenging environment where my professional skills,
initiative and experience can be utilized to their fullest.