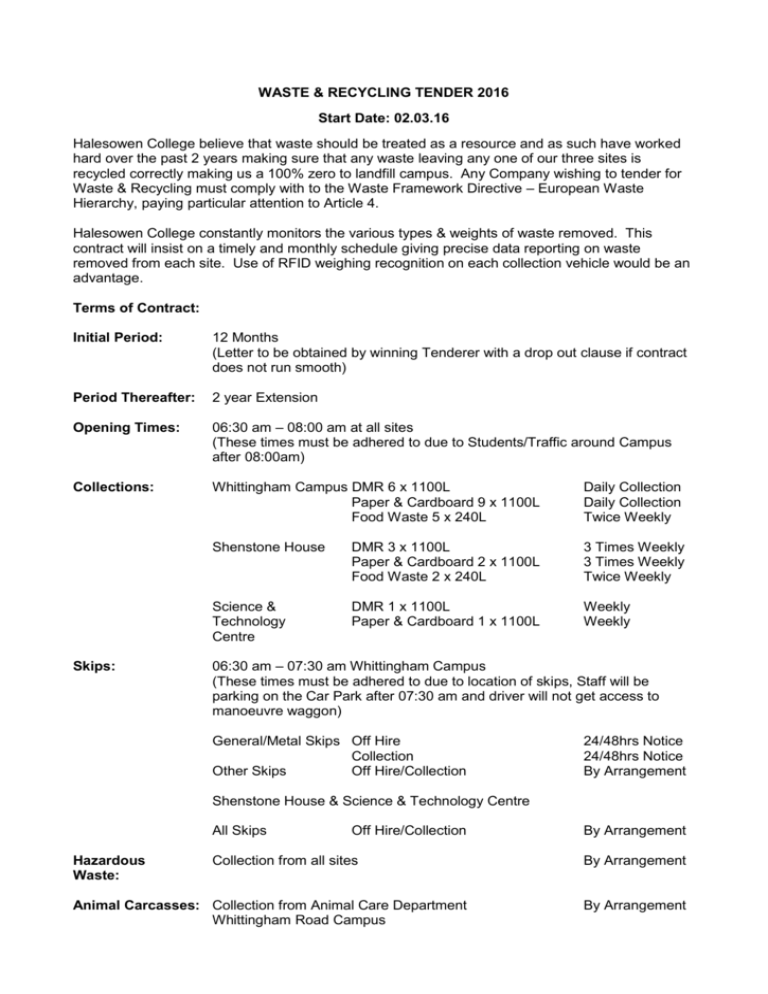 WASTE & RECYCLING TENDER 2016
Start Date: 02.03.16
Halesowen College believe that waste should be treated as a resource and as such have worked
hard over the past 2 years making sure that any waste leaving any one of our three sites is
recycled correctly making us a 100% zero to landfill campus. Any Company wishing to tender for
Waste & Recycling must comply with to the Waste Framework Directive – European Waste
Hierarchy, paying particular attention to Article 4.
Halesowen College constantly monitors the various types & weights of waste removed. This
contract will insist on a timely and monthly schedule giving precise data reporting on waste
removed from each site. Use of RFID weighing recognition on each collection vehicle would be an
advantage.
Terms of Contract:
Initial Period:
12 Months
(Letter to be obtained by winning Tenderer with a drop out clause if contract
does not run smooth)
Period Thereafter:
2 year Extension
Opening Times:
06:30 am – 08:00 am at all sites
(These times must be adhered to due to Students/Traffic around Campus
after 08:00am)
Collections:
Whittingham Campus DMR 6 x 1100L
Paper & Cardboard 9 x 1100L
Food Waste 5 x 240L
Daily Collection
Daily Collection
Twice Weekly
Shenstone House
DMR 3 x 1100L
Paper & Cardboard 2 x 1100L
Food Waste 2 x 240L
3 Times Weekly
3 Times Weekly
Twice Weekly
Science &
Technology
Centre
DMR 1 x 1100L
Paper & Cardboard 1 x 1100L
Weekly
Weekly
Skips:
06:30 am – 07:30 am Whittingham Campus
(These times must be adhered to due to location of skips, Staff will be
parking on the Car Park after 07:30 am and driver will not get access to
manoeuvre waggon)
General/Metal Skips Off Hire
Collection
Other Skips
Off Hire/Collection
24/48hrs Notice
24/48hrs Notice
By Arrangement
Shenstone House & Science & Technology Centre
All Skips
Hazardous
Waste:
Off Hire/Collection
Collection from all sites
Animal Carcasses: Collection from Animal Care Department
Whittingham Road Campus
By Arrangement
By Arrangement
By Arrangement
Please provide a description of your organisation's principal areas of service and explain why you
are expressing an interest in this tender?
Do you have an Environmental Policy?
If so, what initiatives have been implemented within the policy? How are they managed and
monitored and what tangible results will be delivered from these initiatives?
In fulfilment of your statutory duty of care we require you to provide evidence giving full information
on how using best practices you dispose of waste as defined by the Waste Hierarchy. The Waste
Contractor is to provide disposal methods and breakdowns for each waste stream giving 100%
assurance of zero to landfill.
Are you able to comply with this and supply the paperwork as evidence?
As a waste Company tendering you are requested to provide details of your coverage and local
operation structure within the vicinity of the College and how this will facilitate your service
provision on a daily basis?
Total Waste Management facilities within the same area (MRF's) are an advantage.
Has your Company ever had a contract not renewed or cancelled early for failure to perform to the
terms of the contract?
Does your fleet of Vehicles all have RFID weighing recognition on them, enabling real time, online
monitoring and reporting facilities?
Do you operate a documented Environmental Management System for example:
ISO, EMAS, to ensure processes and procedures are properly managed, please list which ones
you operate.