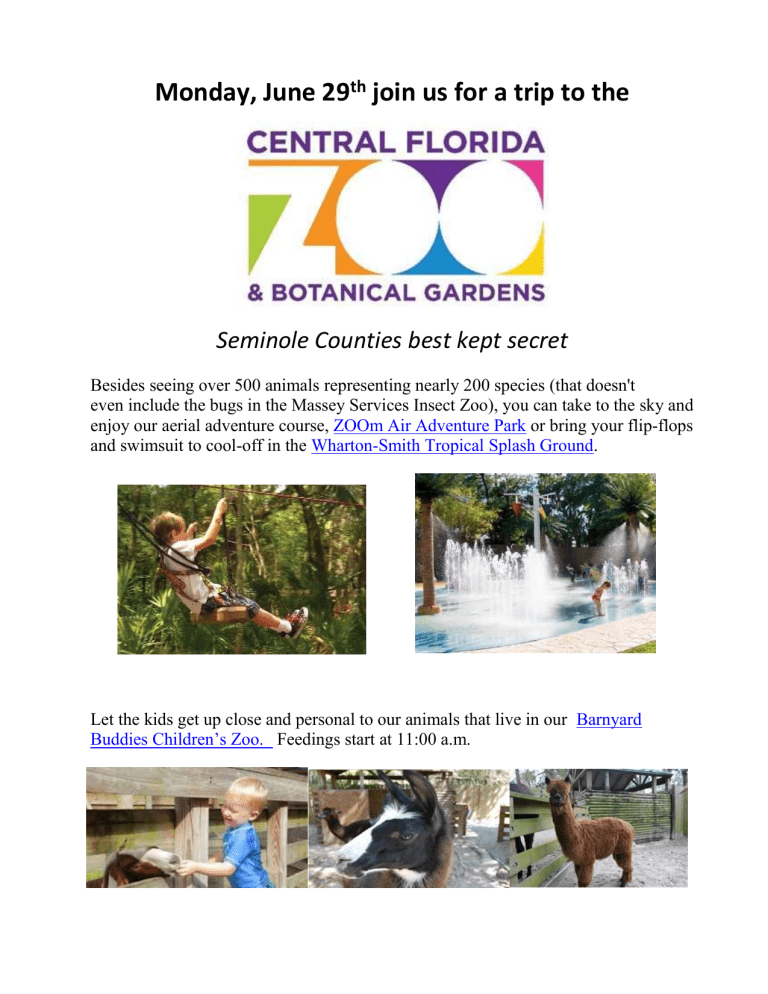 Monday, June 29
th
join us for a trip to the
Seminole Counties best kept secret
Besides seeing over 500 animals representing nearly 200 species (that doesn't even include the bugs in the Massey Services Insect Zoo), you can take to the sky and enjoy our aerial adventure course, ZOOm Air Adventure Park or bring your flip-flops and swimsuit to cool-off in the Wharton-Smith Tropical Splash Ground .
Let the kids get up close and personal to our animals that live in our Barnyard
Buddies Children's Zoo. Feedings start at 11:00 a.m.
The zoo added a new giraffe exhibit February 2014, that is home to three male giraffes , Rafiki, Emba and Gage and daily giraffe feedings for our guests from
10:00 a.m. – 3:00 p.m. for $5.00.
The bus will leave the parking lot of the Lake Mary Marriot at 8:30 a.m. and return at 3:30. The admission prices are listed below.
Adults $16.50 Seniors 60+ $13.95 Children 3-12 $11.95 Under 2 are free
AAA and military discount available
Please email Brandy_Taylor@scps.k12.fl.us
if you will be riding the bus to the zoo so that we can ensure that enough buses are scheduled to accommodate all participates.