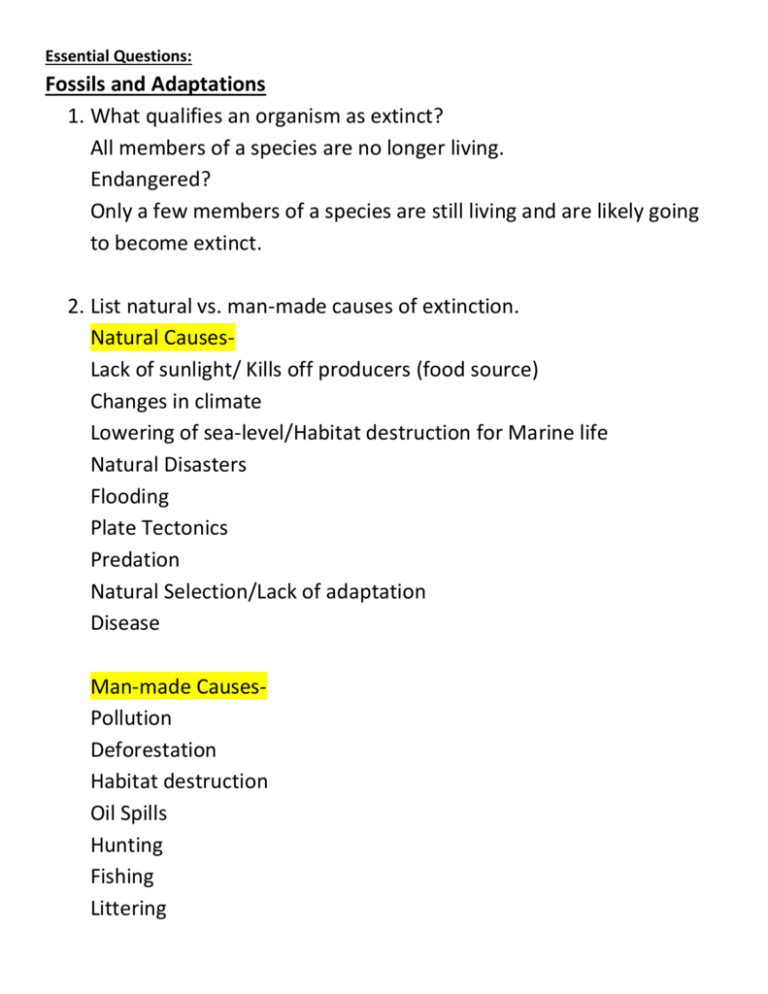 Essential Questions:
Fossils and Adaptations
1. What qualifies an organism as extinct?
All members of a species are no longer living.
Endangered?
Only a few members of a species are still living and are likely going
to become extinct.
2. List natural vs. man-made causes of extinction.
Natural CausesLack of sunlight/ Kills off producers (food source)
Changes in climate
Lowering of sea-level/Habitat destruction for Marine life
Natural Disasters
Flooding
Plate Tectonics
Predation
Natural Selection/Lack of adaptation
Disease
Man-made CausesPollution
Deforestation
Habitat destruction
Oil Spills
Hunting
Fishing
Littering
3. Describe how each of the 6 types of fossils are formed.
Mold Fossil- A cavity in the rock when the hard part decayed or
dissolved.
Cast Fossil– When sediment fills the cavity and produces a copy of
the original object.
Petrified/ Permineralized Fossil- Fossils in which the spaces inside
are filled with minerals from groundwater.
Preserved Fossil/ Original Remains – When original soft parts of
organisms are preserved.
Carbonized Fossil– A thin film of carbon residue if left, forming a
silhouette of the original organism.
Trace Fossil– Fossilized tracks and other evidence of activity of
organisms.
4. What is the law of superposition?
In undisturbed layers of rock, the oldest layers are found on the
bottom and the youngest on the top.
5. Compare/Contrast relative and absolute ages of fossils. How do
scientists determine each (methods of each)?
Relative Age
Absolute Age
Age in comparison to Both used for dating The number of years
the age of other
rock and fossils.
since the rock or
things.
organism formed.
METHOD: Uses
METHOD: Uses
principle of
amount of Carbon (in
superposition.
once-living things).
6. What defines a species?
Groups of organisms that are similar and are able to reproduce.
7. Describe the process of natural selection v. Lamarck's theory of
evolution.
Natural Selection (Accepted by scientists today):
Darwin believed in variations among a species occurring naturally
due to mutations. Organisms with variations best suited for their
environment have a better chance of surviving and reproducing. The
variation best suited (genetic trait) is passed on to the offspring.
Lamarcks Theory of Acquired Traits (Abandoned Theory):
Lamarck believed frequent and vigorous use of a body part led to a
slight increase in its size (acquired trait). Ex: Muscles, wings, tails,
necks, etc. That acquired trait is passed on to the offspring.
8. Compare/Contrast behavioral and structural adaptations. Explain
the examples for each.
Behavioral
Structural
Adaptations
Adaptations
Inherited, instinctive Both are traits which Affects the way an
traits an organism
help an organism
organism looks (body
does to survive.
meet its basic needs parts) or the way it is
and survive in its
colored.
environment.
Ex: Migration,
Ex: Camouflage,
Carrying Young, Night
Pouch, Sturdy beak,
Vision, etc.
etc.