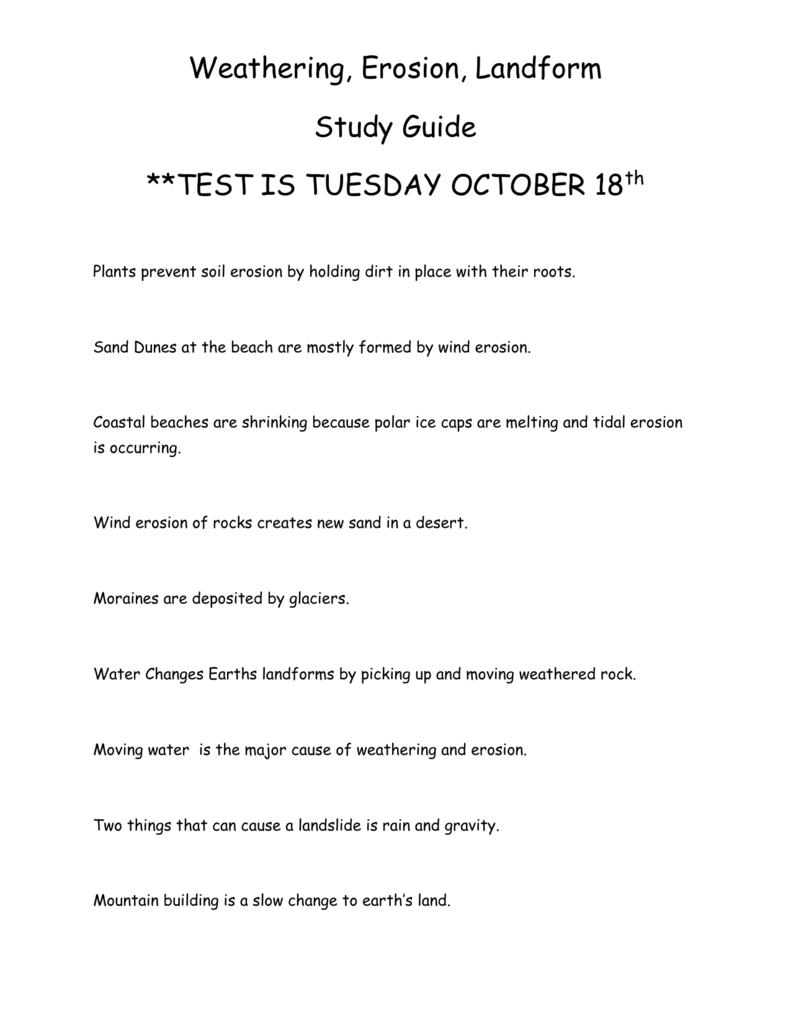 Weathering, Erosion, Landform
Study Guide
**TEST IS TUESDAY OCTOBER 18th
Plants prevent soil erosion by holding dirt in place with their roots.
Sand Dunes at the beach are mostly formed by wind erosion.
Coastal beaches are shrinking because polar ice caps are melting and tidal erosion
is occurring.
Wind erosion of rocks creates new sand in a desert.
Moraines are deposited by glaciers.
Water Changes Earths landforms by picking up and moving weathered rock.
Moving water is the major cause of weathering and erosion.
Two things that can cause a landslide is rain and gravity.
Mountain building is a slow change to earth's land.
Scientist study glacial moraines to find out from where and how the glacier moved.
Volcanoes can build a new landform called islands.
Heat and pressure that build up in melted rock is a volcanic eruption.
A place where rocks breaks and slips is called a fault
MAKE SURE STUDENTS STUDY THE FOLLOWING VOCAB TERMS
THEY SHOULD HAVE SOME IN THEIR SCIENCE BAGGIE ALSO!!!
Canyon- Long narrow valley with high, steep sides.
delta- a deposit of sand and soil at the mouth of a river.
glacier-a long-lasting, slowly-moving river of ice on land.
hill-a raised area or mound of land
island-a body of land completely surrounded by water.
lake-large body of water surrounded by land on all sides.
moraine-is a pile of rocks and soil deposited by a glacier.
mountain-landform highest above the sea level.
peninsula-body of land surrounded by water on three sides
plain- an area of level or rolling land.
plateau-a flat raised area of land.
river- is a large flowing body of water that usually empties into the ocean
sand dune- is a hill of sand. Dunes are shaped by wind and change all the time.