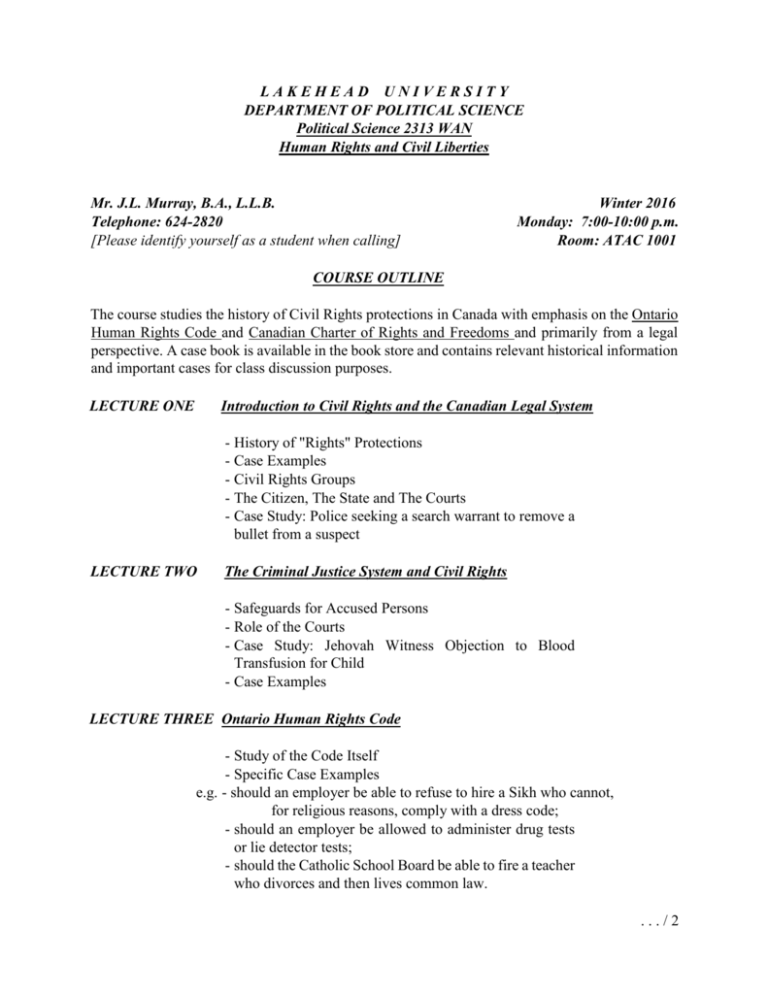 LAKEHEAD UNIVERSITY
DEPARTMENT OF POLITICAL SCIENCE
Political Science 2313 WAN
Human Rights and Civil Liberties
Mr. J.L. Murray, B.A., L.L.B.
Telephone: 624-2820
[Please identify yourself as a student when calling]
Winter 2016
Monday: 7:00-10:00 p.m.
Room: ATAC 1001
COURSE OUTLINE
The course studies the history of Civil Rights protections in Canada with emphasis on the Ontario
Human Rights Code and Canadian Charter of Rights and Freedoms and primarily from a legal
perspective. A case book is available in the book store and contains relevant historical information
and important cases for class discussion purposes.
LECTURE ONE
Introduction to Civil Rights and the Canadian Legal System
- History of "Rights" Protections
- Case Examples
- Civil Rights Groups
- The Citizen, The State and The Courts
- Case Study: Police seeking a search warrant to remove a
bullet from a suspect
LECTURE TWO
The Criminal Justice System and Civil Rights
- Safeguards for Accused Persons
- Role of the Courts
- Case Study: Jehovah Witness Objection to Blood
Transfusion for Child
- Case Examples
LECTURE THREE Ontario Human Rights Code
- Study of the Code Itself
- Specific Case Examples
e.g. - should an employer be able to refuse to hire a Sikh who cannot,
for religious reasons, comply with a dress code;
- should an employer be allowed to administer drug tests
or lie detector tests;
- should the Catholic School Board be able to fire a teacher
who divorces and then lives common law.
.../2
Political Studies 2313 WAN
COURSE OUTLINE
LECTURE FOUR
2
Mr. J.L. Murray
Winter 2016
Ontario Human Rights Code (continued)
- Case Studies including:
- Girl Trying to Play Hockey in boy's league
- Employer Accommodation to Religious Beliefs of
Employees (re: Saturday Employment)
- Mandatory Retirement of Fire Fighters at Age 60
- Gay Rights vs. Freedom of the Press
- Employment Discrimination
- Further Study of Code (including Harassment),
Handicap Rights, Racial Discrimination) - Pay
Equity, Affirmative Action Programs, etc.
LECTURE FIVE
- Constitutional Approach to Civil Rights Cases by
Supreme Court of Canada
- Canadian Bill of Rights and Pre-Charter
Developments
e.g. . - Indian Status, Laval, Drybones, the
Constitution, B.N.A., Division of Powers,
etc.
LECTURE SIX
- Review
- Canadian Charter of Rights and Freedoms
(emphasis on Legal Rights)
- Case Studies
- Study of Charter,
e.g. - S.15, Equality, recent Court Decisions, Mandatory
Retirement, Cruise Missile Testing.
LECTURE SEVEN
- Canadian Charter (continued)
e.g. - arbitrary detention, reverse onus, right to counsel
LECTURE EIGHT
- Canadian Charter (continued)
e.g. - unreasonable search and seizure
LECTURE NINE
- Specific Rights Issues (Time Permitting)
e.g. - Women's Rights, Native Rights, Abortion, etc.
LECTURE TEN
- Specific Issues (continued)
LECTURE ELEVEN
- Review
MARKING
Final Examination ..............................................100%
Materials to be purchased through the bookstore. Above topics are subject to change without
notice.