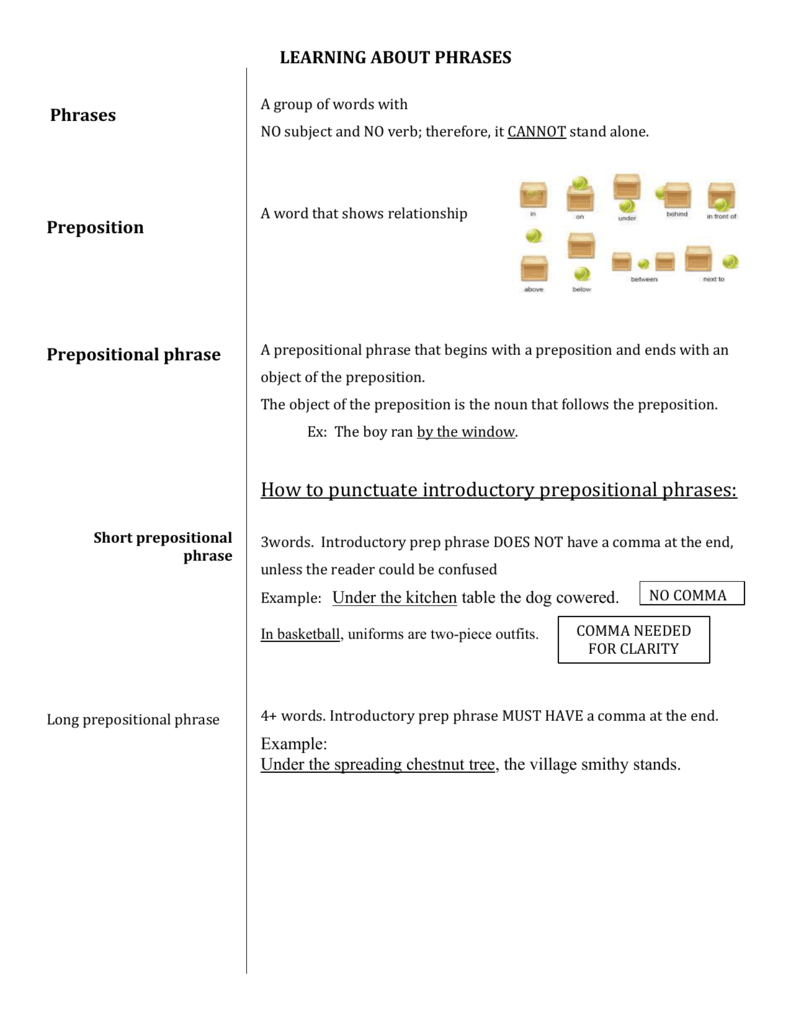 LEARNING ABOUT PHRASES
Phrases
Preposition
Prepositional phrase
A group of words with
NO subject and NO verb; therefore, it CANNOT stand alone.
A word that shows relationship
A prepositional phrase that begins with a preposition and ends with an
object of the preposition.
The object of the preposition is the noun that follows the preposition.
Ex: The boy ran by the window.
How to punctuate introductory prepositional phrases:
Short prepositional
phrase
3words. Introductory prep phrase DOES NOT have a comma at the end,
unless the reader could be confused
Example: Under the kitchen table the dog cowered.
In basketball, uniforms are two-piece outfits.
Long prepositional phrase
NO COMMA
COMMA NEEDED
FOR CLARITY
4+ words. Introductory prep phrase MUST HAVE a comma at the end.
Example:
Under the spreading chestnut tree, the village smithy stands.
Infinitive
Is "to" plus a verb. Not all the time is "to" an infinitive.
Sometimes "to" is a preposition.
The way to tell the difference is, if "to" is a preposition it is followed by a
noun, and if "to" is an infinitive "to" is followed by a verb.
Example:
The boys like to run
The boys like to run on their way to the store.
Prepositional
Phrase
Appositive Phrases
Rename, or explain a noun or pronoun. They are placed immediately
before or after the noun or pronoun.
*When to use commas on
an appositive phrase
Restrictive
(NEEDED/ESSENTIAL)
Non-restrictive
(NOT NEEDED)
**Think of the commas as a
knife, like that information
can be cut out
It's needed or essential, then DO NOT use commas around the appositive.
Example:
My sister Debbie has two grandchildren.
(I have more than one sister)
It's NOT needed or NOT essential; then YOU MUST use commas around
the appositive.
Example:
John's sister , Mary , has one grandchild.
(John has only one sister.)
Participles
They
like verbs, but they are NOT. They are functioning
as ADJECTIVES because they modify nouns and pronouns.
*They verbs that function as
adjectives and usually
Participles answer the question
What kind? or Which one?
Examples:
end with –ing, -ed, or
Which tiles?
sometimes –en
What kind of child?
EXAMPLE:
Participle phrases
Replace the shattered tiles.
Delighted, the child laughed at the clown.
A participial phrase includes the participle and any modifiers or
complements.
Examples:
Traveling quickly, we arrived on time.
Avoiding delays, we arrived on time.
The rabbit hopping along the fence is my pet.
Adjectival phrase
Is a prepositional phrase that modifies a noun or pronoun by telling
Which?
Remember: An adjective
modifies a noun or pronoun
Ex
What kind?
The library across the road.
Ask which library
It is a book of poetry
Ask what kind of book?
Adverbial phrase
Remember: An adverb
modifies a verb, an adjective,
or another adverb.
Is a prepositional phrase that modifies a verb, adjective, or an adverb by
answering the questions:
Where?
Why?
When?
In what way
to what extent
Examples:
Where?
The yarn rolled across the floor.
We are going to Nita's house.
Why?
I was worried by the weather report.
When?
The bus will reach Miami before noon.
In what way?
He walked with a limp.