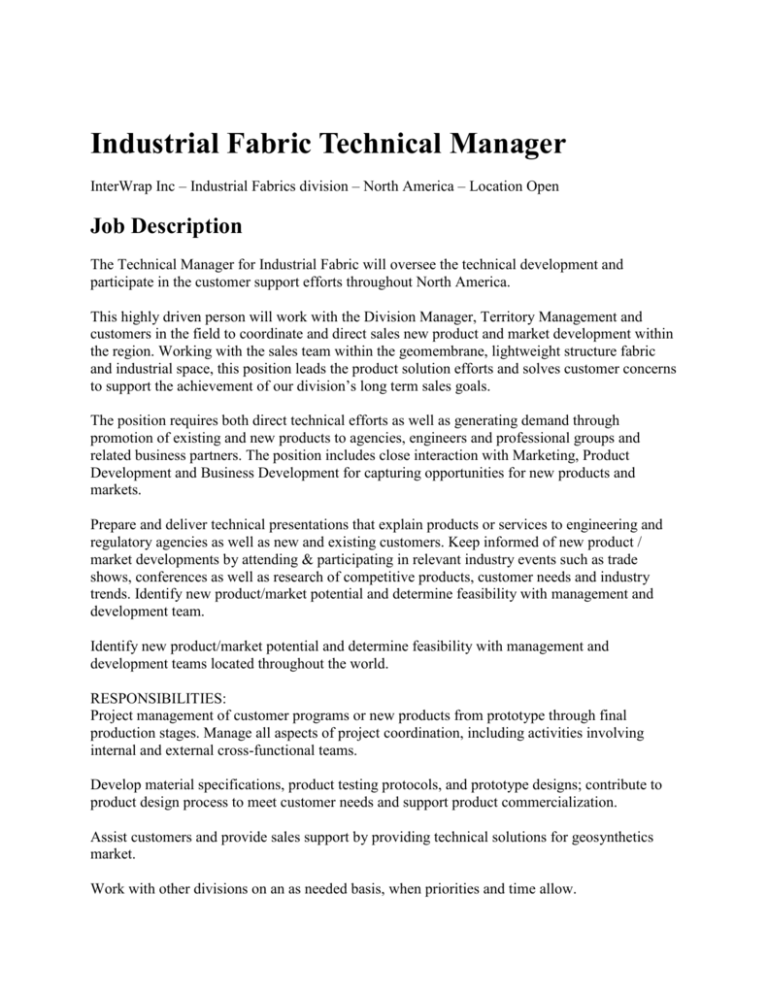 Industrial Fabric Technical Manager
InterWrap Inc – Industrial Fabrics division – North America – Location Open
Job Description
The Technical Manager for Industrial Fabric will oversee the technical development and
participate in the customer support efforts throughout North America.
This highly driven person will work with the Division Manager, Territory Management and
customers in the field to coordinate and direct sales new product and market development within
the region. Working with the sales team within the geomembrane, lightweight structure fabric
and industrial space, this position leads the product solution efforts and solves customer concerns
to support the achievement of our division's long term sales goals.
The position requires both direct technical efforts as well as generating demand through
promotion of existing and new products to agencies, engineers and professional groups and
related business partners. The position includes close interaction with Marketing, Product
Development and Business Development for capturing opportunities for new products and
markets.
Prepare and deliver technical presentations that explain products or services to engineering and
regulatory agencies as well as new and existing customers. Keep informed of new product /
market developments by attending & participating in relevant industry events such as trade
shows, conferences as well as research of competitive products, customer needs and industry
trends. Identify new product/market potential and determine feasibility with management and
development team.
Identify new product/market potential and determine feasibility with management and
development teams located throughout the world.
RESPONSIBILITIES:
Project management of customer programs or new products from prototype through final
production stages. Manage all aspects of project coordination, including activities involving
internal and external cross-functional teams.
Develop material specifications, product testing protocols, and prototype designs; contribute to
product design process to meet customer needs and support product commercialization.
Assist customers and provide sales support by providing technical solutions for geosynthetics
market.
Work with other divisions on an as needed basis, when priorities and time allow.
Evaluate Quality Incidents, recommend and coordinate resolutions.
Lead or participate on product development teams for assigned programs.
Collaborate with Sales on responding to customer RFQs by reviewing customer specifications,
outlining the manufacturing process, developing product/process cost estimates.
Responsible for designing, improving, and maintaining new & existing products and processes
that are cost efficient, manufacturable, and reliable in response to customer needs.
Research the US, Canadian and world markets for various applications of polyolefin woven
coated fabrics in the geotextile, lightweight fabric structure and agricultural markets.
Research all available raw materials, fibers and chemicals which could lead to improved
products and cost reductions.
Provide Technical leadership to business champions, sales & marketing staff, and customers on
new and existing products.
Track and report on project progress on a regular basis to management and business champions.
Establish and maintain critical timing of strategic projects.
Desired Skills & Experience












Have a working knowledge of the geosynthtics (emphasis on geomembranes),
lightweight structure fabrics and industrial textiles, with an agricultural focus.
Minimum of 5 years of previous work experience in related materials and businesses
Minimum of a four year college degree in engineering, business, or agriculture.
Must have strong verbal and written communication skills. Bi-lingual language skills
would be a plus.
Be physically fit (mentally and physically) to work in various installation areas and field
sites, including being able to travel, on short notice under reasonable travel
accommodations, to troubleshoot and develop resolutions to customer concerns
Valid Driver's license, not suspended and able to travel and work in all the areas listed
above.
Expected time in the field should be 50% initially and adjust to 30% going forward
(business days), ability to spend multiple nights a week away from home
Have an appropriate space to operate an office from home
Have computer skills capable of working in MS Office (Word, Excel, PowerPoint,
Outlook) and other similar remote field management programs
Ability to coordinate and organize personal activities as well as those of potential
teammates
Ability to inspire and motivate selling and technical teams and work within the
prioritized parameters of a multinational organization
Motivated by developing a business and capable of working independently

This requires an active, unrestricted passport
Company Description
InterWrap is a vertically integrated, global manufacturer of innovative coated woven products
and diverse multi-layer laminated reinforced plastic substrates. InterWrap's Industrial Fabrics
Division is an industry up and comer, with a range of proven geomembrane fabrics and a series
of developmental products we are committed to bring to market over the coming months and
years.
www.interwrap.com/industrialfabrics
Contact: bmilne@interwrap.com
Additional Information
Posted:
June 8, 2012
Type:
Full-time
Experience:
Mid-Senior level
Functions:
Technical
Industries:
Industrial Fabrics
Job ID:
XXXXXX
Veteran Commitment
InterWrap Inc – Industrial Fabrics Division commits to hiring returning veterans.