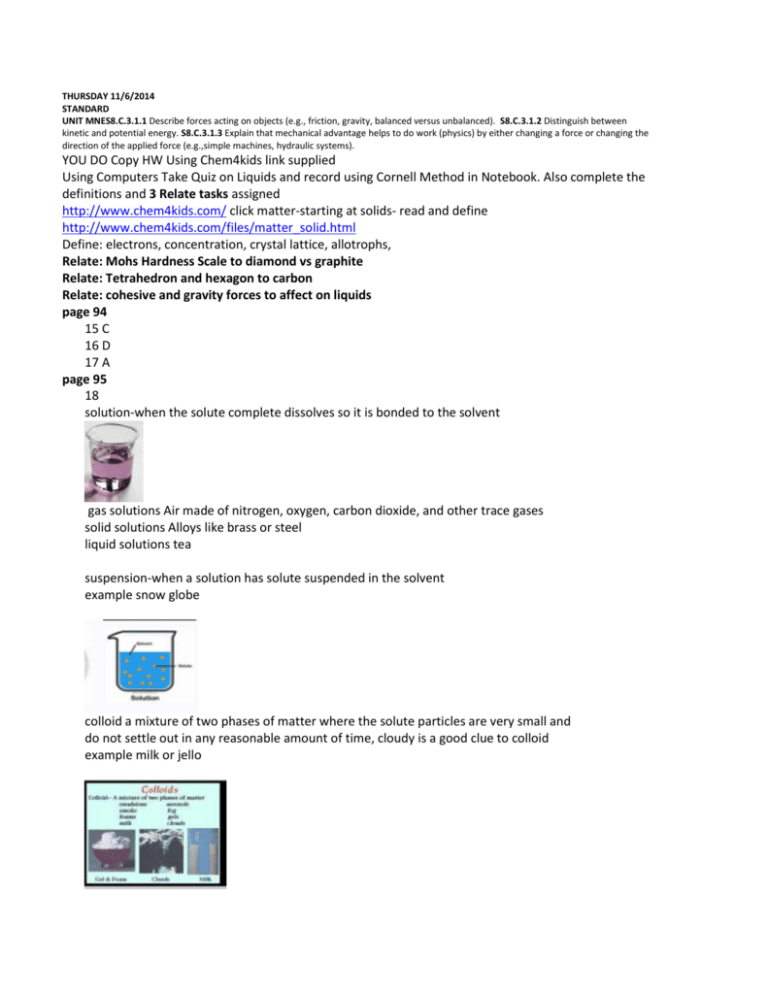 THURSDAY 11/6/2014
STANDARD
UNIT MNES8.C.3.1.1 Describe forces acting on objects (e.g., friction, gravity, balanced versus unbalanced). S8.C.3.1.2 Distinguish between
kinetic and potential energy. S8.C.3.1.3 Explain that mechanical advantage helps to do work (physics) by either changing a force or changing the
direction of the applied force (e.g.,simple machines, hydraulic systems).
YOU DO Copy HW Using Chem4kids link supplied
Using Computers Take Quiz on Liquids and record using Cornell Method in Notebook. Also complete the
definitions and 3 Relate tasks assigned
http://www.chem4kids.com/ click matter-starting at solids- read and define
http://www.chem4kids.com/files/matter_solid.html
Define: electrons, concentration, crystal lattice, allotrophs,
Relate: Mohs Hardness Scale to diamond vs graphite
Relate: Tetrahedron and hexagon to carbon
Relate: cohesive and gravity forces to affect on liquids
page 94
15 C
16 D
17 A
page 95
18
solution-when the solute complete dissolves so it is bonded to the solvent
gas solutions Air made of nitrogen, oxygen, carbon dioxide, and other trace gases
solid solutions Alloys like brass or steel
liquid solutions tea
suspension-when a solution has solute suspended in the solvent
example snow globe
colloid a mixture of two phases of matter where the solute particles are very small and
do not settle out in any reasonable amount of time, cloudy is a good clue to colloid
example milk or jello
19 The particle size stays the same for each atom that makes up the solution, but the space between the
atoms increases
The number of particles remains the same
The speed of the particles increases
page 96
20 Chemical changes create new substances by breaking bonds of the reactants and forming new bonds
in the products, but the same amount of matter and/or energy is equal. Physical changes do not create
new substances.
Chemical Changes
FIVE-FLAMABILITY
CATS-COLOR CHANGE
OPENED-ODOR
FIVE-FIZZ OR FOAM
PRETTY-PRECIPITATE
RED-REACTIVITY WITH WATER
ENVELOPES-ENERGY CHANGE
Physical Changes
Saturday-solubility
My-malleability ductile
Child's -conductivity
Wombat-weight mass
Died-Density
Making me-magnetism
Sad-state of matter
Three signs chemical changes have taken place are color change, odor, or fizzing.
An increase in temperature will speed up a chemical reaction.
21
D=m/V
D=38.6g/2cm3
D=19.3 g/cm3
Gold
Color
Weight
Magnetism does not attract to a magnet so it is not iron or containing iron.