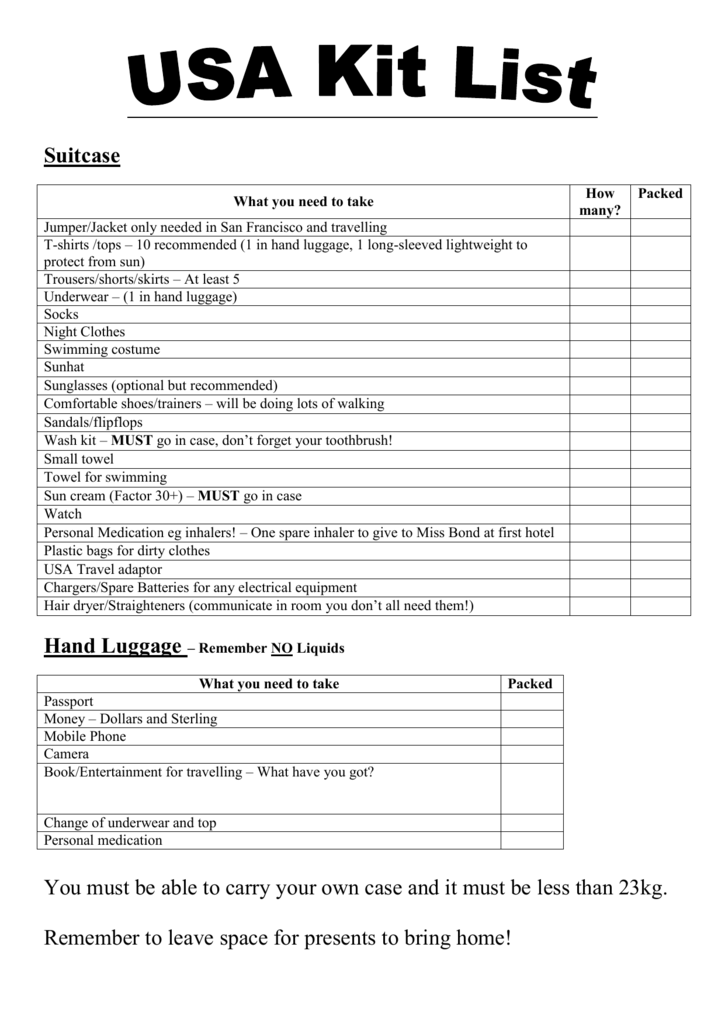 Suitcase
How
many?
What you need to take
Packed
Jumper/Jacket only needed in San Francisco and travelling
T-shirts /tops – 10 recommended (1 in hand luggage, 1 long-sleeved lightweight to
protect from sun)
Trousers/shorts/skirts – At least 5
Underwear – (1 in hand luggage)
Socks
Night Clothes
Swimming costume
Sunhat
Sunglasses (optional but recommended)
Comfortable shoes/trainers – will be doing lots of walking
Sandals/flipflops
Wash kit – MUST go in case, don't forget your toothbrush!
Small towel
Towel for swimming
Sun cream (Factor 30+) – MUST go in case
Watch
Personal Medication eg inhalers! – One spare inhaler to give to Miss Bond at first hotel
Plastic bags for dirty clothes
USA Travel adaptor
Chargers/Spare Batteries for any electrical equipment
Hair dryer/Straighteners (communicate in room you don't all need them!)
Hand Luggage – Remember NO Liquids
What you need to take
Packed
Passport
Money – Dollars and Sterling
Mobile Phone
Camera
Book/Entertainment for travelling – What have you got?
Change of underwear and top
Personal medication
You must be able to carry your own case and it must be less than 23kg.
Remember to leave space for presents to bring home!