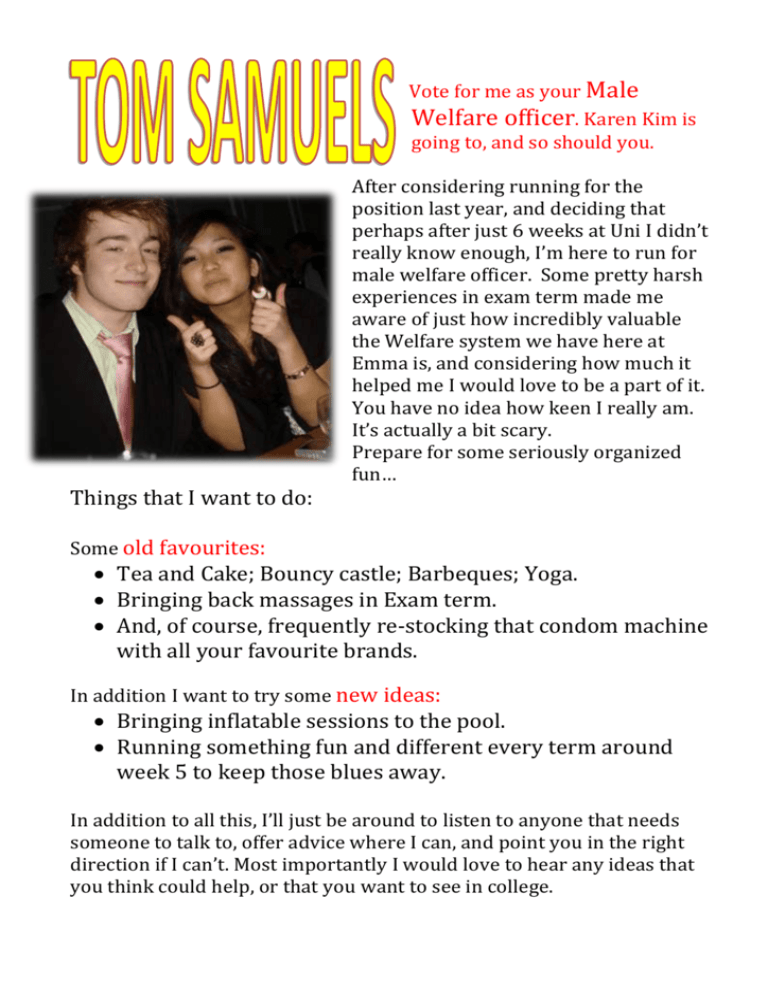 Vote for me as your Male
Welfare officer. Karen Kim is
going to, and so should you.
After considering running for the
position last year, and deciding that
perhaps after just 6 weeks at Uni I didn't
really know enough, I'm here to run for
male welfare officer. Some pretty harsh
experiences in exam term made me
aware of just how incredibly valuable
the Welfare system we have here at
Emma is, and considering how much it
helped me I would love to be a part of it.
You have no idea how keen I really am.
It's actually a bit scary.
Prepare for some seriously organized
fun…
Things that I want to do:
Some old favourites:
 Tea and Cake; Bouncy castle; Barbeques; Yoga.
 Bringing back massages in Exam term.
 And, of course, frequently re-stocking that condom machine
with all your favourite brands.
In addition I want to try some new ideas:
 Bringing inflatable sessions to the pool.
 Running something fun and different every term around
week 5 to keep those blues away.
In addition to all this, I'll just be around to listen to anyone that needs
someone to talk to, offer advice where I can, and point you in the right
direction if I can't. Most importantly I would love to hear any ideas that
you think could help, or that you want to see in college.