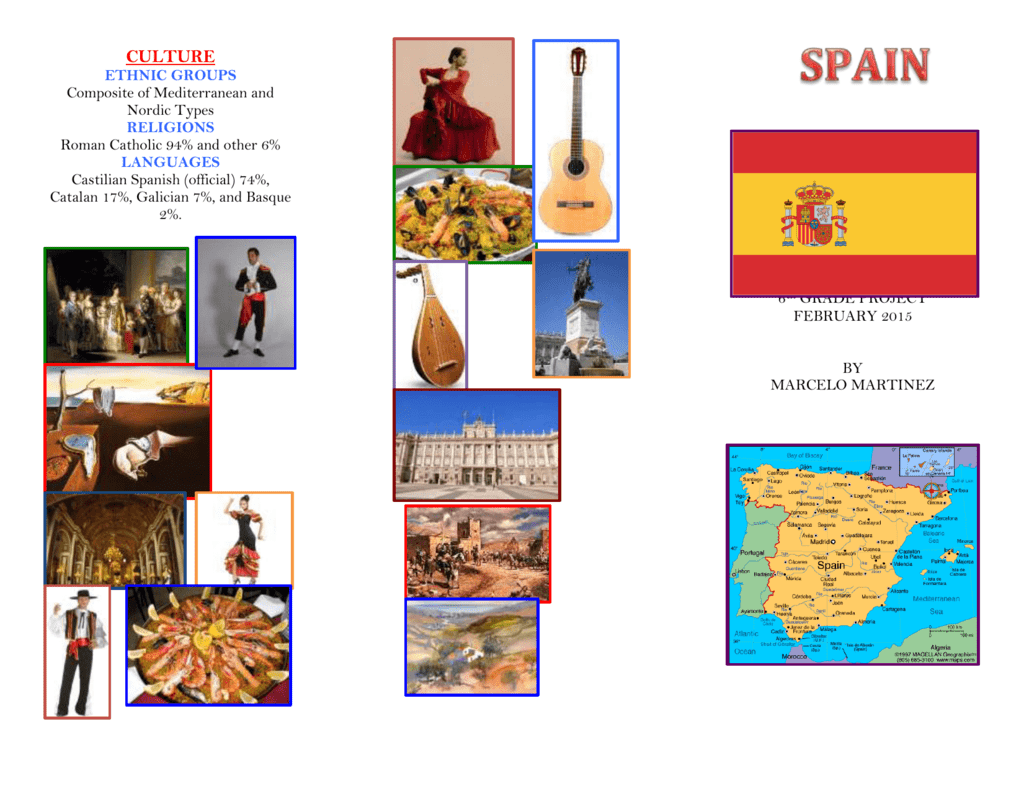 CULTURE
ETHNIC GROUPS
Composite of Mediterranean and
Nordic Types
RELIGIONS
Roman Catholic 94% and other 6%
LANGUAGES
Castilian Spanish (official) 74%,
Catalan 17%, Galician 7%, and Basque
2%.
6th GRADE PROJECT
FEBRUARY 2015
BY
MARCELO MARTINEZ
GENERAL INFORMATION
ECONOMY
GEOGRAPHY
POPULATION
47,737,941 (July 2014)
GOVERNMENT
CURRENCY
AREA
505,370 sq km
CAPITAL
Madrid
IMPORTANT CITIES
Barcelona, Madrid, León
LOCATION
TYPES OF GOVERNMENT
Parliamentary monarchy
CHIEF OF STATE
Euros
AGRICULTURAL PRODUCTS
Grain, Vegetables, Olives, Wine
Grapes, Sugar Beets, Citrus; Beef,
Pork, Poultry, Dairy Products; Fish
EDUCATION
DEFINITION
Age 15 and over can read and write
MALES
98.5%
FEMALES
King Felipe VI
HEAD OF GOVERNMENT
97%
COMMUNICATION AND
TRANSPORTATION
NUMBER OF TELEPHONE LINES
19.22 million
RAILWAYS
15.293 km
ROADWAYS
683,175 km
NUMBER OF AIRPORTS
Mariano RAJOY
150
CONTINENT
Europe
NEIGHBORS
Andorra, France, Gibraltar, Portugal,
Morocco, Algeria
NATURAL FEATURES
MAJOR BODIES OF LAND
Large, flat, dissected, plateau,
surrounded by rugged hills; Pyrenees
Mountains in north
MAJOR BODIES OF WATER
Bay of Biscay, Tagus, Balearic Sea,
Mediterranean Sea, North Atlantic
Ocean, Strait of Gibraltar.
NATURAL RESOURCES
Coal, lignite, iron ore, copper, lead,
zinc, uranium, tungsten, mercury,
pyrites, magnetite, fluorspar, gypsum,
septiolite, kaolin, potash, hydropower,
arable land
LAND USE
Arable Land: 24.75%
Permanent Crops: 9.29%
Others: 65.96%
CLIMATE
Temperate; clear, hot summers in
interior, more moderate and cloudy
along coast; cold in winters interior,
partly cloudy and cool along coast.