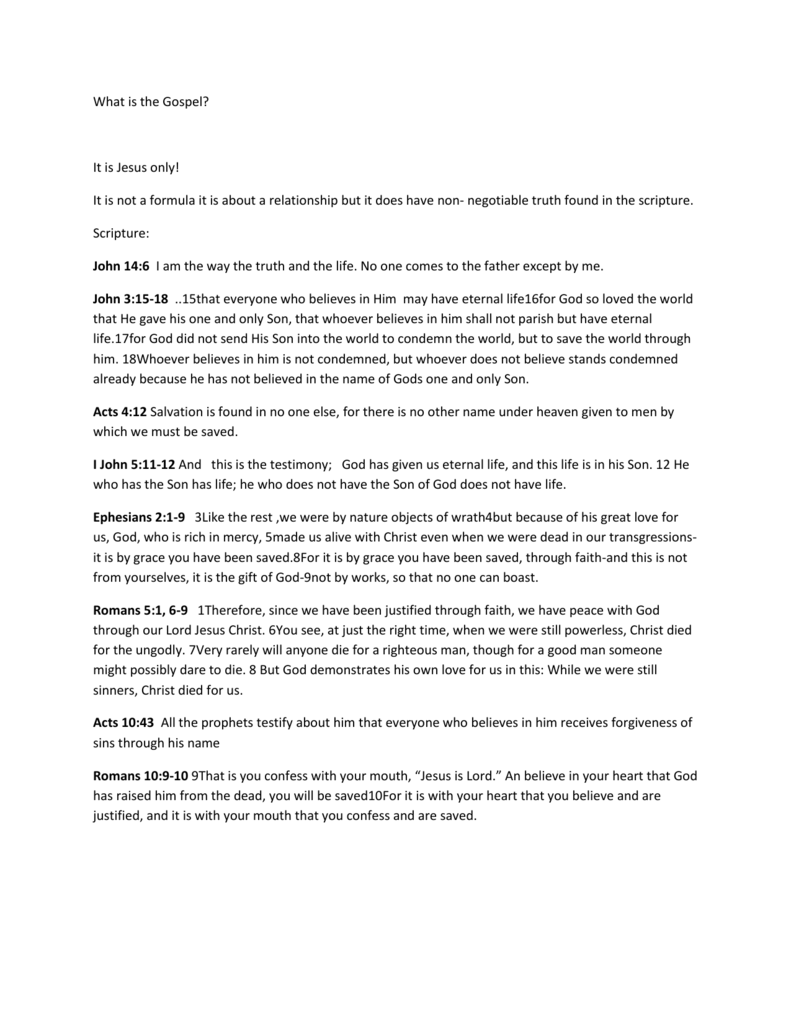 What is the Gospel?
It is Jesus only!
It is not a formula it is about a relationship but it does have non- negotiable truth found in the scripture.
Scripture:
John 14:6 I am the way the truth and the life. No one comes to the father except by me.
John 3:15-18 ..15that everyone who believes in Him may have eternal life16for God so loved the world
that He gave his one and only Son, that whoever believes in him shall not parish but have eternal
life.17for God did not send His Son into the world to condemn the world, but to save the world through
him. 18Whoever believes in him is not condemned, but whoever does not believe stands condemned
already because he has not believed in the name of Gods one and only Son.
Acts 4:12 Salvation is found in no one else, for there is no other name under heaven given to men by
which we must be saved.
I John 5:11-12 And this is the testimony; God has given us eternal life, and this life is in his Son. 12 He
who has the Son has life; he who does not have the Son of God does not have life.
Ephesians 2:1-9 3Like the rest ,we were by nature objects of wrath4but because of his great love for
us, God, who is rich in mercy, 5made us alive with Christ even when we were dead in our transgressionsit is by grace you have been saved.8For it is by grace you have been saved, through faith-and this is not
from yourselves, it is the gift of God-9not by works, so that no one can boast.
Romans 5:1, 6-9 1Therefore, since we have been justified through faith, we have peace with God
through our Lord Jesus Christ. 6You see, at just the right time, when we were still powerless, Christ died
for the ungodly. 7Very rarely will anyone die for a righteous man, though for a good man someone
might possibly dare to die. 8 But God demonstrates his own love for us in this: While we were still
sinners, Christ died for us.
Acts 10:43 All the prophets testify about him that everyone who believes in him receives forgiveness of
sins through his name
Romans 10:9-10 9That is you confess with your mouth, "Jesus is Lord." An believe in your heart that God
has raised him from the dead, you will be saved10For it is with your heart that you believe and are
justified, and it is with your mouth that you confess and are saved.
Recommended Reading on the Gospel:
The discipline of Grace" in Jerry Bridges Chapter 3 in " Preaching the Gospel to yourself"
Searching for God knows What by Donald Miller
The Faith by Colson and Fickett
Quotes taken from The Faith, by Chuck Colson and Harold Fickett
Tolerance falsely defined as putting all propositions on an equal footing-as opposed to giving ideas an
equal hearing- has replaced truth Pg 26
Why does this word truth breed such animosity? Because rebellious human nature resists truth's claims.
If something is really true, it must be true not just for the person saying it but for the person hearing it.
And the fact is, we don't want to obey a higher authority from any quarter-especially what purports to
be from God- for fear it will impinge upon our personal autonomy. We cling to the idea that we create
our own truth. Pg. 59
63% of Americans deny the knowability of moral truth, as do 53% of evangelicals…only 8% of teenages
believe there is moral truth. Pg. 60
But understanding how an audience thinks does not mean converting to the way that audience thinks,
especially at the expense of truth. Pg.62
From The Discipline of Grace (God's Role and our role in the Pursuit of Holiness) by Jerry Bridges:
Charles Hodge, the famous professor of theology at Princeton Theological Seminary in the nineteenth
century, said that redemption, as used in verse 24, means "deliverance effected by the payment of a
ransom…. That from which we are redeemed is the wrath of God; the price of our redemption is the
blood of Christ." But though it was totally free to us, it was in fact "purchased" by Christ with His Blood.
Christ paid the ransom that redeemed us from God's just and holy wrath.
At this point it will be helpful to distinguish between justification and a mere pardon. A pardon is
excusing an offense without exacting a penalty.
In God's plan of justification, however, justice is not violated by a gratuitous pardon of the convicted
sinner. Rather, justice has been satisfied; the penalty has been fully paid by the Lord Jesus Christ. In a
sense, to justify is to declare that the claims of justice have been fully met.
.