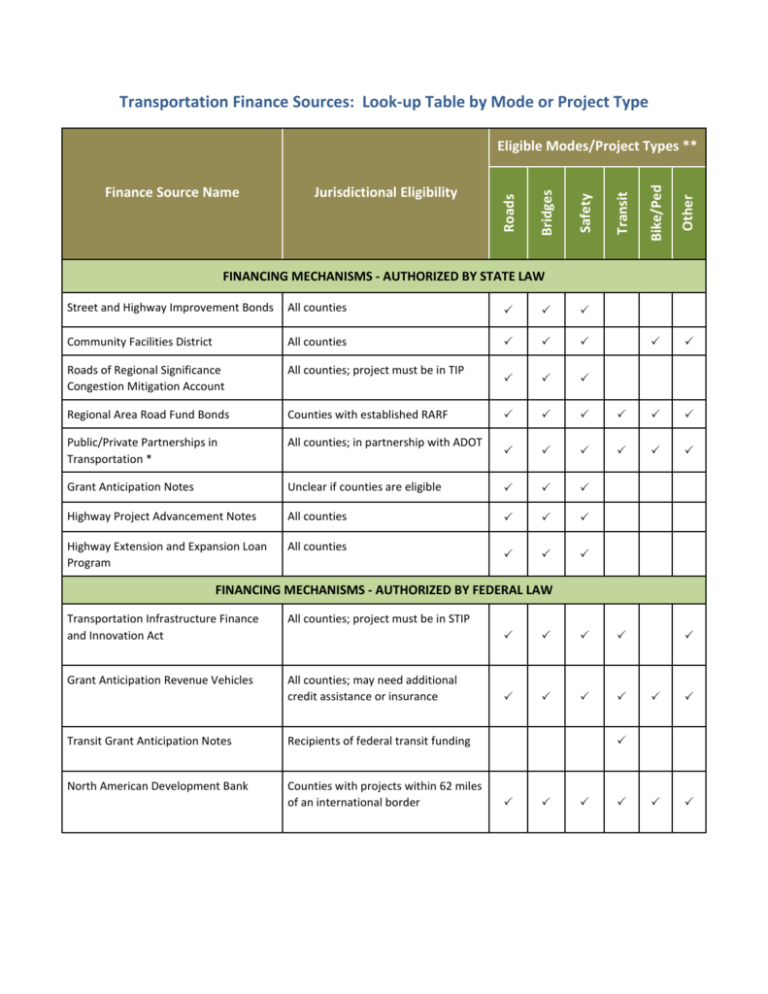 Transportation Finance Sources: Look-up Table by Mode or Project Type
Bike/Ped
Other








Transit
Safety
Jurisdictional Eligibility
Bridges
Finance Source Name
Roads
Eligible Modes/Project Types **
FINANCING MECHANISMS - AUTHORIZED BY STATE LAW
Street and Highway Improvement Bonds
All counties



Community Facilities District
All counties



Roads of Regional Significance
Congestion Mitigation Account
All counties; project must be in TIP



Regional Area Road Fund Bonds
Counties with established RARF



Public/Private Partnerships in
Transportation *
All counties; in partnership with ADOT



Grant Anticipation Notes
Unclear if counties are eligible



Highway Project Advancement Notes
All counties



Highway Extension and Expansion Loan
Program
All counties



FINANCING MECHANISMS - AUTHORIZED BY FEDERAL LAW
Transportation Infrastructure Finance
and Innovation Act
All counties; project must be in STIP
Grant Anticipation Revenue Vehicles
All counties; may need additional
credit assistance or insurance
Transit Grant Anticipation Notes
Recipients of federal transit funding
North American Development Bank
Counties with projects within 62 miles
of an international border


















OVERVIEW
A Guide to Arizona County Transportation Funding Options (May 2010) was developed as a reference
tool that all Arizona counties can use to review available funding options for planning, design,
construction, operation and maintenance of transportation improvement projects. Not every possible
funding source is contained in the Guide, but in many cases, the sources identified can lead to other
prospects. In addition to funding options, the Guide covers financing mechanisms, which consist
primarily of borrowing and other methods to advance the construction of necessary infrastructure that
might otherwise have to await accumulation of funds over many years. The Guide is organized into a
series of fact sheets on individual funding options and financing mechanisms. The fact sheets provide a
menu of funding sources for transportation improvements.
This pamphlet, Transportation Funding Options for Arizona Counties (June 2010), is a supplement to the
Guide. The pamphlet provides handy look-up tables by mode or project type. We hope this will be a
useful resource for Arizona Counties.
Both the Guide and the Pamphlet were produced for MCDOT with the assistance of AECOM.
FOOTNOTES
* Requires public vote
** Eligible Modes/Project Types:
Roads: Includes roadways, streets and highways
Bridges: Includes bridge construction or improvements
Safety: Includes safety improvements, roadway operations, Intelligent Transportation Systems (ITS), etc.
Transit: Includes public transit, ridesharing, etc.
Bike/Ped: Includes bicycle, pedestrian, and/or trail projects
Other: May include parking, signage, planning, research, education, etc. (Check specific sources for details.)
*** The project must be in response to a "Request for Proposal" or "Solicitation of Qualifications" from ADOT and
will go through the department's procurement process.