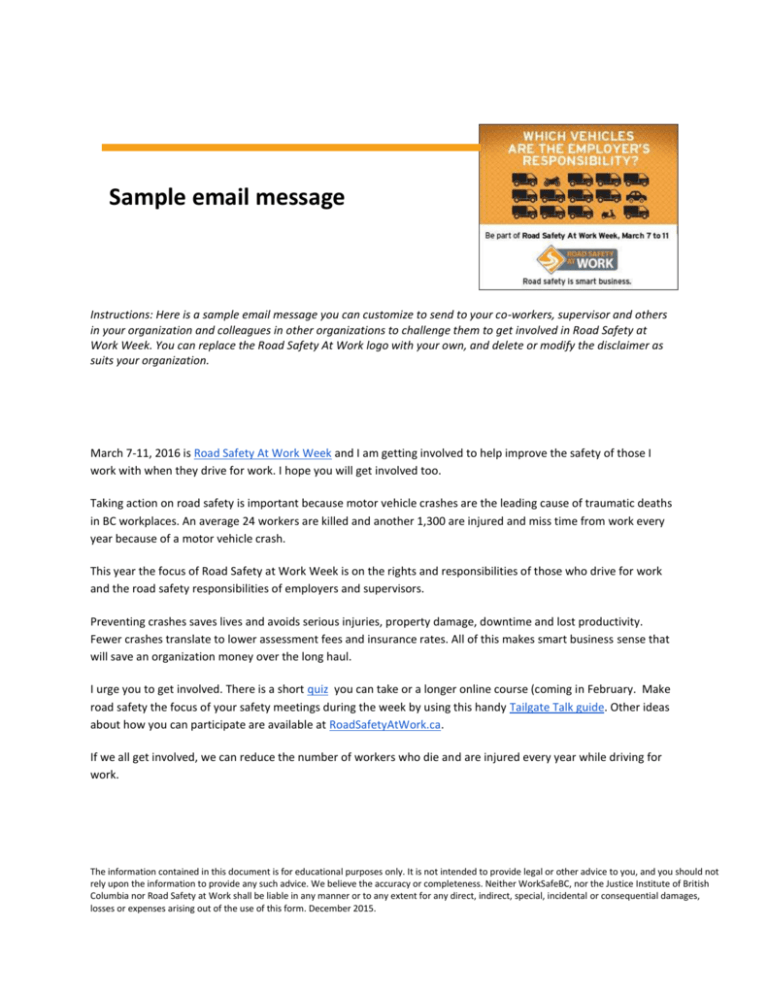 Sample email message
Instructions: Here is a sample email message you can customize to send to your co-workers, supervisor and others
in your organization and colleagues in other organizations to challenge them to get involved in Road Safety at
Work Week. You can replace the Road Safety At Work logo with your own, and delete or modify the disclaimer as
suits your organization.
March 7-11, 2016 is Road Safety At Work Week and I am getting involved to help improve the safety of those I
work with when they drive for work. I hope you will get involved too.
Taking action on road safety is important because motor vehicle crashes are the leading cause of traumatic deaths
in BC workplaces. An average 24 workers are killed and another 1,300 are injured and miss time from work every
year because of a motor vehicle crash.
This year the focus of Road Safety at Work Week is on the rights and responsibilities of those who drive for work
and the road safety responsibilities of employers and supervisors.
Preventing crashes saves lives and avoids serious injuries, property damage, downtime and lost productivity.
Fewer crashes translate to lower assessment fees and insurance rates. All of this makes smart business sense that
will save an organization money over the long haul.
I urge you to get involved. There is a short quiz you can take or a longer online course (coming in February. Make
road safety the focus of your safety meetings during the week by using this handy Tailgate Talk guide. Other ideas
about how you can participate are available at RoadSafetyAtWork.ca.
If we all get involved, we can reduce the number of workers who die and are injured every year while driving for
work.
The information contained in this document is for educational purposes only. It is not intended to provide legal or other advice to you, and you should not
rely upon the information to provide any such advice. We believe the accuracy or completeness. Neither WorkSafeBC, nor the Justice Institute of British
Columbia nor Road Safety at Work shall be liable in any manner or to any extent for any direct, indirect, special, incidental or consequential damages,
losses or expenses arising out of the use of this form. December 2015.