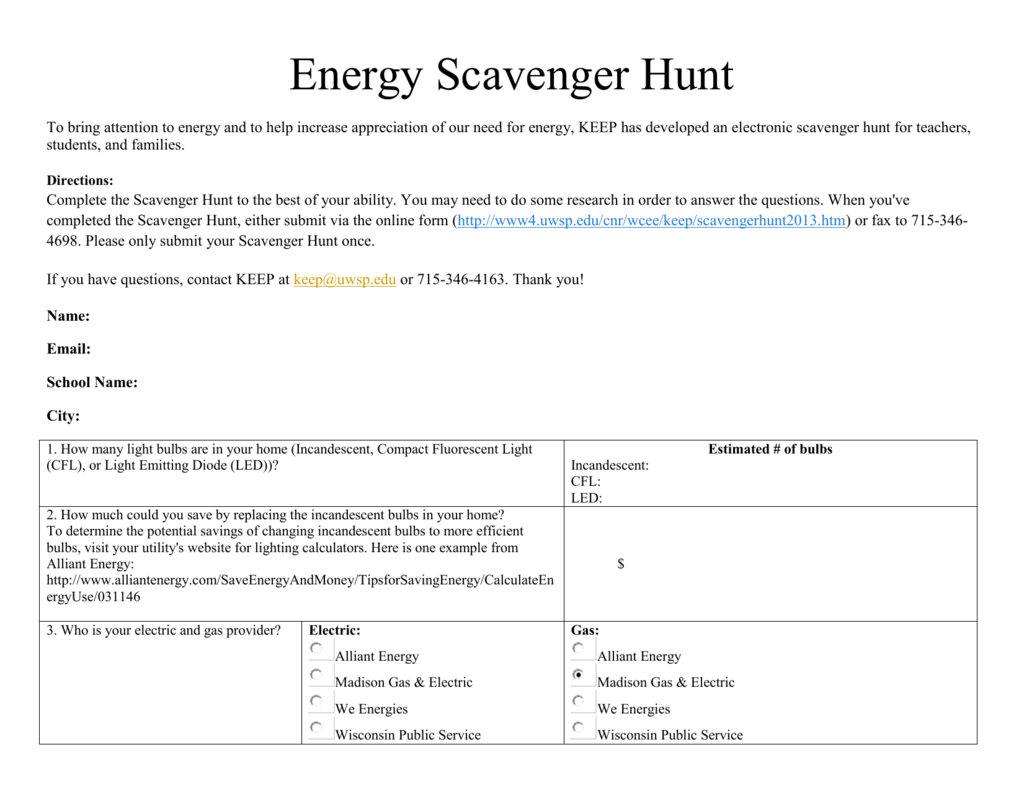 Energy Scavenger Hunt
To bring attention to energy and to help increase appreciation of our need for energy, KEEP has developed an electronic scavenger hunt for teachers,
students, and families.
Directions:
Complete the Scavenger Hunt to the best of your ability. You may need to do some research in order to answer the questions. When you've
completed the Scavenger Hunt, either submit via the online form (http://www4.uwsp.edu/cnr/wcee/keep/scavengerhunt2013.htm) or fax to 715-3464698. Please only submit your Scavenger Hunt once.
If you have questions, contact KEEP at [email protected] or 715-346-4163. Thank you!
Name:
Email:
School Name:
City:
1. How many light bulbs are in your home (Incandescent, Compact Fluorescent Light
(CFL), or Light Emitting Diode (LED))?
Estimated # of bulbs
Incandescent:
CFL:
LED:
2. How much could you save by replacing the incandescent bulbs in your home?
To determine the potential savings of changing incandescent bulbs to more efficient
bulbs, visit your utility's website for lighting calculators. Here is one example from
Alliant Energy:
http://www.alliantenergy.com/SaveEnergyAndMoney/TipsforSavingEnergy/CalculateEn
ergyUse/031146
3. Who is your electric and gas provider?
Electric:
$
Gas:
Alliant Energy
Alliant Energy
Madison Gas & Electric
Madison Gas & Electric
We Energies
We Energies
Wisconsin Public Service
Wisconsin Public Service
WPPI Energy
WPPI Energy
Xcel Energy
Xcel Energy
Other:
4. Where does the majority of your electricity come from?
Other:
Coal
Nuclear
Renewables (includes solar, wind, hydro, geothermal, and
biomass)
Don't know
5. Renewable energy sources contribute almost what percent of Wisconsin's total
electricity generation?
6. Do you have any ENERGY STAR® appliances?
On average, refrigerators manufactured before 1993 cost
Yes
over $65 more per year to operate than new ENERGY
What
appliance(s)?
STAR qualified models, while refrigerators manufactured
before 1980 can cost about $200 more per year!
No
Would you consider purchasing an ENERGY STAR appliance the
next time you shop for appliances?
7. Where is your nearest coal-fired power plant?
Yes
No
List location/town:
%
8. List 3 local examples (homes/businesses/etc.) that use renewable energy.
1.
2.
3.
9. Do you purchase any items that were developed/manufactured/packaged using renewable
energy? Hint: check your shelves and fridge for packaging that mentions the benefits of using
renewable energy. Or, the next time you're shopping, see if you can identify any items that support
renewable energy.
10. Replace two hours of "screen" time and participate in an activity that doesn't require
electricity.
Yes – What?
No
What did/will you do?
11. Do you think your family uses a lot of energy?
Yes
No
12. Visit your utility's website (if applicable) and sign up to view your energy usage online. Many
utilities provide a tool that helps families determine where their energy usage falls (more than, less
than, or average) compared to others in the community. If you were able to use this tool, where
does your energy consumption actually fall?
Less than
Average
More than
Not applicable
13. List three ways you can save energy in your home. Hint: there are multiple websites that list
ways to save energy. Here is one example from We Energies: http://www.weenergies.com/energy-saving_ideas/tips/101tips.htm
1.
2.
3.
We look forward to following up with you in 6 months to determine if you've made any changes in terms of energy behaviors. If you do not wish to
receive a follow up email, please send a request to KEEP asking not to be contacted: [email protected] Thank you for participating in this Scavenger
Hunt!