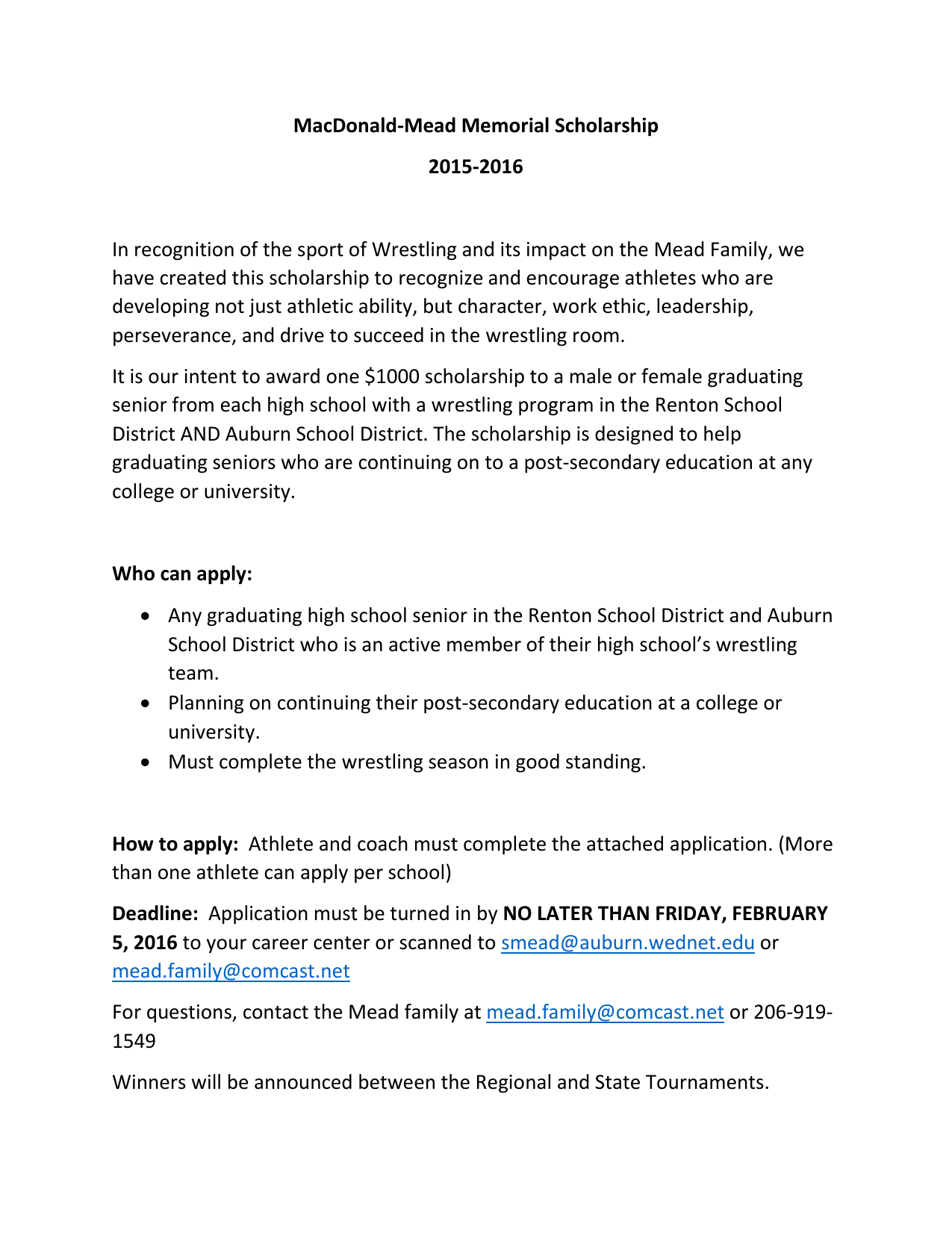 MacDonald-Mead Memorial Scholarship
2015-2016
In recognition of the sport of Wrestling and its impact on the Mead Family, we
have created this scholarship to recognize and encourage athletes who are
developing not just athletic ability, but character, work ethic, leadership,
perseverance, and drive to succeed in the wrestling room.
It is our intent to award one $1000 scholarship to a male or female graduating
senior from each high school with a wrestling program in the Renton School
District AND Auburn School District. The scholarship is designed to help
graduating seniors who are continuing on to a post-secondary education at any
college or university.
Who can apply:
 Any graduating high school senior in the Renton School District and Auburn
School District who is an active member of their high school's wrestling
team.
 Planning on continuing their post-secondary education at a college or
university.
 Must complete the wrestling season in good standing.
How to apply: Athlete and coach must complete the attached application. (More
than one athlete can apply per school)
Deadline: Application must be turned in by NO LATER THAN FRIDAY, FEBRUARY
5, 2016 to your career center or scanned to [email protected] or
[email protected]
For questions, contact the Mead family at [email protected] or 206-9191549
Winners will be announced between the Regional and State Tournaments.
MacDonald-Mead Memorial Scholarship 2016 Application Form
To be completed by the student:
Name:
High School:
Expected Graduation Date:
Address:
Email:
Phone:
How has the sport of wrestling impacted your life?
To be completed by the coach:
Coach Name:
Coach email:
Coach phone:
In what ways has this athlete grown as an individual as a result of wrestling?