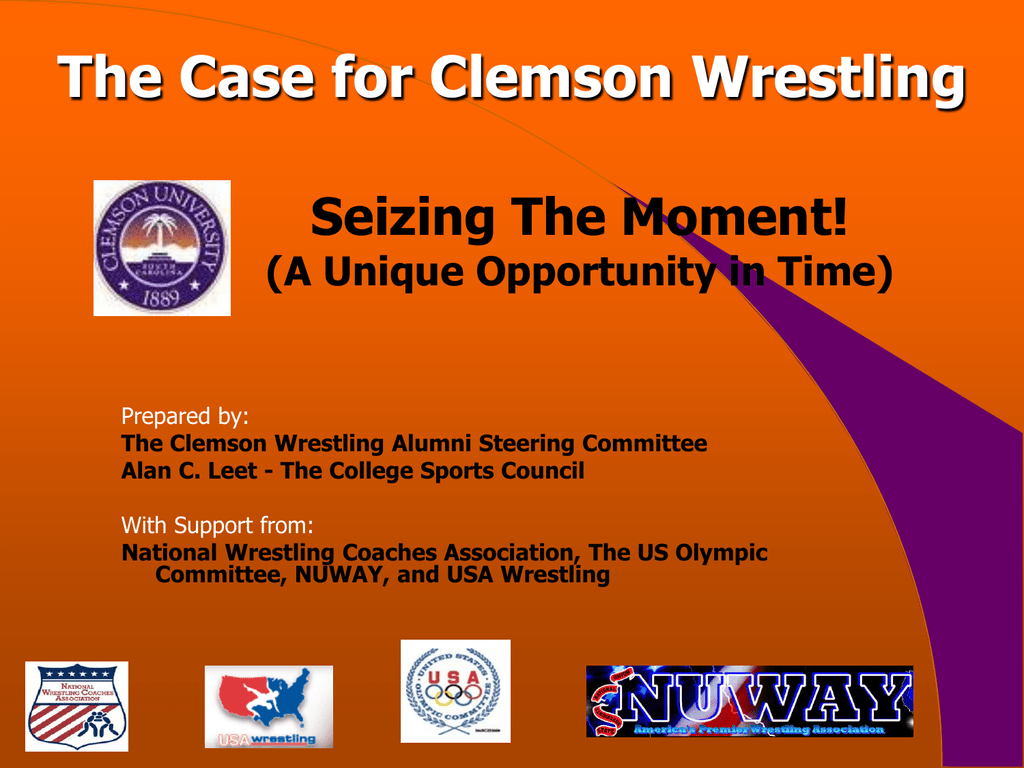 The Case for Clemson Wrestling
Seizing The Moment!
(A Unique Opportunity in Time)
Prepared by:
The Clemson Wrestling Alumni Steering Committee
Alan C. Leet - The College Sports Council
With Support from:
National Wrestling Coaches Association, The US Olympic
Committee, NUWAY, and USA Wrestling
Thank You

For Hosting our Wrestling Reunion
Going Into Our 4th Year

For Recognizing Noel Loban and Sam
Henson in the Athletic Hall of Fame

For Taking Time to Meet Today
The History of Clemson Wrestling

Term of Program: 1977-1995

Conference Success

National Success

International Success

Successful Citizens Serving Their
Communities and Nation
National and Regional Trends in
the Sport of Wrestling

The Popularity of Wrestling in South
Carolina and the Southeast is Growing

Despite the Sport's Popularity
Intercollegiate Wrestling Opportunities
are Very Limited in the Southeast

High School Wrestlers are an UnderRecruited Talent Pool Nationally
Clemson Uniquely Positioned to
Add Wrestling

Win Championships; Build a Nationally
Competitive Program

Modest Costs and Facility Needs

Helps Achieve Mission Statement and Goals

ACC on the Rise; A Natural Extension of
Conference Programs

Strong Alumni Group
What Does Wrestling Offer?

Championships!

HUGE National Exposure and Access to
Funding

Attracts Highly Motivated Student-Athletes

A Proving Ground for Military and Corporate
Leaders

Diversity
Consultative Sources
Steve Erber – Asst. AD
Rob Cole – Head Coach
Dave Martin – Sr. Assoc. AD
John Smith – Head Coach
Tim Curley – Athletic Dir.
Jan Bortner – Assoc. Head Coach
Derek van der Merwe –
Sr. Assoc. AD
Tom Borrelli – Head Coach
John Barrett – Assoc AD
Brendan Buckley – Head Coach
Chris Boyer – Sr. Assoc. AD
Kerry McCoy – Head Coach
Jon Jaudon – Assoc. AD
Tony Roby – Asst. Coach
Debbie Yow – Asst. AD
Carter Jordan – Head Coach
Valerie Richardson – Asst. AD
Steve Garland – Head Coach
Beth Miller – Asst. AD
C.D. Mock – Head Coach
Jon Jackson – Athletic Dir.
Clar Anderson – Head Coach
Consultative Sources
Mike Moyer – Executive Director
Jordan Griffith – Senior Director
Rich Bender – Executive Director
Leo Kocher – President and
University of Chicago Professor & Wrestling Coach
COLLEGE SPORTS COUNCIL
Scott Blackmun – CEO
Dave Dean - Founder
John Mitchell – SC Director
Cliff Fretwell – GA Director
Discussion/Comments?
Next Steps?