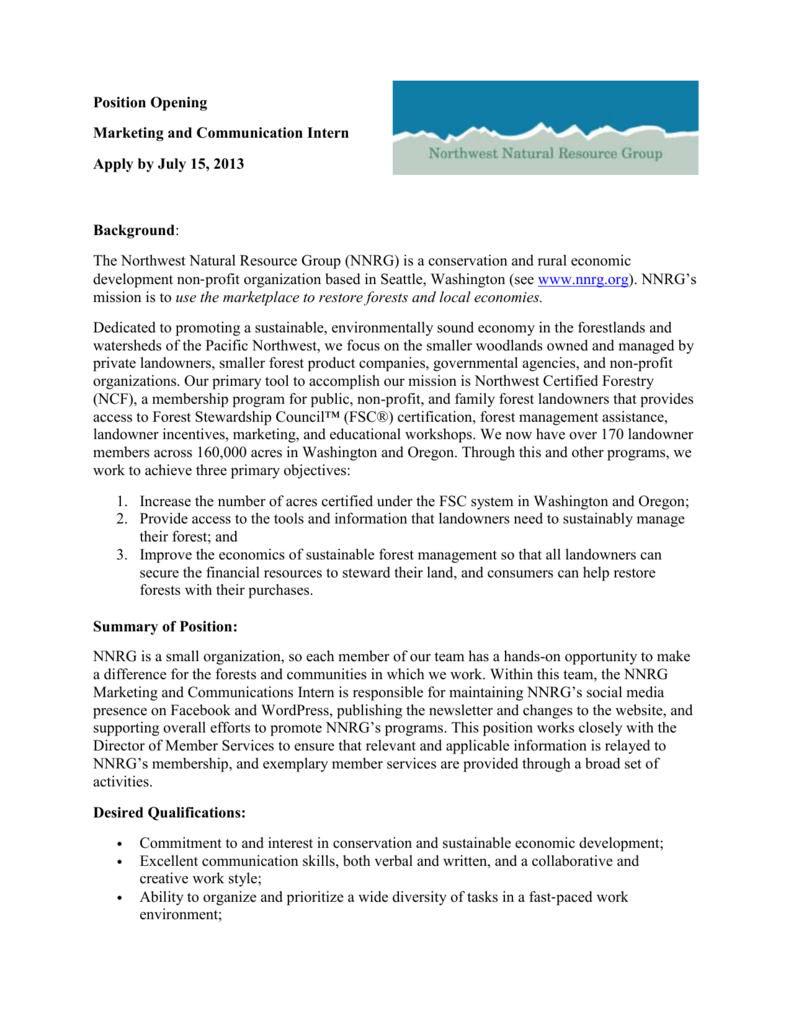 Position Opening
Marketing and Communication Intern
Apply by July 15, 2013
Background:
The Northwest Natural Resource Group (NNRG) is a conservation and rural economic
development non‐profit organization based in Seattle, Washington (see www.nnrg.org). NNRG's
mission is to use the marketplace to restore forests and local economies.
Dedicated to promoting a sustainable, environmentally sound economy in the forestlands and
watersheds of the Pacific Northwest, we focus on the smaller woodlands owned and managed by
private landowners, smaller forest product companies, governmental agencies, and non-profit
organizations. Our primary tool to accomplish our mission is Northwest Certified Forestry
(NCF), a membership program for public, non-profit, and family forest landowners that provides
access to Forest Stewardship Council™ (FSC®) certification, forest management assistance,
landowner incentives, marketing, and educational workshops. We now have over 170 landowner
members across 160,000 acres in Washington and Oregon. Through this and other programs, we
work to achieve three primary objectives:
1. Increase the number of acres certified under the FSC system in Washington and Oregon;
2. Provide access to the tools and information that landowners need to sustainably manage
their forest; and
3. Improve the economics of sustainable forest management so that all landowners can
secure the financial resources to steward their land, and consumers can help restore
forests with their purchases.
Summary of Position:
NNRG is a small organization, so each member of our team has a hands-on opportunity to make
a difference for the forests and communities in which we work. Within this team, the NNRG
Marketing and Communications Intern is responsible for maintaining NNRG's social media
presence on Facebook and WordPress, publishing the newsletter and changes to the website, and
supporting overall efforts to promote NNRG's programs. This position works closely with the
Director of Member Services to ensure that relevant and applicable information is relayed to
NNRG's membership, and exemplary member services are provided through a broad set of
activities.
Desired Qualifications:
•
•
•
Commitment to and interest in conservation and sustainable economic development;
Excellent communication skills, both verbal and written, and a collaborative and
creative work style;
Ability to organize and prioritize a wide diversity of tasks in a fast‐paced work
environment;
•
•
•
•
Experience in non-profit work and/or marketing programs;
Experience in project management;
Proficiency in Excel, Word, Outlook, and Publisher; and
Proficiency in Salesforce, Facebook, Twitter, Wordpress, and Hootsuite.
Responsibilities:
1. Implementing NNRG's social media plan including updating systems, building followers,
and generating content;
2. Leading production of monthly newsletters to NNRG's members;
3. Managing NNRG's website including content and functionality; and
4. Performing other duties as assigned which may include updates to NNRG's certification
database, fieldwork with NNRG foresters, assistance to NNRG members, and other
project support.
Hours & Location:
This is an unpaid position for 8-10 hours per week that will last for the 2013-2014 academic
year. NNRG may also choose to work with an intern for a portion of the academic year if an
outstanding candidate is only available for a limited time. If you incur business expenses during
your work with NNRG, such as travel expenses for fieldwork, you will be reimbursed at
NNRG's standard rates. The approximate start date for this position will be September 15, 2013.
The location is NNRG's office near Pike Place Market in Seattle, WA.
To Apply:
Email a cover letter, resume, additional writing sample, and two references no later than July
15th to [email protected] with "Marketing and Communications Intern" in the subject line.
Applicants are encouraged to apply as soon as possible and will be screened on a rolling basis.
For questions about the position, please contact NNRG's current Marketing and
Communications Intern, Maddy Lisaius, at [email protected] before May 24th. After May 24th,
you can contact Lindsay Malone, Director of Member Services, at [email protected]
Interested parties are encouraged to learn more about NNRG at www.nnrg.org.