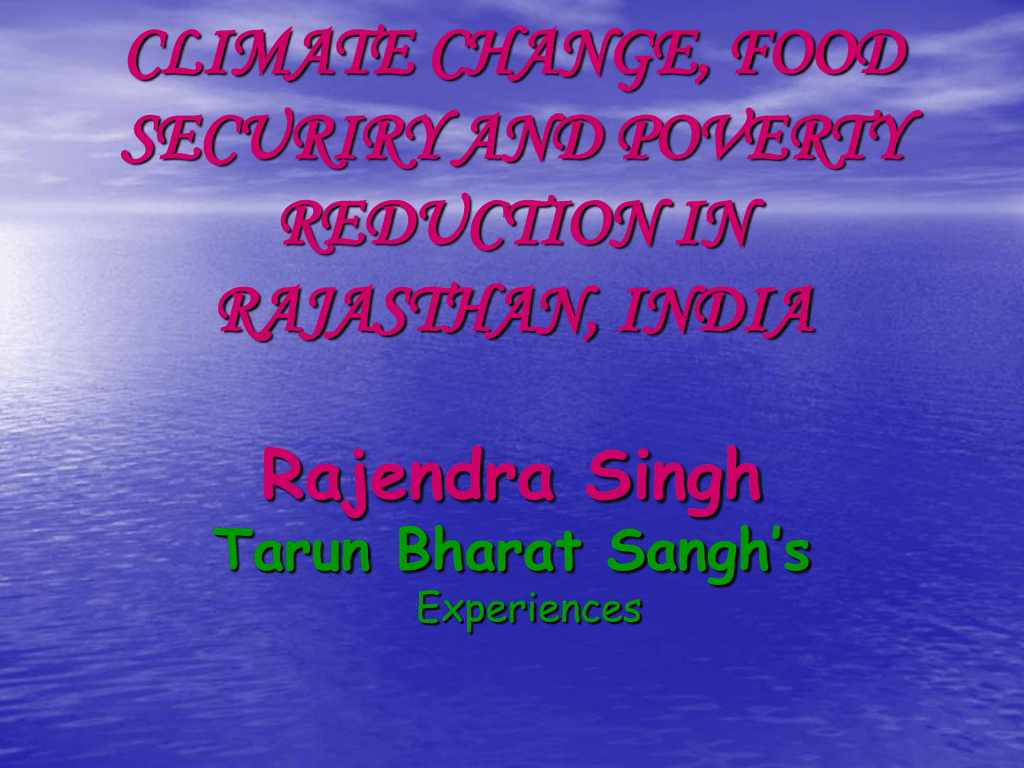 CLIMATE CHANGE, FOOD
SECURIRY AND POVERTY
REDUCTION IN
RAJASTHAN, INDIA
Rajendra Singh
Tarun Bharat Sangh's
Experiences
Location of
Arvari River
A Location Map of
Arvari River Basin
The Situation in
1985
1985
Degraded and barren land in
the catchment areas of Arvari
river
& extended drought had
forced people to migrate out
of their villages.
WATER harvesting structures taking shape
Johads and dams are usually built on
small tributaries uphill and they
directly benefit the forests on the hill.
BRINGING PEOPLE
TOGETHER
Success of the first Johad inspired people to take up the building of more such
structures – the connection between water and forests was made and this also
led to the revival of traditional rules.
In the past, forest ownership had been taken over by the Forest Department,
leading to alienation of the people and loss of traditions of conservation –
making it difficult to bring people together again.
Village councils were
constituted with the
specific purpose of
rejuvenating Arvari river
and protection of forests,
using historical and
traditional practices.
Women were mobilized to
actively participate in such
efforts. Their self
confidence and several
initiatives helped in reaching
consensus when decisions on
major issues were needed.
COMPLETED
STRUCTURES ON
ARVARI BASIN
River Goes Dry:
River is flowing:
Excess withdrawal of Groundwater
- Increased groundwater Recharge
- Less Groundwater Extraction
Due to increased recharge
& controlled discharge
river "ARVARI" is now
Perennial.
The Magic of
Arvari River over
12 years
The river had
disappeared in 1940s, and
was revived in 1997
through the efforts of
Tarun Bharat Sangh
Arvari, a small river in
Rajasthan state of India after
rejuvenation
Years
of drought had
caused it to become
a monsoon drain.
BENFITS: Water is made




available to cattle
and wildlife
More harvests per
season
Reduced migration
Social issues of women
and education get more
attention
Increased awareness
about the
use of forest resource
Only dry and dead wood is
allowed to be collected. No
person goes into the forest with
an axe.
1985: Very few people are motivated enough to work together in common interest.
1997: It is difficult to keep people away from working for the common cause.
THE ARVARI PARLIAMENT
72 villages situated along
Arvari river are represented.
Rules are framed about
issues of water
conservation and
utilization, and forest
conservation.