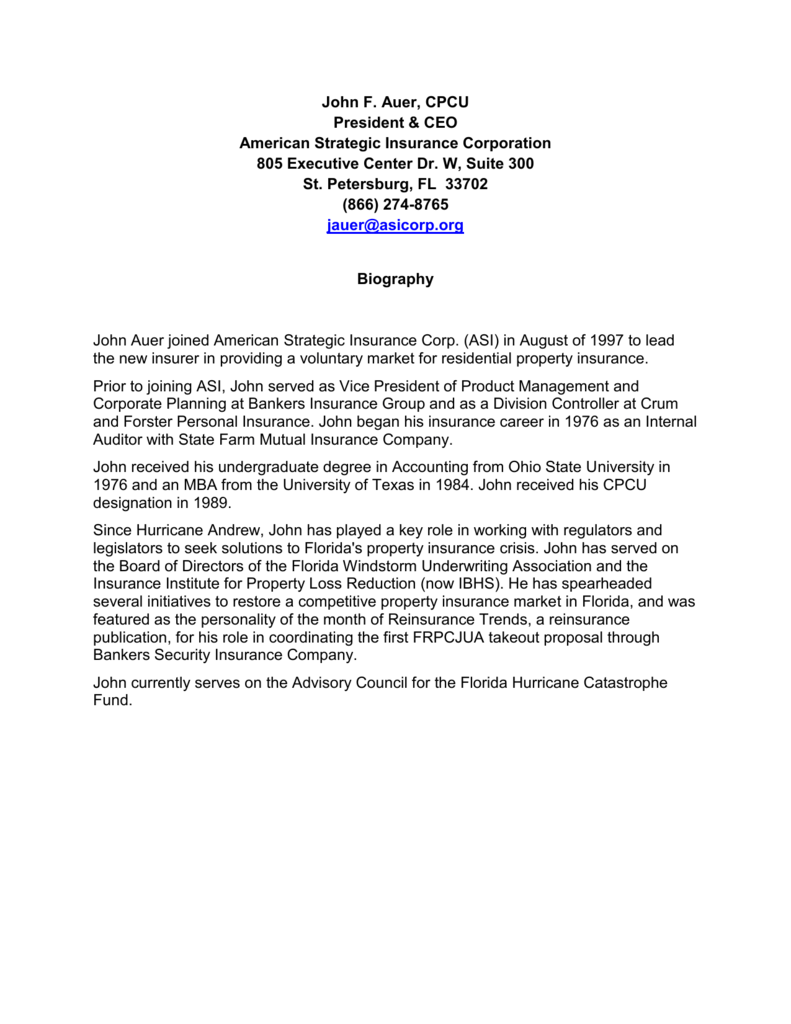 John F. Auer, CPCU
President & CEO
American Strategic Insurance Corporation
805 Executive Center Dr. W, Suite 300
St. Petersburg, FL 33702
(866) 274-8765
[email protected]
Biography
John Auer joined American Strategic Insurance Corp. (ASI) in August of 1997 to lead
the new insurer in providing a voluntary market for residential property insurance.
Prior to joining ASI, John served as Vice President of Product Management and
Corporate Planning at Bankers Insurance Group and as a Division Controller at Crum
and Forster Personal Insurance. John began his insurance career in 1976 as an Internal
Auditor with State Farm Mutual Insurance Company.
John received his undergraduate degree in Accounting from Ohio State University in
1976 and an MBA from the University of Texas in 1984. John received his CPCU
designation in 1989.
Since Hurricane Andrew, John has played a key role in working with regulators and
legislators to seek solutions to Florida's property insurance crisis. John has served on
the Board of Directors of the Florida Windstorm Underwriting Association and the
Insurance Institute for Property Loss Reduction (now IBHS). He has spearheaded
several initiatives to restore a competitive property insurance market in Florida, and was
featured as the personality of the month of Reinsurance Trends, a reinsurance
publication, for his role in coordinating the first FRPCJUA takeout proposal through
Bankers Security Insurance Company.
John currently serves on the Advisory Council for the Florida Hurricane Catastrophe
Fund.