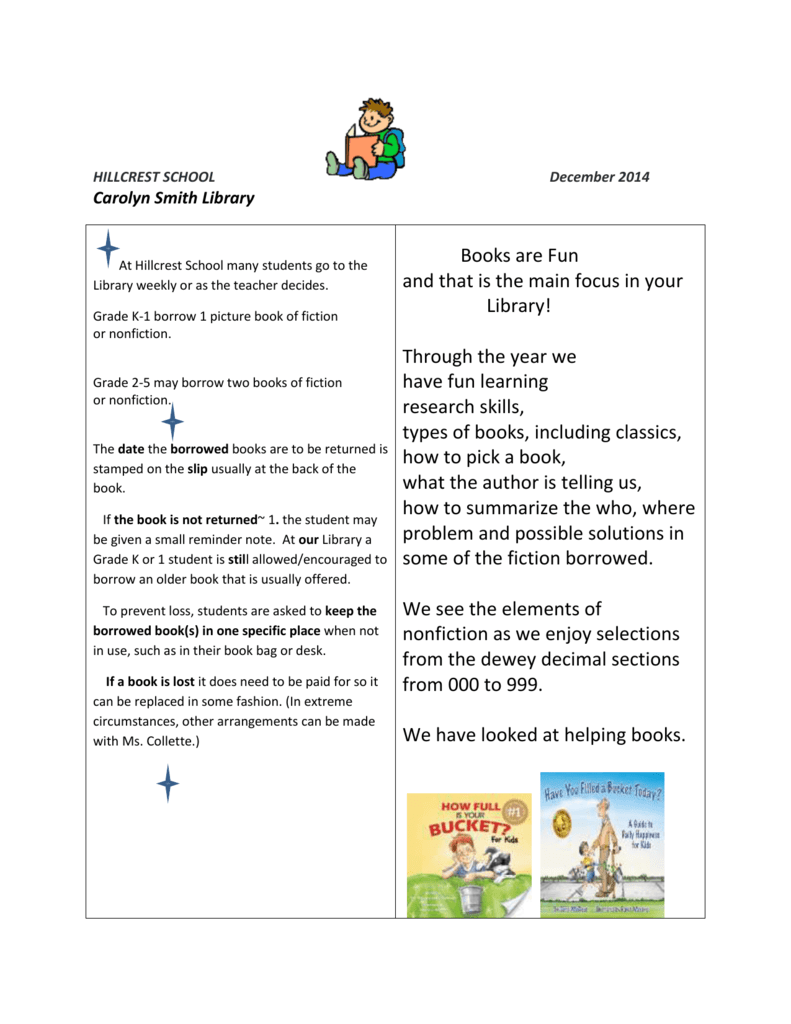 HILLCREST SCHOOL
December 2014
Carolyn Smith Library
At Hillcrest School many students go to the
Library weekly or as the teacher decides.
Grade K-1 borrow 1 picture book of fiction
or nonfiction.
Grade 2-5 may borrow two books of fiction
or nonfiction.
The date the borrowed books are to be returned is
stamped on the slip usually at the back of the
book.
If the book is not returned~ 1. the student may
be given a small reminder note. At our Library a
Grade K or 1 student is still allowed/encouraged to
borrow an older book that is usually offered.
To prevent loss, students are asked to keep the
borrowed book(s) in one specific place when not
in use, such as in their book bag or desk.
If a book is lost it does need to be paid for so it
can be replaced in some fashion. (In extreme
circumstances, other arrangements can be made
with Ms. Collette.)
Books are Fun
and that is the main focus in your
Library!
Through the year we
have fun learning
research skills,
types of books, including classics,
how to pick a book,
what the author is telling us,
how to summarize the who, where
problem and possible solutions in
some of the fiction borrowed.
We see the elements of
nonfiction as we enjoy selections
from the dewey decimal sections
from 000 to 999.
We have looked at helping books.
CAROLYN SMITH LIBRARY
December 2014
page 2
Our non-fiction selections will include an introduction to the
~ Reference Section
~Art/Music
~ Science
~ Sports
~ Technology
~Literature/Word Play…
~ History
CAROLYN SMITH LIBRARY
December 2014
page3
Some of the fiction selections include Hey, Little Ant
by Phillip and Hannah Hoose. What do an ant and a boy have in common?
Younger students enjoyed Mind Your Manners B.B. Wolf by Judy Sierra
in which the Big Bad Wolf meets the three little pigs and other story book
characters at the Library.
Grade 3 to 5 students heard a bit of
I Funny
by James Patterson
Life is not easy. Find the funny.
&
Life after a death in the family.