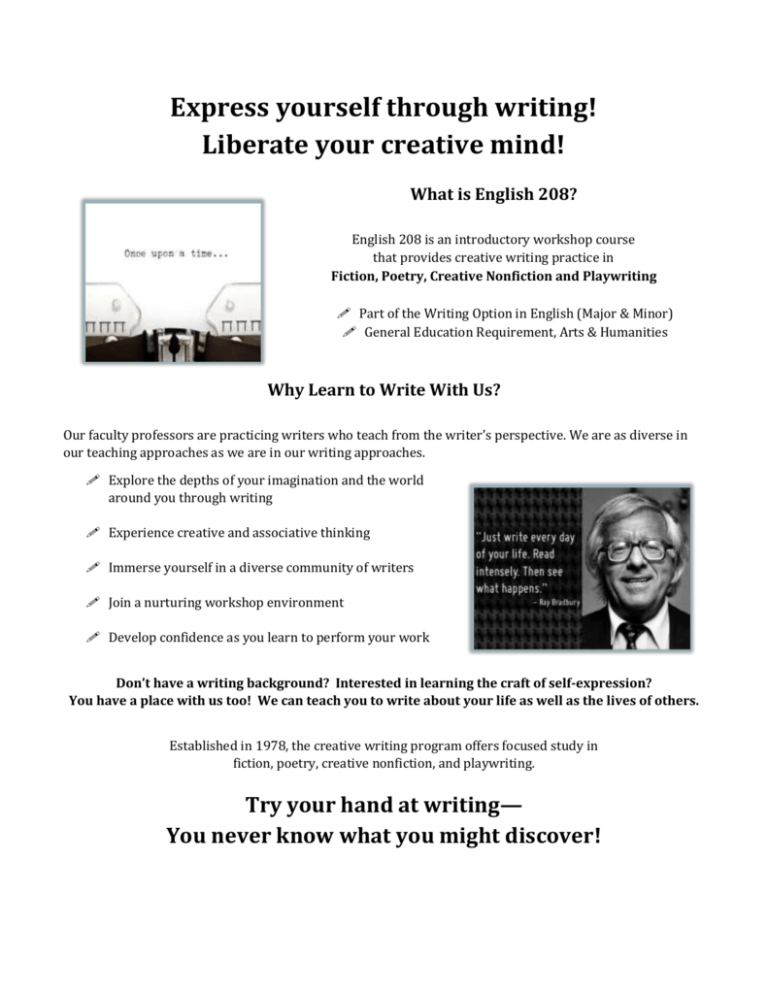 Express yourself through writing!
Liberate your creative mind!
What is English 208?
English 208 is an introductory workshop course
that provides creative writing practice in
Fiction, Poetry, Creative Nonfiction and Playwriting
 Part of the Writing Option in English (Major & Minor)
 General Education Requirement, Arts & Humanities
Why Learn to Write With Us?
Our faculty professors are practicing writers who teach from the writer's perspective. We are as diverse in
our teaching approaches as we are in our writing approaches.
 Explore the depths of your imagination and the world
around you through writing
 Experience creative and associative thinking
 Immerse yourself in a diverse community of writers
 Join a nurturing workshop environment
 Develop confidence as you learn to perform your work
Don't have a writing background? Interested in learning the craft of self-expression?
You have a place with us too! We can teach you to write about your life as well as the lives of others.
Established in 1978, the creative writing program offers focused study in
fiction, poetry, creative nonfiction, and playwriting.
Try your hand at writing—
You never know what you might discover!
Welcome to the World of Literature!
What is English 255?
English 255 is an Introductory Literature course that explores the
genres of Fiction, Poetry, and Drama
 Part of the Literature Option in English (Major & Minor)
 General Education Requirement, Arts & Humanities
Learn about Literature through –
 Comprehensive class discussion
 Exposure to various characteristics of literature: tone, theme,
character, plot, setting, points of view, and literary form
 Critical reading, individual interpretation and analysis of literary
texts
 Creating insightfulness about major literary ideas:
human existence, cultural diversity, identity, love, and more!
And Learn about Life –
Studying literature encourages a deeper involvement with one's self.
It teaches us to look at the world from multiple points of view, and from the lives of different kinds of people.
It gives us insight into the hardships and pain of others:
the joy created in witnessing someone else's triumphant journey;
the pleasure in reading the final moments of a story's conclusion.
Literary stories provide us with recollections of the past, comprehension of the present and dreams of the
future. Fiction stories let us live in realities unlike our own, making us witnesses to different times, cultures
and events than the ones that seen so familiar.
Step into the World of Literature
and discover astounding knowledge around every corner!