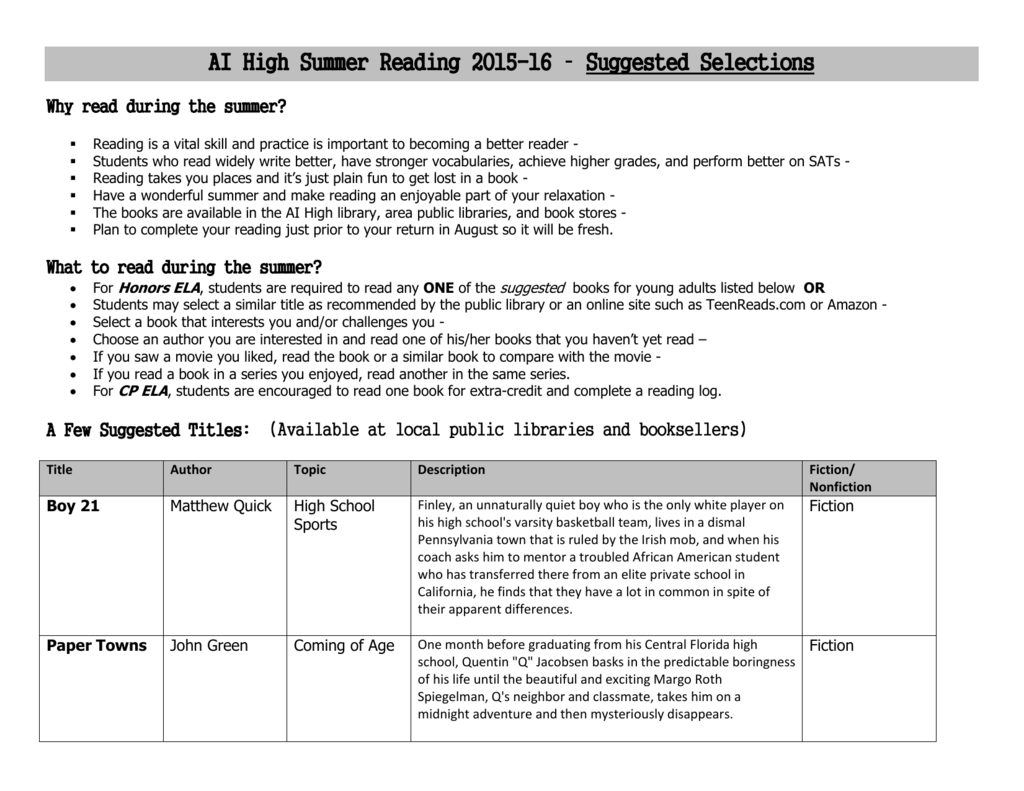 AI High Summer Reading 2015-16 – Suggested Selections
Why read during the summer?






Reading is a vital skill and practice is important to becoming a better reader Students who read widely write better, have stronger vocabularies, achieve higher grades, and perform better on SATs Reading takes you places and it's just plain fun to get lost in a book Have a wonderful summer and make reading an enjoyable part of your relaxation The books are available in the AI High library, area public libraries, and book stores Plan to complete your reading just prior to your return in August so it will be fresh.
What to read during the summer?







For Honors ELA, students are required to read any ONE of the suggested books for young adults listed below OR
Students may select a similar title as recommended by the public library or an online site such as TeenReads.com or Amazon Select a book that interests you and/or challenges you Choose an author you are interested in and read one of his/her books that you haven't yet read –
If you saw a movie you liked, read the book or a similar book to compare with the movie If you read a book in a series you enjoyed, read another in the same series.
For CP ELA, students are encouraged to read one book for extra-credit and complete a reading log.
A Few Suggested Titles: (Available at local public libraries and booksellers)
Title
Author
Topic
Description
Fiction/
Nonfiction
Boy 21
Matthew Quick
High School
Sports
Finley, an unnaturally quiet boy who is the only white player on
his high school's varsity basketball team, lives in a dismal
Pennsylvania town that is ruled by the Irish mob, and when his
coach asks him to mentor a troubled African American student
who has transferred there from an elite private school in
California, he finds that they have a lot in common in spite of
their apparent differences.
Fiction
Paper Towns
John Green
Coming of Age
One month before graduating from his Central Florida high
Fiction
school, Quentin "Q" Jacobsen basks in the predictable boringness
of his life until the beautiful and exciting Margo Roth
Spiegelman, Q's neighbor and classmate, takes him on a
midnight adventure and then mysteriously disappears.
Me and Earl
Jesse Andrews
and the Dying
Girl
Friendship
Purple Heart
Patricia
McCormick
Iraq War
Stolen
Lucy
Christopher
Kidnapping
Enrique's
Journey
(Young Adult
version)
Sonia Nazario
Immigrants
A Walk in the
Woods
Bill Bryson
Adventure
Hole in My
Life
Jack Gantos
Memoir
Dogs of War
Sheila Keenan
Graphic Novel
Boxers
Gene Luen
Yang
Graphic Novel
Seventeen-year-old Greg has managed to become part of every
social group at his Pittsburgh high school without having any
friends, but his life changes when his mother forces him to
befriend Rachel, a girl he once knew in Hebrew school who has
leukemia.
While recuperating in a Baghdad hospital from a traumatic brain
injury sustained during the Iraq War, eighteen-year-old soldier
Matt Duffy struggles to recall what happened to him and how it
relates to his ten-year-old friend, Ali.
Sixteen-year-old Gemma, a British city-dweller, is abducted while
on vacation with her parents and taken to the Australian
outback, where she soon realizes that escape attempts are futile,
and in time she learns that her captor is not as despicable as she
first believed.
Enrique's Journey recounts the unforgettable quest of a Honduran
boy looking for his mother, eleven years after she is forced to leave
her starving family to find work in the United States. Braving
unimaginable peril, often clinging to the sides and tops of freight
trains, Enrique travels through hostile worlds full of thugs, bandits,
and corrupt cops. But he pushes forward, relying on his wit,
courage, hope, and the kindness of strangers.
Author Bill Bryson provides an entertaining and insightful
account of his experiences hiking the Appalachian Trail with a
childhood friend, telling of how they survived a blizzard, got lost,
and had encounters with eccentric characters along the way.
The author relates how, as a young adult, he became a drug user
and smuggler, was arrested, did time in prison, and eventually
got out and went to college, all the while hoping to become a
writer.
Three fictional stories, told in graphic novel format, about
soldiers in World War I, World War II, and the Vietnam War who
were aided by combat dogs. Based on true stories.
In 1898 during the Boxer Rebellion a boy named Little Bao
recruits an army of Boxers to rid China of foreign missionaries
and soldiers who bully and rob Chinese peasants.
Fiction
Fiction
Fiction
Nonfiction
Nonfiction
Nonfiction
Fiction
Fiction
A Few Authors You May Like:
A Few Series You May Like:
Laurie Halse Anderson
The Mortal Instruments Series – Cassandra Clare
Sharon Flake
Michael Vey Series – Richard Paul Evans
Gayle Forman
Gone Series – Michael Grant
John Green
Legend Series – Marie Lu
Ellen Hopkins
The Giver Series – Lois Lowry
A.S. King
The Lunar Chronicles – Marissa Meyer
Walter Dean Myers
Matched Series – Ally Condie
Patrick Ness
The Selection Series –Kiera Cass
Jodi Picoult
The Lorien Legacies – Pittacus Lore
Rick Riordan
Escape from the Furnace – Andrew McCall Smith
Ni-Ni Simone
The Raven Cycle – Maggie Stiefvater
Alison van Diepen
Maze Runner Series – James Dashner
Paul Volponi
Unwind Series – Neal Shusterman
Rick Yancey
Vampire Academy Series – Richelle Mead
A.S. Young
Uglies Series – Scott Westerfield
Markus Zusak
Pretty Little Liars Series – Sara Shepard
Delirium Series -- Lauren Oliver
Summer Reading Project Menu
Please select one of these options to demonstrate your appreciation of the book you selected.
1. If you are enrolled in an Honors ELA class for 2015-16, please complete a Dialectical Journal. See the
directions available at the AIHS web page.
2. If you are enrolled in a CP class for 2015-16, please complete the AIHS Big READ Book Log. See the log at
the AIHS web page.