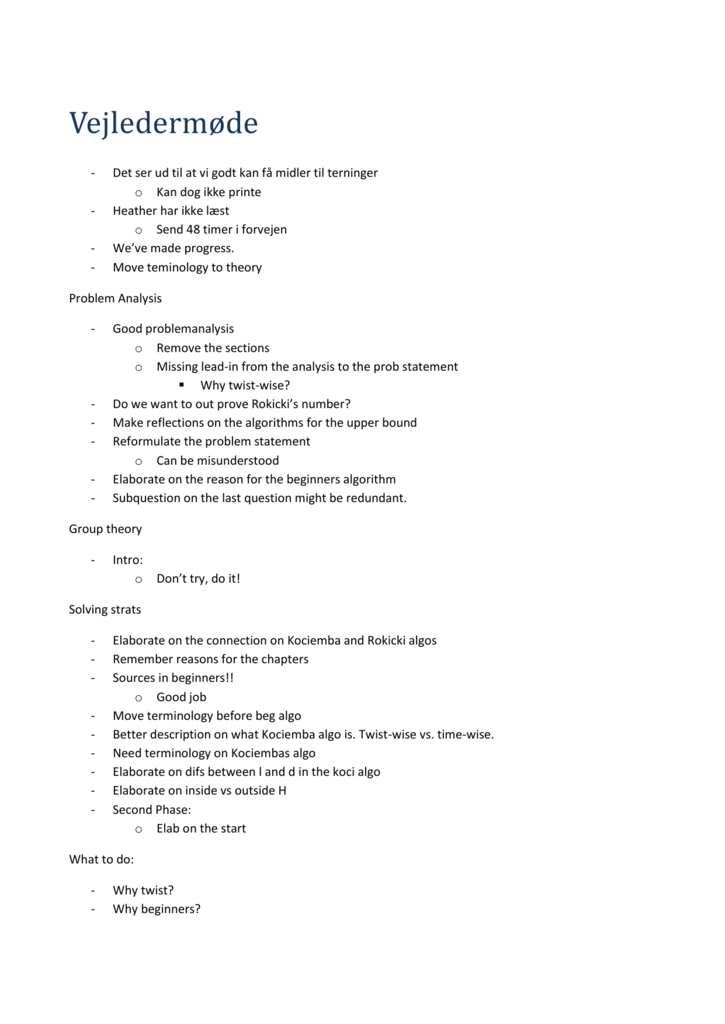 Vejledermøde
-
Det ser ud til at vi godt kan få midler til terninger
o Kan dog ikke printe
Heather har ikke læst
o Send 48 timer i forvejen
We've made progress.
Move teminology to theory
Problem Analysis
-
-
Good problemanalysis
o Remove the sections
o Missing lead-in from the analysis to the prob statement
 Why twist-wise?
Do we want to out prove Rokicki's number?
Make reflections on the algorithms for the upper bound
Reformulate the problem statement
o Can be misunderstood
Elaborate on the reason for the beginners algorithm
Subquestion on the last question might be redundant.
Group theory
-
Intro:
o
Don't try, do it!
Solving strats
-
Elaborate on the connection on Kociemba and Rokicki algos
Remember reasons for the chapters
Sources in beginners!!
o Good job
Move terminology before beg algo
Better description on what Kociemba algo is. Twist-wise vs. time-wise.
Need terminology on Kociembas algo
Elaborate on difs between l and d in the koci algo
Elaborate on inside vs outside H
Second Phase:
o Elab on the start
What to do:
-
Why twist?
Why beginners?
-
Better prob state
More questions for Kociemba
Finish the theory and apply
Status seminar:
-
9th of april
12:30-16:15
A315
A224
A216
Need date for send material to the other group
7 days before(2nd)
Remember one question from each of us.
o Not easily answered
Everyone has to say something.
Next meeting
-
31st marts 12:30
Anders will mail the template and practical stuff.