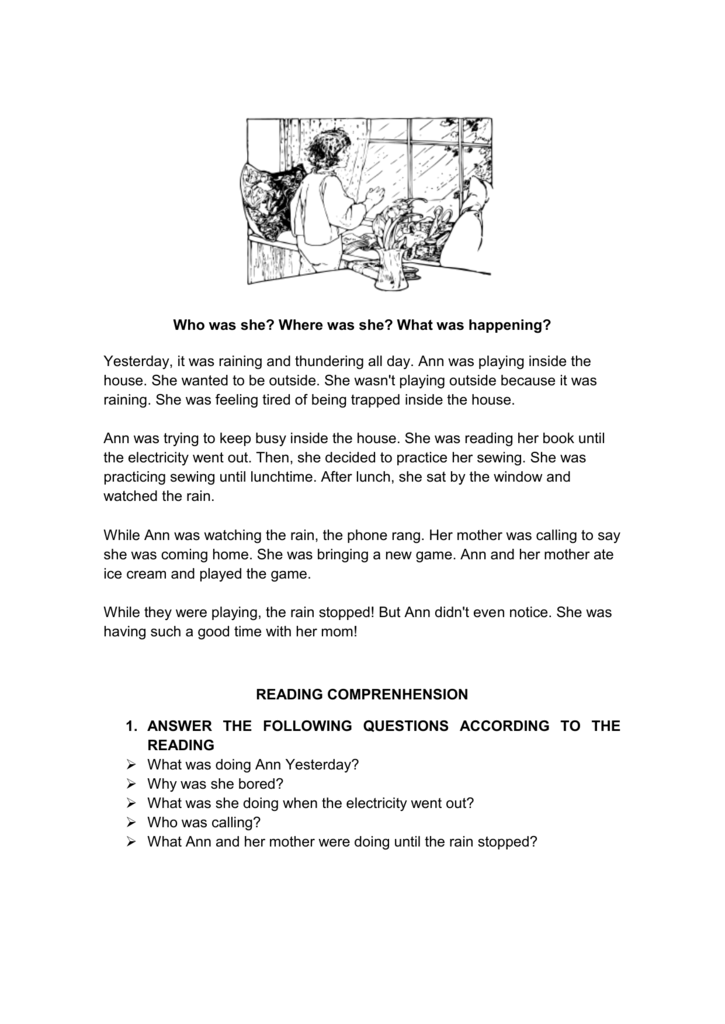 Who was she? Where was she? What was happening?
Yesterday, it was raining and thundering all day. Ann was playing inside the
house. She wanted to be outside. She wasn't playing outside because it was
raining. She was feeling tired of being trapped inside the house.
Ann was trying to keep busy inside the house. She was reading her book until
the electricity went out. Then, she decided to practice her sewing. She was
practicing sewing until lunchtime. After lunch, she sat by the window and
watched the rain.
While Ann was watching the rain, the phone rang. Her mother was calling to say
she was coming home. She was bringing a new game. Ann and her mother ate
ice cream and played the game.
While they were playing, the rain stopped! But Ann didn't even notice. She was
having such a good time with her mom!
READING COMPRENHENSION
1. ANSWER THE FOLLOWING QUESTIONS ACCORDING TO THE
READING
 What was doing Ann Yesterday?
 Why was she bored?
 What was she doing when the electricity went out?
 Who was calling?
 What Ann and her mother were doing until the rain stopped?
2. Make a list of the verbs in the story with ing
3. WRITE THE FOLLOWING SENTENCES IN INTERROGATIVE FORM
WITH THEIR ANSWERS.
 Ann was trying to keep busy inside the house.
 it was raining and thundering all day.
 Susana was sleeping in my science class.
 You were singing when the phone rang.
 They were laughing very loudly.
4. Translate the following sentences in negative form




Yo estaba escribiendo la tarea de matemáticas.
Jorge estaba brincando muy alto.
Daniel y Cecila estaban leyendo un libro de aventura.
Lina estaba llorando en clase de lectura.
5. Change the verb into the correct form:
1. Yesterday at 5 o'clock I
(eat).
2. Last night, at 10 o'clock she
3. Tim
(dance).
(cook) while Susan
4. Barbara
(watch) TV.
(paint), and Joe
(sleep).
5. While you
(rest), I
6. While we
(swim), the other team
7. Jim
8. Dorothy
9. Jack and Bob
10. These two
11. James
12. While the singer
(clean) the house.
(run).
(always come) late to work.
(always smoke) in the room.
(always fight) about something.
(constantly chat).
(read) and Emily
(sing), the crowd
(listen) to music.
(jump).