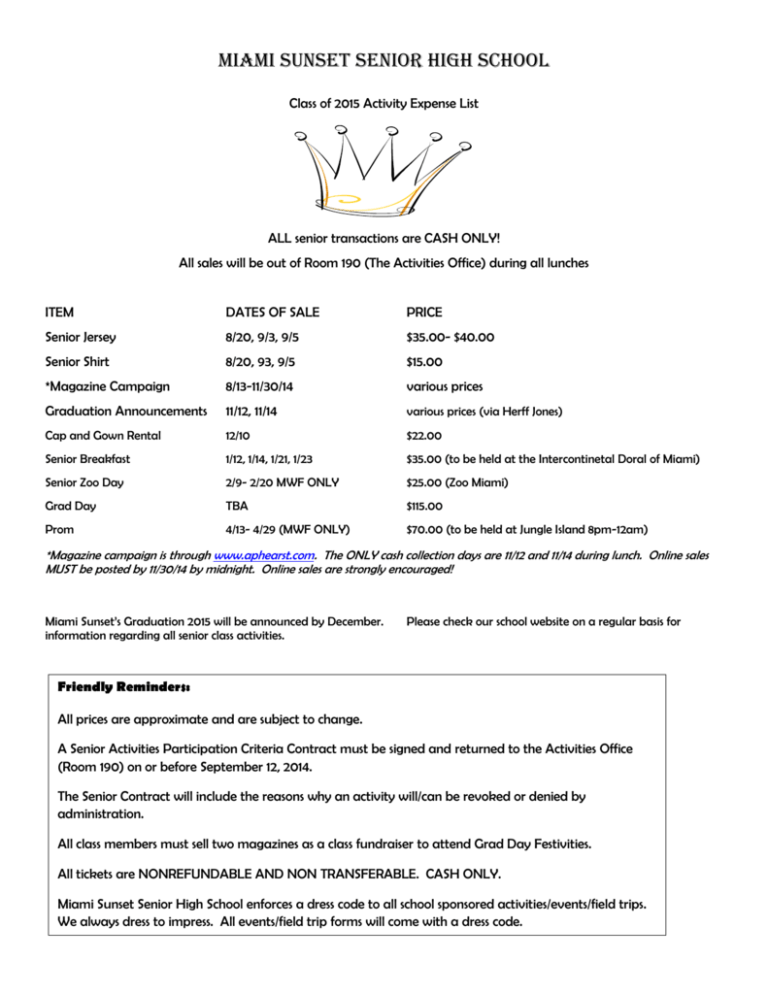 Miami Sunset Senior High School
Class of 2015 Activity Expense List
ALL senior transactions are CASH ONLY!
All sales will be out of Room 190 (The Activities Office) during all lunches
ITEM
DATES OF SALE
PRICE
Senior Jersey
8/20, 9/3, 9/5
$35.00- $40.00
Senior Shirt
8/20, 93, 9/5
$15.00
*Magazine Campaign
8/13-11/30/14
various prices
Graduation Announcements
11/12, 11/14
various prices (via Herff Jones)
Cap and Gown Rental
12/10
$22.00
Senior Breakfast
1/12, 1/14, 1/21, 1/23
$35.00 (to be held at the Intercontinetal Doral of Miami)
Senior Zoo Day
2/9- 2/20 MWF ONLY
$25.00 (Zoo Miami)
Grad Day
TBA
$115.00
Prom
4/13- 4/29 (MWF ONLY)
$70.00 (to be held at Jungle Island 8pm-12am)
*Magazine campaign is through www.aphearst.com. The ONLY cash collection days are 11/12 and 11/14 during lunch. Online sales
MUST be posted by 11/30/14 by midnight. Online sales are strongly encouraged!
Miami Sunset's Graduation 2015 will be announced by December.
information regarding all senior class activities.
Please check our school website on a regular basis for
Friendly Reminders:
All prices are approximate and are subject to change.
A Senior Activities Participation Criteria Contract must be signed and returned to the Activities Office
(Room 190) on or before September 12, 2014.
The Senior Contract will include the reasons why an activity will/can be revoked or denied by
administration.
All class members must sell two magazines as a class fundraiser to attend Grad Day Festivities.
All tickets are NONREFUNDABLE AND NON TRANSFERABLE. CASH ONLY.
Miami Sunset Senior High School enforces a dress code to all school sponsored activities/events/field trips.
We always dress to impress. All events/field trip forms will come with a dress code.