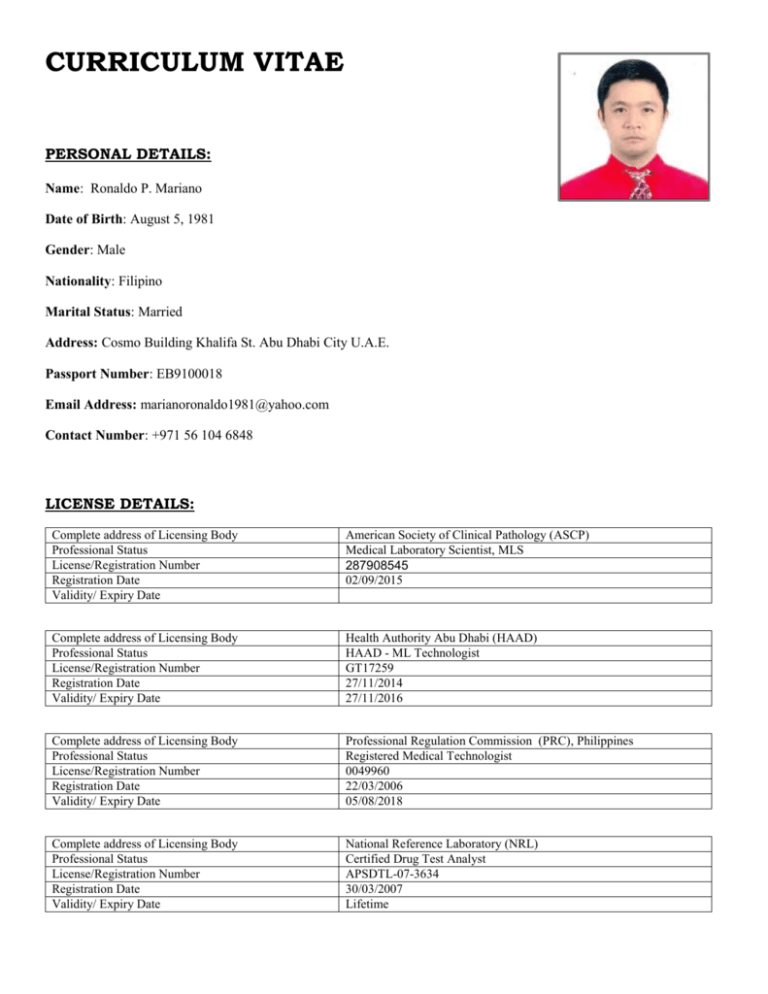 CURRICULUM VITAE
PERSONAL DETAILS:
Name: Ronaldo P. Mariano
Date of Birth: August 5, 1981
Gender: Male
Nationality: Filipino
Marital Status: Married
Address: Cosmo Building Khalifa St. Abu Dhabi City U.A.E.
Passport Number: EB9100018
Email Address: marianoronaldo1981@yahoo.com
Contact Number: +971 56 104 6848
LICENSE DETAILS:
Complete address of Licensing Body
Professional Status
License/Registration Number
Registration Date
Validity/ Expiry Date
American Society of Clinical Pathology (ASCP)
Medical Laboratory Scientist, MLS
287908545
02/09/2015
Complete address of Licensing Body
Professional Status
License/Registration Number
Registration Date
Validity/ Expiry Date
Health Authority Abu Dhabi (HAAD)
HAAD - ML Technologist
GT17259
27/11/2014
27/11/2016
Complete address of Licensing Body
Professional Status
License/Registration Number
Registration Date
Validity/ Expiry Date
Professional Regulation Commission (PRC), Philippines
Registered Medical Technologist
0049960
22/03/2006
05/08/2018
Complete address of Licensing Body
Professional Status
License/Registration Number
Registration Date
Validity/ Expiry Date
National Reference Laboratory (NRL)
Certified Drug Test Analyst
APSDTL-07-3634
30/03/2007
Lifetime
EDUCATION/ QUALIFICATION:
Qualification Attained
Date Course Completed
Name of Institute
Bachelor of Science in Medical Technology
31/03/2004
University of Perpetual Help System
Medicine and Health Sciences
WORK HISTORY:
Al Noor Hospital Medical Group
Central Laboratory – Khalifa Campus, Abu Dhabi U.A.E.
JCI Accredited and ISO Certified
Duration of Position: September 14, 2014 - present
Position recently held: Medical Technologist
JOB RESPONSIBILITIES:
 Perform clinical laboratory tests pertinent to hematology, chemistry, urinalysis, serology, microbiology, immunology and blood
bank
 Operate ,adjust and maintain scientific instruments including but not limited to pH meters, spectrophotometers, electrophoresis
apparatuses, chromatography apparatuses, fluorescent immunoassay, refract meters, particle counters and microprocessors,
analytical balances, autoclaves and compression testing equipment such as EIA,ELISA
 Carry out biochemical analysis and determinations such as liver function, thyroid function, blood sugars, renal function tests.
 Keep information of new laboratory techniques.
 Keep inventories of stock and supplies for laboratory use.
 Assure the work quality and quantity by requiring strict adherences to methods and procedures.
 Schedule and oversee the maintenance, adjustment, calibration of laboratory instruments, apparatus or testing devices.
 Serves as the recognized expert within a program area and provides technical assistance to other staff.
 Knowledge of laboratory tests and analysis.
 Knowledge of laboratory terminology and equipment.
 Knowledge of quality assurance procedures.
 Observe and follow all safety regulations.
 Perform and maintain quality assurance procedure in the laboratory setting such as IQC, Proficiency Testing and any corrective
actions for equipment testing.
Carmona Medics and Diagnostic Clinic
Owned and Operated by Carmona Hospital and Medical Center
Brgy Mabuhay Carmona Cavite, Philippines
Duration of Position: February 2013 – April 2014
Position recently held: Medical Technologist
Westlake Medical Center
Pacita Complex, Brgy.Landayan San Pedro, Laguna Philippines
Duration of Position: June 2011 – February 2013
Hospital capacity: 100 bed capacity
Position recently held: Chief Medical Technologist
JOB RESPONSIBILITIES:
 Assures full implementation of the hospital policies, rules and regulation
 Represents the Department of Laboratory in the monthly administrative meeting and in all meetings which will require
representation of the department.
 Prepares all necessary documents for the renewal of a "license to operate" of the clinical laboratory.
 Ensures the full implementation and compliance of quality control program in all the sections of the laboratory
 Responsible for troubleshooting in any emergency arising from the laboratory department.
 Executing and analyzing test in areas including Chemistry, Hematology, Clinical Microscopy, and Serology to aid physicians in
diagnosing and treating disease.
 Ensure test results validity before recording/reporting/releasing results.




Monitors proper processing, handling and storage of specimen
Checks the availability of laboratory stocks and reagents.
Helps create a friendly and warm atmosphere in attending to the needs of the patients and maintains good rapport and cooperative
working relationship with physicians and staff.
Practice good housekeeping and follow risk management procedures
UPH-Dr. Jose G. Tamayo Medical Center
Sto. Niño Biñan, Laguna. Philippines
Duration of Position: November 2006 – June 2011
Level IV Tertiary Hospital and Training Institution
Hospital capacity: 200 bed capacity
Department recently working in: Laboratory-General
JOB RESPONSIBILITIES:
SECTION HEAD –HEMATOLOGY SECTION (2008-2011)
 Responsible in the computation of "cost per test" of each laboratory examination available.
 Performed the monthly charges, expenses and census.
 Responsible in the maintenance of good quality control system in general.
 Responsible in the inventory and evaluation of good quality reagents and supplies for the section.
 Responsible in the preventive maintenance of machines and equipment.
 Performs phlebotomy procedure.
 Also rotated in other sections and performs different routine special examinations / procedures in the assigned section.
ASSISTANT SECTION HEAD–CHEMISTRY SECTION /
JUNIOR MEDICAL TECHNOLOGIST / (2006-2008)
Performs different routine special examinations / procedures in the assigned section.
 Ensures reliability of laboratory procedures by running samples together with controls.
 Monitors proper processing, handling and storage of specimen.
 Responsible in performing the responsibilities of the section head when the latter goes on leave or on official business.
 Responsible for filing and keeping of results in the assigned section.
 Maintain the cleanliness and orderliness in the laboratory.
 Performs phlebotomy procedure.
 Assists patients to follow instructions and special preparations based on the procedure of the requested examination.
Corpo Medical Clinic
G.M.A. Cavite, Philippines
Duration of Position: March 2005 – December 2005
Secondary Outpatient Clinic
Position previously held: Staff Laboratory Technician
Department worked in: Laboratory
The Corpo Medical Clinic is a secondary medical clinic and has four branches in Laguna, Philippines. The company's network of
clinics offers a unique one-stop-shop setting where services of experienced doctors are complemented with complete laboratory
services, radiology and diagnostic facilities. Minor surgical operations such as incision, circumcision, and dental procedures can be
done right at the clinic.
JOB RESPONSIBILITIES:
 Perform blood collection and preservation of specimen.
 Assists the Medical Technologist staff in the sterilization of the laboratory instruments and materials.
 Washes all used materials, glassware, slides, test tubes in the laboratory.
 Collects and segregates all biohazard waste materials for safety and proper disposal.
 Defrosts and cleans laboratory refrigerators.
 Cleans microscope, centrifuge and other equipment in the laboratory.
 Logging and filing of results in each logbook.
ROTATED LABORATORY SECTION ASSIGNMENT:
CLINICAL CHEMISTRY
 Performs all blood chemistry procedures such as: routines and special blood chemistry, liver function test, kidney function test
and thyroid function test, CSF protein / sugar determination, glycosylated haemoglobin, Cardiac Profiles and Screening test for
body fluids.
HEMATOLOGY
 Complete Blood Count (Hgb, WBC count, RBC count, HCT, MCV, MCH, MCHC, platelet count, RDW, MPV) using Cell-Dyn
(Abbott) and Sysmex machine.
 Manual and Automated differential count
 Performs laboratory examination such as clotting time, bleeding time, Prothrombin and Partial Thromboplastin time, reticulocytes
count, ESR, L.E. cell preparation and examination, Peripheral smear, Malarial parasite count. Clot retraction time, Blood typing
 Performs blood collection of in and out – patient.
 Performs capillary punctures for paediatric patients.
CLINICAL MICROSCOPY
 Perform the qualitative and quantitative analysis of urine and other body fluids like CSF, pleural fluid, synovial, peritoneal fluid,
sperm washing and sperm analysis.
 Perform Bence-Jones protein, micral test in urine.
 Prepare routine analysis of stool and note physical and chemical appearance then examine under a microscope for the presence of
abnormal parasites.
 Perform occult blood, ELISA in E. histolytica, APTs test, Zinc
 Drug testing (Methamphetamine, THC).
SEROLOGY AND IMMUNOLOGY
 Performs Widal test, RPR, VDRL, CRP ASO, Rheumatoid factor, Typhidot, Dengue blot and H. pylori for blood and stool.
 Screening test for HB antigen and antibody, HIV 1 & 2, HCV.
 Does Hepatitis profile, Tumor markers, Beta HCG and Thyroid function test.
HISTOPATHOLOGY
 Assist in gross description of specimens.
 Cut embedded paraffin tissues.
 Performs H&E and Pap smear.
MICROBIOLOGY
 Performs KOH, wet mount method, gram staining and Acid Fast Bacilli.
 Prepared culture media such as Blood Agar, McConkey, Mueller Hinton agar, Chocolate agar, SSA and TSB.
BLOOD BANKING
 Conducts donor recruitment, screening of donors and collection of transfusion.
 Perform direct and indirect ABO and Rh typing, and Coomb's Test.
 Performs major and minor crossmatching and blood screening.
CONTINUING EDUCATION COURSES AND TRAININGS:
IriCell 2000 Automated Urinalysis System Training, April 02, 2015
Basic Life Support for Healthcare Providers –CPR Pro, September 24, 2014
Mindray BC 3200 Hematology Analyzer, May 28, 2013
PAMET 46th Annual Convention: "Perspective to New Frontiers in Medical Technology" December 2, 2010
7th PAMET South Luzon Regional Conference: "Medical Technologist: Leadership, Professionalism,
Compassion" September 24, 2010
PAMET 45th Annual Convention: "Medical Technologist: On a Higher Leap amidst Global Challenges"
November 25-27, 2009
PAMET 44th Annual Convention: "Road mapping the Future of Medical Technology" December 9-11, 2008
PAMET 43rd Annual Convention: "Medical Technologist: Going Beyond Expectations" November 28-30, 2007
PAMET Seminars: "1st CPE Seminar for 2007" May 18, 2007
PAMET 42nd Annual Convention: "Technology-Enhanced Competencies in Quest for Excellence" Nov. 30, 2006
Scatter Gram Interpretation of Abbott CellDyn 3200, March 10, 2010
Abbott CellDyn 3200 Hematology Analyzer Training, January 15, 2010
Axsym Immunology Analyzer Training, April 3, 2009
Vitros 250 Chemistry Key Operator Traning, October 25, 2007
Workshop on the Manual of Operations for Screening Drug Testing Laboratories, March 30, 2007
EQUIPMENTS HANDLED:
J&J Vitros 250, Vitros 950,A6 Semi Automated Chemistry, Photometer 4020 Boehringer Mannheim, Easylyte (Electrolytes),Kodak
Ecktachem (DT60,DTSC,DTE), BekmannSnychron CX7 Chemistry Analyzer,CL Analyzer Elite 9000, ACL TOP 300, ,Fibrometer
Coagulation,Abbott Cell Dyne 1700, 3200, Ruby , Sapphire and EMERALD, SYSMEX KX21,Hematology AnalyzerCoulter counter ACT
diff, Coulter counter HMX, Nyco Card Reader II,Fibrometer Coagulation Option PLUS,Statfax 3000 Semi-Automated Chem,Abbott AXSYM
(Immunology),Biomerieux Mini-Vidas Immuno Analyzer,BD Bactec 9050,CenSlide 3000 Urine Analyzer, MIndray BC 3200 Hema
Analyzer, Iricell/Automation (Clinical Microscopy), Diamed-ID Microtyping System (ID reader saxo),Bio Rad- ID incubator 37 SI
and Centrifuge 12 SI, Diamed Swing Samplers
References available upon request.