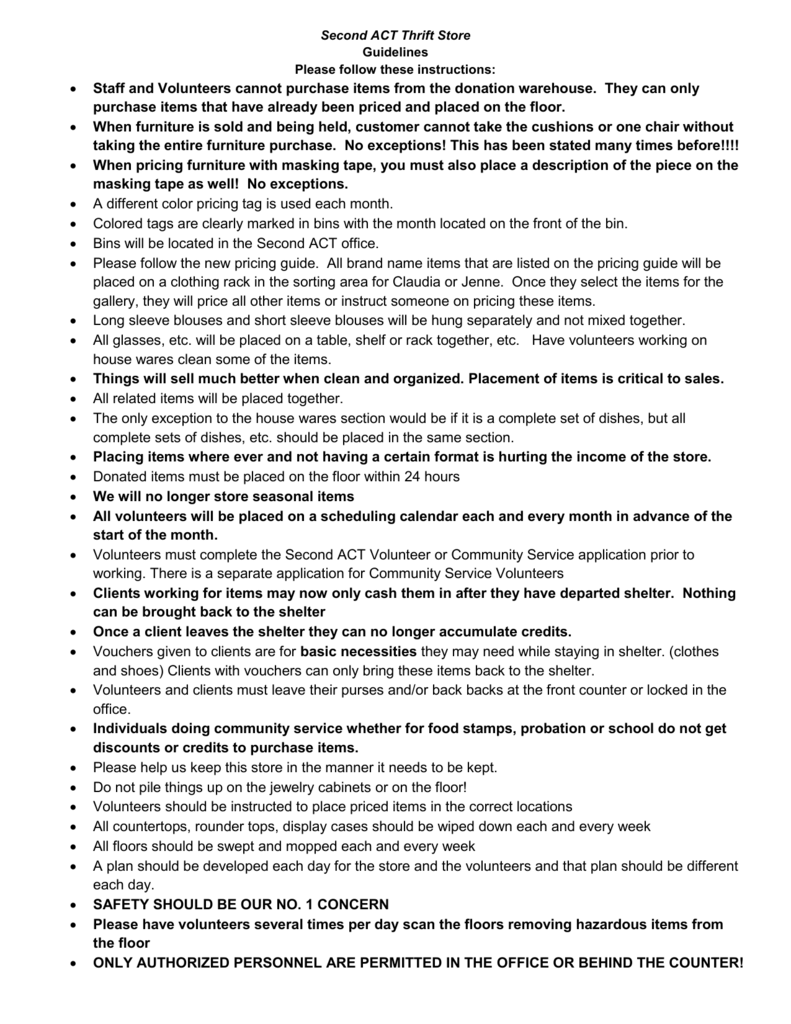 Second ACT Thrift Store
Guidelines
Please follow these instructions:































Staff and Volunteers cannot purchase items from the donation warehouse. They can only
purchase items that have already been priced and placed on the floor.
When furniture is sold and being held, customer cannot take the cushions or one chair without
taking the entire furniture purchase. No exceptions! This has been stated many times before!!!!
When pricing furniture with masking tape, you must also place a description of the piece on the
masking tape as well! No exceptions.
A different color pricing tag is used each month.
Colored tags are clearly marked in bins with the month located on the front of the bin.
Bins will be located in the Second ACT office.
Please follow the new pricing guide. All brand name items that are listed on the pricing guide will be
placed on a clothing rack in the sorting area for Claudia or Jenne. Once they select the items for the
gallery, they will price all other items or instruct someone on pricing these items.
Long sleeve blouses and short sleeve blouses will be hung separately and not mixed together.
All glasses, etc. will be placed on a table, shelf or rack together, etc. Have volunteers working on
house wares clean some of the items.
Things will sell much better when clean and organized. Placement of items is critical to sales.
All related items will be placed together.
The only exception to the house wares section would be if it is a complete set of dishes, but all
complete sets of dishes, etc. should be placed in the same section.
Placing items where ever and not having a certain format is hurting the income of the store.
Donated items must be placed on the floor within 24 hours
We will no longer store seasonal items
All volunteers will be placed on a scheduling calendar each and every month in advance of the
start of the month.
Volunteers must complete the Second ACT Volunteer or Community Service application prior to
working. There is a separate application for Community Service Volunteers
Clients working for items may now only cash them in after they have departed shelter. Nothing
can be brought back to the shelter
Once a client leaves the shelter they can no longer accumulate credits.
Vouchers given to clients are for basic necessities they may need while staying in shelter. (clothes
and shoes) Clients with vouchers can only bring these items back to the shelter.
Volunteers and clients must leave their purses and/or back backs at the front counter or locked in the
office.
Individuals doing community service whether for food stamps, probation or school do not get
discounts or credits to purchase items.
Please help us keep this store in the manner it needs to be kept.
Do not pile things up on the jewelry cabinets or on the floor!
Volunteers should be instructed to place priced items in the correct locations
All countertops, rounder tops, display cases should be wiped down each and every week
All floors should be swept and mopped each and every week
A plan should be developed each day for the store and the volunteers and that plan should be different
each day.
SAFETY SHOULD BE OUR NO. 1 CONCERN
Please have volunteers several times per day scan the floors removing hazardous items from
the floor
ONLY AUTHORIZED PERSONNEL ARE PERMITTED IN THE OFFICE OR BEHIND THE COUNTER!