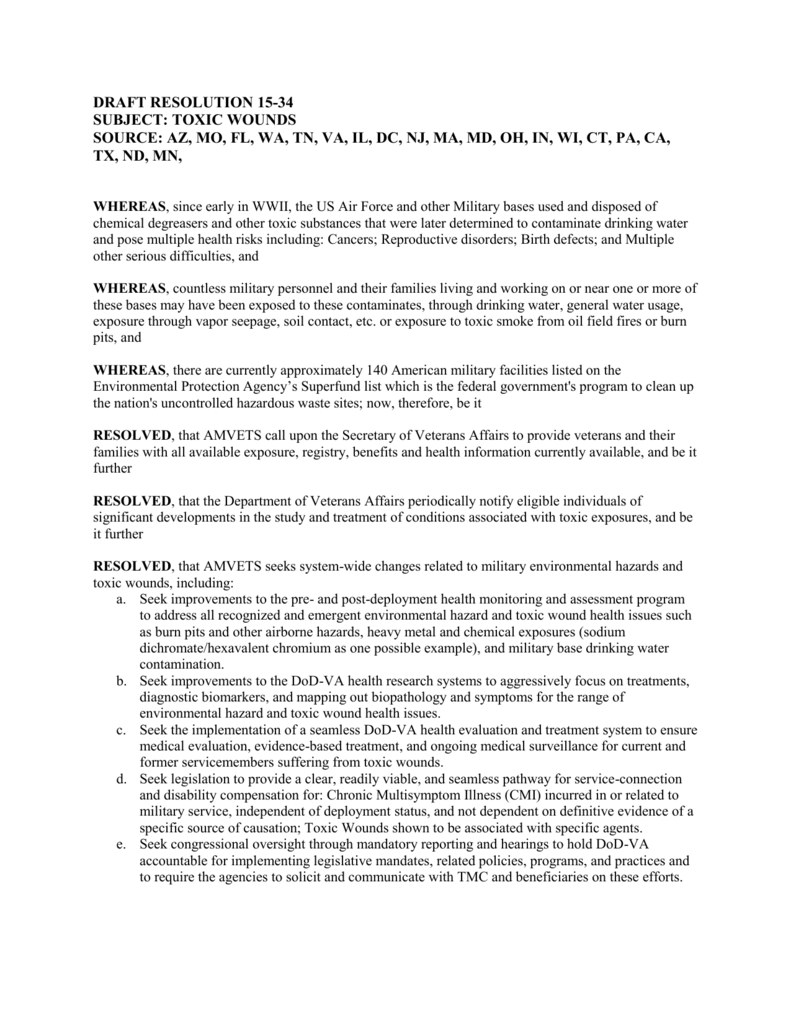 DRAFT RESOLUTION 15-34
SUBJECT: TOXIC WOUNDS
SOURCE: AZ, MO, FL, WA, TN, VA, IL, DC, NJ, MA, MD, OH, IN, WI, CT, PA, CA,
TX, ND, MN,
WHEREAS, since early in WWII, the US Air Force and other Military bases used and disposed of
chemical degreasers and other toxic substances that were later determined to contaminate drinking water
and pose multiple health risks including: Cancers; Reproductive disorders; Birth defects; and Multiple
other serious difficulties, and
WHEREAS, countless military personnel and their families living and working on or near one or more of
these bases may have been exposed to these contaminates, through drinking water, general water usage,
exposure through vapor seepage, soil contact, etc. or exposure to toxic smoke from oil field fires or burn
pits, and
WHEREAS, there are currently approximately 140 American military facilities listed on the
Environmental Protection Agency's Superfund list which is the federal government's program to clean up
the nation's uncontrolled hazardous waste sites; now, therefore, be it
RESOLVED, that AMVETS call upon the Secretary of Veterans Affairs to provide veterans and their
families with all available exposure, registry, benefits and health information currently available, and be it
further
RESOLVED, that the Department of Veterans Affairs periodically notify eligible individuals of
significant developments in the study and treatment of conditions associated with toxic exposures, and be
it further
RESOLVED, that AMVETS seeks system-wide changes related to military environmental hazards and
toxic wounds, including:
a. Seek improvements to the pre- and post-deployment health monitoring and assessment program
to address all recognized and emergent environmental hazard and toxic wound health issues such
as burn pits and other airborne hazards, heavy metal and chemical exposures (sodium
dichromate/hexavalent chromium as one possible example), and military base drinking water
contamination.
b. Seek improvements to the DoD-VA health research systems to aggressively focus on treatments,
diagnostic biomarkers, and mapping out biopathology and symptoms for the range of
environmental hazard and toxic wound health issues.
c. Seek the implementation of a seamless DoD-VA health evaluation and treatment system to ensure
medical evaluation, evidence-based treatment, and ongoing medical surveillance for current and
former servicemembers suffering from toxic wounds.
d. Seek legislation to provide a clear, readily viable, and seamless pathway for service-connection
and disability compensation for: Chronic Multisymptom Illness (CMI) incurred in or related to
military service, independent of deployment status, and not dependent on definitive evidence of a
specific source of causation; Toxic Wounds shown to be associated with specific agents.
e. Seek congressional oversight through mandatory reporting and hearings to hold DoD-VA
accountable for implementing legislative mandates, related policies, programs, and practices and
to require the agencies to solicit and communicate with TMC and beneficiaries on these efforts.