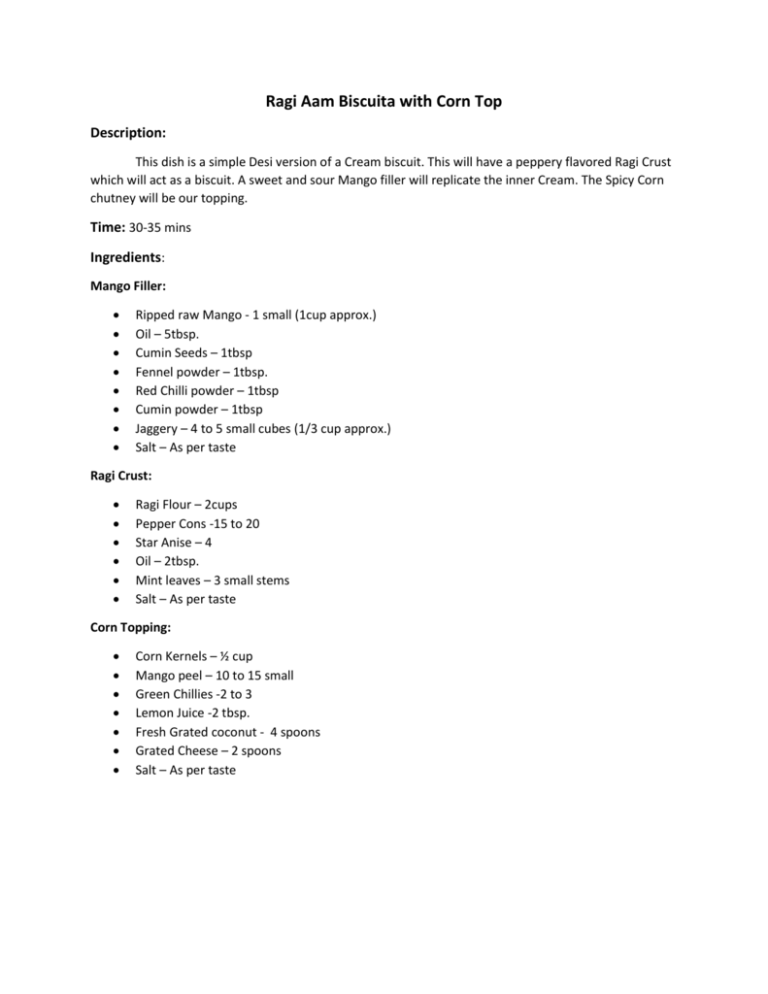 Ragi Aam Biscuita with Corn Top
Description:
This dish is a simple Desi version of a Cream biscuit. This will have a peppery flavored Ragi Crust
which will act as a biscuit. A sweet and sour Mango filler will replicate the inner Cream. The Spicy Corn
chutney will be our topping.
Time: 30-35 mins
Ingredients:
Mango Filler:








Ripped raw Mango - 1 small (1cup approx.)
Oil – 5tbsp.
Cumin Seeds – 1tbsp
Fennel powder – 1tbsp.
Red Chilli powder – 1tbsp
Cumin powder – 1tbsp
Jaggery – 4 to 5 small cubes (1/3 cup approx.)
Salt – As per taste
Ragi Crust:






Ragi Flour – 2cups
Pepper Cons -15 to 20
Star Anise – 4
Oil – 2tbsp.
Mint leaves – 3 small stems
Salt – As per taste
Corn Topping:







Corn Kernels – ½ cup
Mango peel – 10 to 15 small
Green Chillies -2 to 3
Lemon Juice -2 tbsp.
Fresh Grated coconut - 4 spoons
Grated Cheese – 2 spoons
Salt – As per taste
Procedure:
Mango Filler:
1.
2.
3.
4.
5.
6.
Peel a semi ripped raw Mango and cut it into small cubes. Put the peel in a separate bowl
Take a sauce pan and heat 4 spoons of oil.
Put 1tbsp. Cumin seeds and let them sparkle.
Add the mango cubes and add ½ tbsp. of Turmeric powder.
As the mango starts getting soft, add some Salt and 1tbsp. Red chili powder to it.
Once the Mango becomes very soft add 4 small cubes of Jaggery and add a pinch of Cumin
powder to it.
7. Add ½ tbsp. Fennel powder and sauté.
8. The cream is ready once it becomes soft, thick and sticky. This will be our sweet and sour filling,
Ragi Crust:
1. Take 15 Pepper cons and 4 star Anise and let them boil in 2 cups of water for 10mins till the
water becomes spice flavored.
2. Take 2 cups of Ragi Flour and add some Mint leaves to it.
3. Make a soft dough by adding oil, flavored water and 1 tbsp. of salt.
4. Make thin biscuits of medium size and shallow fry them on a pan with some Ghee.
5. Turn them constantly and let them be soft. This will be our base crust.
Corn Topping:
1. Boil the Mango peels in water for 10mins until it becomes soft.
2. Now add the boiled peel, boiled Corn Kernels, 3spoons of fresh grated coconut, pinch of salt and
3 green chillies, 1tbsp. lemon juice, 2tbsp. Grated Cheese and grind them to get a paste of
topping consistency.
3. This will act as our final topping.
Assembling:
1.
2.
3.
4.
Take 1 Ragi Crust as base and spread the mango chutney uniformly till edges.
Then place one more Ragi crust on this to make it a cream biscuit.
Take a piping bag and fill it with the Corn Chutney.
Top the Ragi Cream Biscuit with this corn topping.