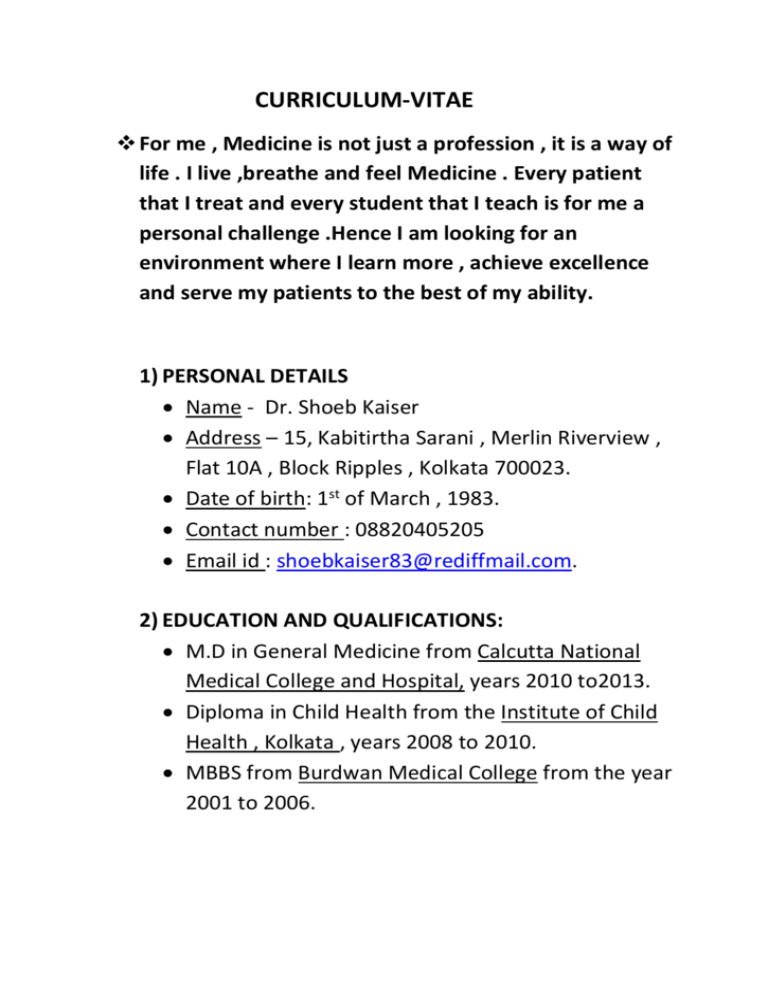 CURRICULUM-VITAE
 For me , Medicine is not just a profession , it is a way of
life . I live ,breathe and feel Medicine . Every patient
that I treat and every student that I teach is for me a
personal challenge .Hence I am looking for an
environment where I learn more , achieve excellence
and serve my patients to the best of my ability.
1) PERSONAL DETAILS
 Name - Dr. Shoeb Kaiser
 Address – 15, Kabitirtha Sarani , Merlin Riverview ,
Flat 10A , Block Ripples , Kolkata 700023.
 Date of birth: 1st of March , 1983.
 Contact number : 08820405205
 Email id : [email protected]
2) EDUCATION AND QUALIFICATIONS:
 M.D in General Medicine from Calcutta National
Medical College and Hospital, years 2010 to2013.
 Diploma in Child Health from the Institute of Child
Health , Kolkata , years 2008 to 2010.
 MBBS from Burdwan Medical College from the year
2001 to 2006.
3) EXPERIENCE:
As a Senior Resident at Calcutta National Medical
College and Hospital from the 1st of July ,2013 till date.
CLINICAL SKILLS :
Has considerable experience in various in-patient
procedures like Lumbar puncture , Liver Abscess
drainage , chest drain, central line and Bone marrow
aspiration . Has experience and immense interest in
Critical care .
4) PUBLICATIONS:
Has conducted studies on the following topics: Study of Serum Sialic Acid and Copper as
Inflammatory markers in Type 2 Diabetes
Mellitus .
 Study of Serum High sensitivity C- Reactive
Protein and Magnesium in Type 2 Diabetes
Mellitus.
Both of which have been published in the
Indian Medical Journal ,15th January 2014(Annexure) ,
Volume 108 ,Number 1.
5) TEACHING EXPERIENCE : Has considerable
experience in teaching undergraduate students in
bedside clinics for last 4 years.He has the reputation
of being one of the best teachers among the senior
residents , known for his clinical aptitude and eye.
6) LEADERSHIP SKILLS : Has given ward rounds on behalf
of Professors on innumerable occasions during his
Senior Residency as well as Postgraduate traineeship.
Has shown great ability and presence of mind in the
ICCU .
7) PERSONAL INTERESTS: Has great interest in music
and reading books. Can play the synthesizer and is a
good singer.