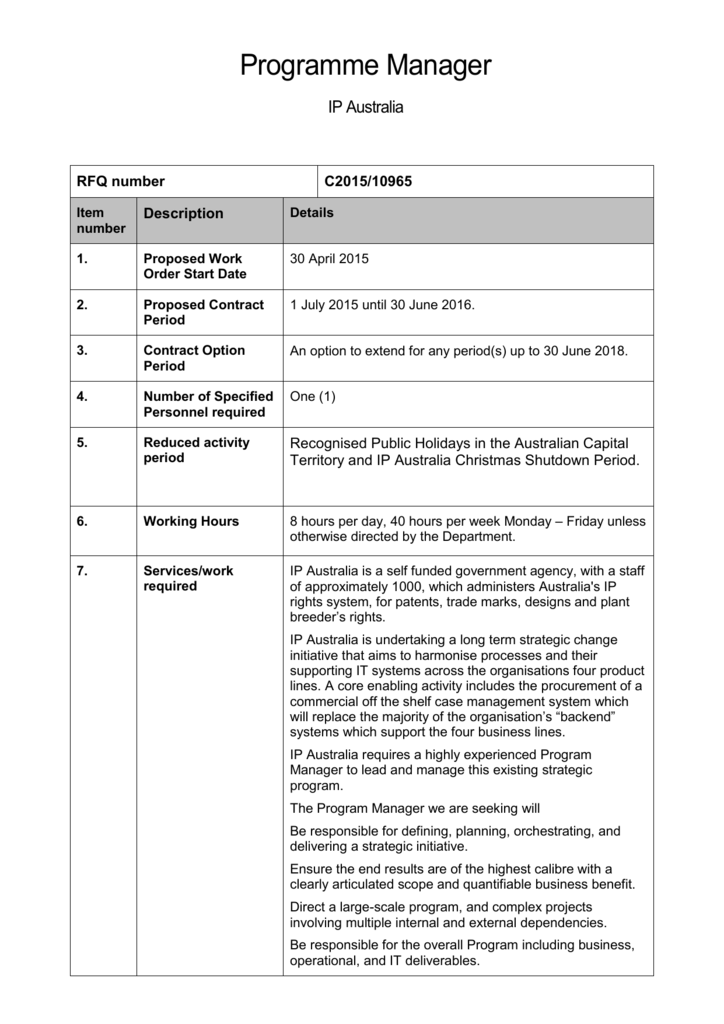 Programme Manager
IP Australia
RFQ number
C2015/10965
Item
number
Description
Details
1.
Proposed Work
Order Start Date
30 April 2015
2.
Proposed Contract
Period
1 July 2015 until 30 June 2016.
3.
Contract Option
Period
An option to extend for any period(s) up to 30 June 2018.
4.
Number of Specified
Personnel required
One (1)
5.
Reduced activity
period
Recognised Public Holidays in the Australian Capital
Territory and IP Australia Christmas Shutdown Period.
6.
Working Hours
8 hours per day, 40 hours per week Monday – Friday unless
otherwise directed by the Department.
7.
Services/work
required
IP Australia is a self funded government agency, with a staff
of approximately 1000, which administers Australia's IP
rights system, for patents, trade marks, designs and plant
breeder's rights.
IP Australia is undertaking a long term strategic change
initiative that aims to harmonise processes and their
supporting IT systems across the organisations four product
lines. A core enabling activity includes the procurement of a
commercial off the shelf case management system which
will replace the majority of the organisation's "backend"
systems which support the four business lines.
IP Australia requires a highly experienced Program
Manager to lead and manage this existing strategic
program.
The Program Manager we are seeking will
Be responsible for defining, planning, orchestrating, and
delivering a strategic initiative.
Ensure the end results are of the highest calibre with a
clearly articulated scope and quantifiable business benefit.
Direct a large-scale program, and complex projects
involving multiple internal and external dependencies.
Be responsible for the overall Program including business,
operational, and IT deliverables.
8.
Selection criteria
Please note the
importance of
responding to this
Selection Criteria.
Criteria do not need to
be addressed
separately, if clearly
demonstrated in CV.
Required qualifications and experience to be addressed in
writing (Note: not listed in order of importance)
Applicants are required to submit a two – three page
application outlining their skills and experience in relation to
the information in attachment A together with a detailed CV.
A key area of focus should be on proven capability. In
writing their CV applicants should detail, clearly and
succinctly and in plain language:
Leadership skills
Demonstrated and applied experience of at least 10 years
in:
• Proven ability to quickly earn the trust of sponsors and key
stakeholder
• Mobilising and motivating teams, setting direction and
approach, resolving conflict, and delivering tough messages
with grace
• Solid influencing skills
• Sound business and technical acumen
• Excellent problem solving and critical thinking skills
• Focused and versatile – comfortable under pressure
• Ability to communicate at all levels with clarity and
precision both written and verbally
• Ability to remove barriers and enable teams to complete
their objectives.
Technical skills
Demonstrated and applied experience of at least 10 years
in:
• Establishing and delivering complex projects
• Excellent problem solving and critical thinking skills
• Exemplary core program management skills including the
management of multiple projects including the management
of complex internal and external dependencies
• Extensive knowledge and expertise in the use of program/
project and SDLC methodologies and tools.
9.
Other requirements
The Specified Personnel will perform Programme Manager
duties at IP Australia's premises located at 47 Bowes
Street, Phillip ACT 2606.
Appropriately manage records to satisfy IP Australia policy
in regards to record keeping and information management.
Access to IP Australia is governed by a current ENTRY
ONLY/RESTRICTED police check granted in accordance
with IP Australia and Australian Government policy.
Australian Government security clearances issued by other
Government departments/agencies may be recognised on
submission of details to IP Australia for verification.
Security clearances are normally limited to Australian
Citizens only. In exceptional circumstances the Agency
Head may consider waiving the nationality requirement of
Australian Government policy.
If the successful candidate does not hold the level of
Security Clearance that the advertised position requires, the
cost of gaining the required Security Clearance will be borne
by the Commonwealth.
This role is a Designated Security Assessment Position
- Baseline
Please indicate which applies to your candidate:
Availability:………………………………
Place of Birth:………………………………
(if Australia, no need to continue)
********************
Australian Citizen YES NO
Date granted Australian Citizenship dd month yyyy
********************
Non-Australian Citizen YES NO
Citizenship/Residency Status: ……………………………….