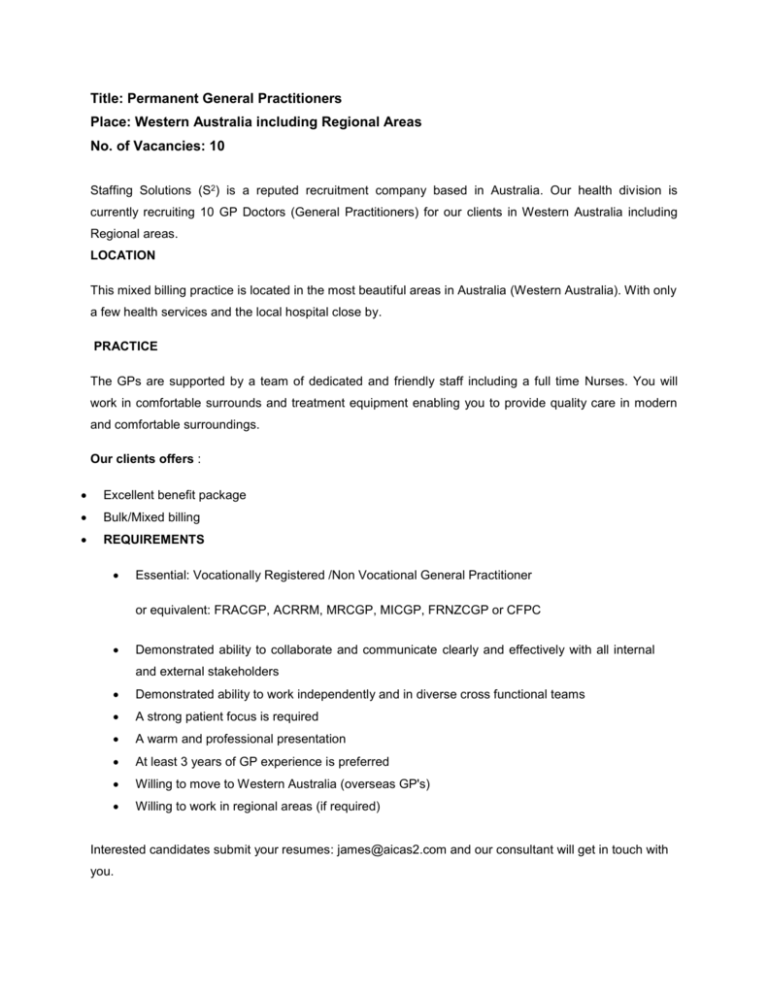 Title: Permanent General Practitioners
Place: Western Australia including Regional Areas
No. of Vacancies: 10
Staffing Solutions (S2) is a reputed recruitment company based in Australia. Our health division is
currently recruiting 10 GP Doctors (General Practitioners) for our clients in Western Australia including
Regional areas.
LOCATION
This mixed billing practice is located in the most beautiful areas in Australia (Western Australia). With only
a few health services and the local hospital close by.
PRACTICE
The GPs are supported by a team of dedicated and friendly staff including a full time Nurses. You will
work in comfortable surrounds and treatment equipment enabling you to provide quality care in modern
and comfortable surroundings.
Our clients offers :

Excellent benefit package

Bulk/Mixed billing

REQUIREMENTS

Essential: Vocationally Registered /Non Vocational General Practitioner
or equivalent: FRACGP, ACRRM, MRCGP, MICGP, FRNZCGP or CFPC

Demonstrated ability to collaborate and communicate clearly and effectively with all internal
and external stakeholders

Demonstrated ability to work independently and in diverse cross functional teams

A strong patient focus is required

A warm and professional presentation

At least 3 years of GP experience is preferred

Willing to move to Western Australia (overseas GP's)

Willing to work in regional areas (if required)
Interested candidates submit your resumes: james@aicas2.com and our consultant will get in touch with
you.